11 Incredible Tutorials From The B.O.M.B Challenge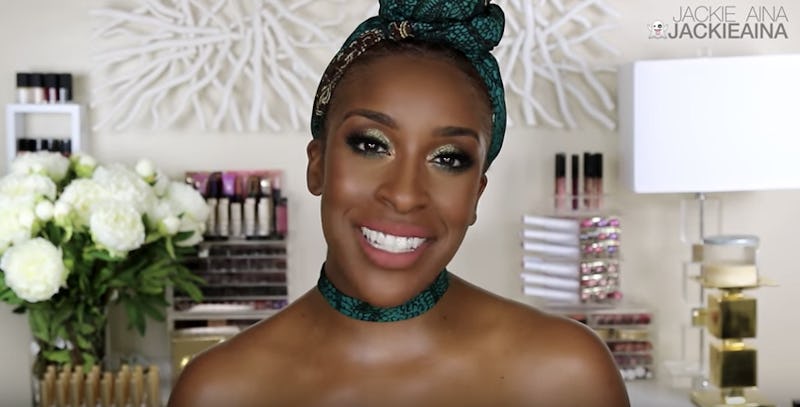 There always seems to be some sort of makeup challenge floating making its way around YouTube. As of yet, I haven't been brave enough to test my skills in the challenge arena, but the B.O.M.B makeup challenge — otherwise known as the Black Owned Makeup Brands challenge — is definitely one I can get behind.
Started by beauty vlogger Jackie Aina, the B.O.M.B makeup challenge asks beauty mavens to exclusively use black-owned makeup brands to create a unique look. In her YouTube video for the challenge Aina challenges both black and non-black YouTubers to try the challenge out. "The reason I'm asking that is because we use beauty brands that were originated from non-black people all the time," she said in her video. "It just doesn't make sense that people shy away from beauty brands because they're black-owned."
It's true: The only way to grow black folks' presence is beauty is to support the brands they create, and luckily, much of beauty YouTube seems to agree. Jackie's call to action has inspired other YouTuber to try the challenge out on their channels as well. These are the 11 best tutorials that resulted from the B.O.M.B. challenge — the looks this challenge inspired are truly amazing.
1. Jackie Aina
The original Aina uses products from black-owned brands like Black Opal and Shea Moisture to craft her glowing look.
2. Alyssa Forever
I'm loving the dash of blue Alyssa added to the inner corners of her eye, combined with her dark lip.
3. Samantha Smiley
Samantha's monochrome makeup look using Colored Raine shadows and Mild Brown Baby matte lipstick is everything.
4. EasyNeon
I'm definitely trying this sultry makeup look by EasyNeon the next time I hit a super chic event.
5. Junie
Junie's simple, yet glam makeup look is perfect for the holidays without going overboard.
6. VintageOrTacky
This vlogger used products from Iman Cosmetics, AJ Crimson, and Shea Moisture to create her smoky eye and red lip knockout combo.
7. Tootsie Time
Tootsie Time's makeup look is giving me total '90s vibes in the best way.
8. MakeupD0LL
MakeupD0LL's bomb look is super girly and fun.
9. Brianna Hertzberg
Briana's tutorial is perfect for everyday wear, but with a little added flirtiness.
10. Sharifa Easmin-Kabir
This fiery look will definitely have people's heads turning when you walk into a room.
11. Chanel Ambrose
Chanel's plum tones are perfect for WOC with deeper skin tones.
I'm totes excited to try out a few of these makeup looks for myself, and continue to support black-owned makeup brands. This is one beauty challenge worth taking — and these looks are pretty incredible, too.
Images: Jackie Aina/YouTube