Kim Kardashian Is Officially Back In The Spotlight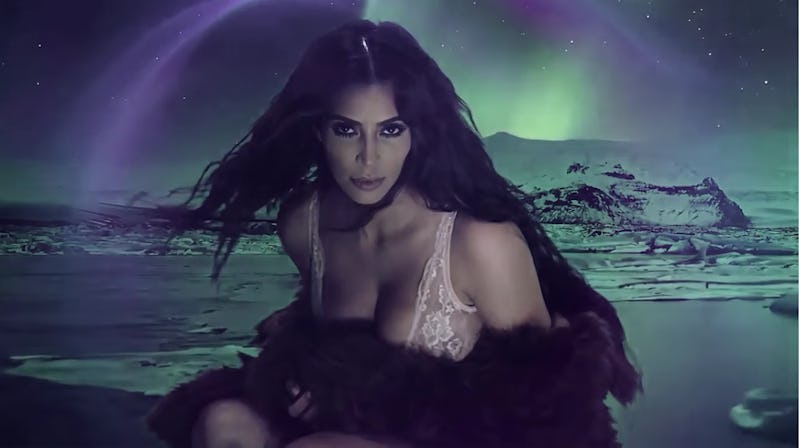 After more than two months off the radar and after being robbed at gunpoint in Paris, France in October, Kim Kardashian appeared in Love's 2017 advent calendar, which was released Monday. This marks her official return to the spotlight, even though there is a good chance she filmed the video before her horrific robbery. (Bustle has reached out to Kardashian's rep and Love for comment, but did not receive a response at the time of publication.) Either way, this is still a major deal, because she's been extremely careful about opening up to the public and staying behind closed doors. She hasn't even walked a red carpet event yet, so to see the reality star in Day 12 of the magazine's annual advent calendar is noteworthy.
As you can watch below, the Keeping Up With the Kardashians star is wearing lingerie and a fur coat, all while set against a backdrop of the Northern Lights. She doesn't say anything, but just poses. It is filmed by director James Lima and at the end, sends the message of "Peace on Earth" to everyone this holiday season. There is barely two minutes of Kardashian, but it's more than fans have had in the past two months from the 36-year-old. If you've been missing her, then I'm sure you're thankful for this.
According to People, Love usually shoots the videos for its advent calendar in late summer or early fall. Again, it's more likely than not that Kardashian's participation was before the October robbery.
Many other celebrities have participated in this year's advent calendar, including Kardashian's sister Kendall Jenner. She appeared in a video by herself, which was directed by Hype Williams. In it, like Kardashian, Jenner just stares the camera, while sitting on blue backdrop with wet hair and proving eactly why she has a modeling career.
No matter when the video was filmed, it's good to see Kardashian back in the spotlight and looking fantastic. Maybe this is exactly what she needs as the perfect transition for her to slowly return to the public eye.
Image: LOVE Magazine/YouTube