The 'Stranger Things' Kids React To Their Nom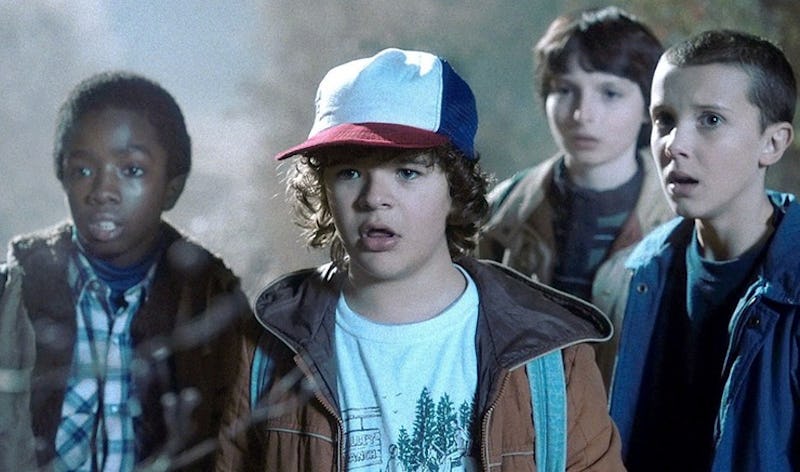 In case you missed it, the Golden Globes nominations were revealed on Monday morning, and stars have already begun to weigh in on the results. Ryan Reynolds joked that the Deadpool cast was celebrating with a tickle fight, Rules Don't Apply's Lily Collins was on the verge of tears, and Crazy Ex-Girlfriend's Rachel Bloom thanked the awards show for making her dreams come true. Perhaps most touching was the Stranger Things' kids reaction to their Golden Globes nominations. The young cast got up at the crack of dawn to watch the news, and their response was totally priceless.
In a video posted to the Stranger Things official Twitter, Finn Wolfhard (Mike Wheeler), Gaten Matarazzo (Dustin Henderson), Caleb McLaughlin (Lucas Sinclair), and Noah Schnapp (Will Byers) huddled together, fingers crossed, in a hotel room. When it was announced that the Netflix sleeper hit made it onto the shortlist for Best Television Series in drama, they erupted into applause. The boys' reaction was wide-eyed and genuine, a sentiment fans have come to expect from the kids of Stranger Things. Their parts in the show served as the first major television roles in their careers, and it's been exciting to watch them blossom. What's most heartwarming, though, is how adorable they are offscreen. Their response to their Golden Globes nod is just one more reason why they're so lovable. Let's look back.
Millie Bobby Brown Made This Super Cute Montage
I'm not crying, you're crying.
Wolfhard And Matarazzo Showed Love For A Good Cause
I can't even do 22 push-ups, so...
Wolfhard Was Overwhelmed By How Much His Idols Loved the Show
Everyone loves Stranger Things, famous people included.
They Excellently Deciphered The Theme Song's Lyrics
Thanks for clearing that up, guys.
They Love Hugs
Can I get in on that?
And They Do Music, Too
Is there anything these kids can't do?
Image: Netflix