43 Statement Earrings To Rock Over The Holidays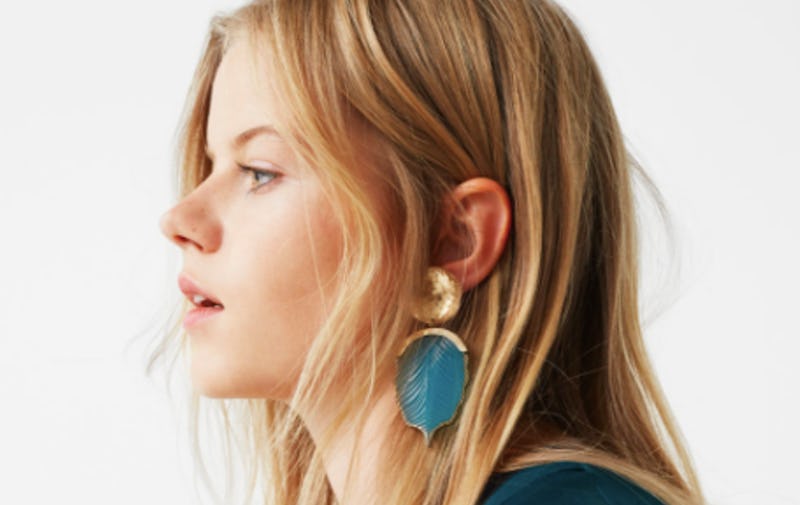 It's pretty safe to say that the holidays are the perfect occasion to dress up. Of course, your outfit and makeup are super important, but so are your accessories — particularly a super fly pair of statement earrings. A good pair of statement earrings can make a girl feel extra fancy and pull an entire look together the way most regular studs just aren't equipped to. May they be dangly, chandelier-shaped, or just flat out huge — these accessories are seemingly one of a kind, and highly desired by fashionistas everywhere.
If the style element doesn't convince you, statement earrings also come in handy as a quick ice breaker, or awkwardness if you get forced to converse with a group of partygoers that you don't know too well. After all, 'tis the season for a holiday party, right? Why not look effortlessly bomb while clinking your champagne glass with the person next to you, and start the next year off in style?
This guide to virtually every style and aesthetic of statement earrings has totally got you covered. Get you hands on a pair and make your way through the holiday season with a bit of panache.
1. Pom Poms
Limited Edition Pom Pom Drop Earrings, $15.15, asos.com
These colorful earrings are so adorable.
2. Oversized
Large earrings, $26, etsy.com
You'll totally slay any outfit with a pair of oversized earrings.
3. Green Stones
Moonrock Drops-Green, $58, baublebar.com
These earrings take me back to the best moments of earth science.
4. Rings Chain
London Statement Earring, $24, urbanoutfitters.com
With statement earrings like these, you won't need much more jewelry on NYE.
5. Star Power
Star Earrings with Crystals, $19.90, zara.com
Now these are studs that pack a fashion punch, and can be worn with almost anything.
6. Mixed Media
Mixed pieces earrings, $19.99, mango.com
You won't have to worry that someone else is rocking the same earrings as you with these bad boys.
7. Hoops On Hoops
Double Hoop Earrings, $4.90, forever21.com
Why not take your hoops to the next level? Pair these with flair jeans or a sparkly mini skirt.
8. Tassel Season
Beaded Cluster Feather Tassel Earrings, $19.90, express.com
These tassel earrings totally belong in a party scene from Gossip Girl.
9. Drop Earrings
ABS by Allen Schwartz Double Drop Earrings, $22.05, bloomingdales.com
These statement earrings would work perfectly with a shimmery NYE dress.
10. Ear Plate
Five-Star Ear Cuff, $9.25 ea., etsy.com
I love a good ear crawler, and these have a definite night time vibe.
11. Floral
ASOS Statement Flower Perspex Drop Earrings, $23, asos.com
Pair these earrings with your favorite red dress.
12. Threaders
Long Pointe Threaders, $125, bingbang.com
These earrings deserve an outfit that is equally as cool as they are.
13. Opposites Attract
Large Earrings, $9.99, hm.com
Opposite earrings will have you looking totally mod on NYE.
14. Blinged Out
Walk the Rhinestone Earrings, $28, nastygal.com
Bring the drama to any outfit in these earrings.
15. Oversized Crosses
High Ruler Cross Earrings, $28, nastygal.com
These statement earrings are giving all the Dolce and Gabbana vibes.
16. Phrases
Pack of Slogan Earrings, $15.90, zara.com
Why not wear statement earrings that actually make a statement this NYE?
17. Animated
Kate Spade New York Imagination Monster Hoop Earrings, $98, nordstrom.com
With these character earrings, you'll look extra cute in a LBD.
18. Mixed Metals
Argento Vivo Frontal Hoop Earrings, $30, nordstrom.com
Pair these earrings with a super chic pantsuit.
19. Abstract
Kenneth Jay Lane Abstract Triple-Drop Earrings, $49, barneys.com
Take these earrings a step further and rock a similarly colored dress.
20. Feather Earrings
Feathered Tulle Earrings, $54, anthropologie.com
These pretty earrings would work well with a sheer statement top.
21. Minimalistic
Gold Deco Hoops, $148, anthropologie.com
These awesome statement earrings would work with just about anything.
22. Fringe
Faye Fringe Front/Back Earring, $20, urbanoutfitters.com
These fringe earrings are just asking for a smoky eye.
23. Holiday Ready
Holiday Flashing Light Drop Earring, $5, francescas.com
With these earrings, you'll certainly be lighting up the room.
24. Long Earrings
Ruby Feathers Catalina Feathers, $118, freepeople.com
With playful earrings like these, you'll need an equal playful outfit. Pair these with a piece that has a great deep V neckline.
25. Ear Cuff
Phoenix Wing Ear Cuffs-Gray, $36, baublebar.com
These earrings offer just the right amount of glam without going over the top.
26. Teardrop
Rosemarie Collections Women's Double Teardrop Crystal Statement Evening Earrings (in Smoke), $24.99, amazon.com
A dark crystal earring would really set off a daring red jumpsuit.
27. Extra Colorful
These gorgeous earrings will match the confetti you'll most likely be throwing once the ball drops.
Kate Spade New York Statement Multi-Drop Earrings, $148, amazon.com
28. Sequin
Leather-Backed Sequin Petal Earrings, $65, jcrew.com
These funky sequin earrings would look perfect with an equally colorful skirt or dress.
29. Chandelier
Antique Gold Chandelier Earrings, $65, jcrew.com
Chandelier earrings offer a classical touch to any holiday outfit.
30. Fan
Crystal Fan Earrings, $48, jcrew.com
Nude earrings and a red lip are a match made in holiday heaven.
31. Geometric
Geometric Earrings, $15.99, mango.com
Geometric earrings are classic and edgy at the same time.
32. Tortoise Shell
Mixed pendant earrings, $19.99, mango.com
A classic tortoise shell pattern is a sophisticated touch for NYE.
33. Cut Out
Cutout Cube Ear Jackets, $7.90, forever21.com
These chic statement earrings would look great with an amazing metallic dress.
34. Food Inspired
Marc Jacobs Pineapple Drop Earrings, $75, shopbop.com
With these sassy pineapple earrings, everyone will know you'll be the life of the party.
35. Animalistic
Elizabeth Cole Georgy Earrings, $255, shopbop.com
You'll definitely stand out from the pack in these amazingly wild earrings from Elizabeth Cole.
36. Mesh
Jules Smith Crystal Mesh Wave Earrings, $32, shopbop.com
These gorgeous crystal earrings will have you shinning all the way into 2017.
37. Angular
Luiny Trazo Hoop Drop Earrings, $228, freepeople.com
Pair these earrings with a flowy top and channel your inner bohemian goddess.
38. Dangle Earrings
Mercury Rising Dangle Earrings, $38, freepeople.com
These pretty earrings would look bomb with an open back dress.
39. Safety Pin
Tova Mixed Safety Pin Earrings, $118, freepeople.com
These earrings prove that safety pins aren't just meant for your clothes.
40. Pave Style
Knock Knock Pave Earrings, $28, nastygal.com
Your NYE outfit will be an instant hit with these knock out statement earrings.
41. Art Deco
Square to Dance Drop Earrings, $20, nastygal.com
These chic earrings lend themselves to any type of going out outfit.
42. Pearly Whites
ASOS Statement Jewel Faux Pearl Strand Earrings, $18.50, asos.com
You can't go wrong with a classic pearl earring, especially when it comes to evening wear.
43. A Bug's Life
ASOS Bug Drop Earrings, $18.50, asos.com
Insects may be creepy, but that doesn't mean that can't also be fashionable.
Rocking any of these awesome statement earrings during the holidays will have you looking fierce on your way to 2017. Cheers to your newly upped style game.
Images: Courtesy Brands