Awesome Beauty Products on Instagram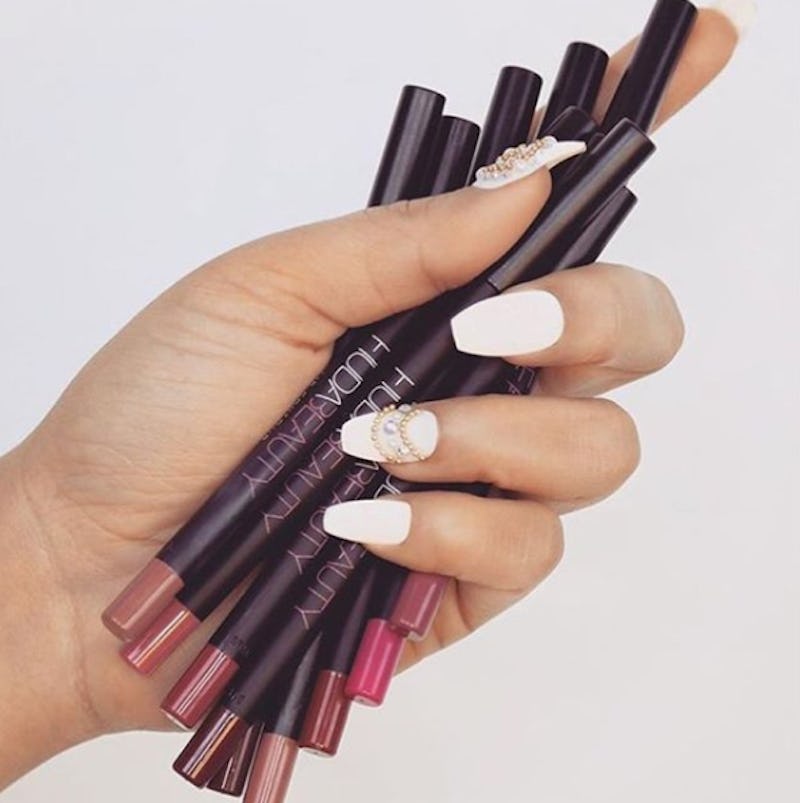 Over the last couple years, the beauty world has seriously stepped up its game on Instagram. Through beauty tutorials, swatches, and just plain pretty shots of new products, brands have gotten consumers like me to pull out our wallets faster than ever. Thanks entirely to social media, the best beauty products on Instagram have gone from unknown to huge, even achieving cult status.
Whether they were promoted by a blogger or simply began trending with users all over the place, these products stole the show and I'm so happy they did, because now I've got an even bigger collection than ever before. Instagram is a constant reminder that makeup doesn't always have to be taken so seriously. Just scrolling down random feeds and seeing people expressing their individuality inspires people to wear a fun, colorful highlighter or a bright blue lip. Thanks to Instagram, everyone stepped the makeup game, making the possibilities endless. In fact, the Insta-beauty sphere got me inspired to rock a blue lip the other day, which was way out of comfort zone.
From a rainbow highlighter "made from unicorn tears" to a glittery gold kit that everyone's crazy for, see which beauty products are getting Insta-famous below. I don't know about you, but I'm ready to do some shopping!
1. This Rainbow Highlighter For Colorful Radiance
Rainbow Highlighter, $12, Amazon
Is your highlighter collection really complete without this rainbow one? No, it's not. Beauty bloggers like Jeffree Star are obsessed with this prismatic highlighter that reminds us of unicorns and happiness:
And with a highlighter this colorful, no filter is needed.
2. Holographic Nail Polish With A Chrome Finish
MultiChrome Nail Polish, $9, Amazon
One of the very few good things of 2016 is that it brought us this cool chrome nail polish trend, which famed beauty vloggers like Kandee Johnson love. This holographic nail polish will change colors depending on the lighting and angle, which is perfect for those who can't commit to one shade — or just love to be totally daring.
3. Obsessive Compulsive Cosmetics Lip Tar For Unique Lip Looks
Obsessive Compulsive Cosmetics Lip Tar, $16, Nordstrom
Bold lips in vivid colors and textures are popping up all over your Insta feed, and few formulas are as famous as Lip Tar from OCC, which comes in tons of hues and finishes. Check out makeup artist Rose Carriaga rocking the "Stud" shade and looking totally amazing.
4. The Pat McGrath Labs Metalphorphosis 005 Kit Everyone's Crazy About
PAT McGRATH LABS METALMORPHOSIS 005 Kit, $60, Sephora
Makeup artist Pat McGrath got everyone so excited with the launch of her METALMORPHOSIS Kit. She shared a photo of these highlighters in action, and let me tell you: you'll shine even brighter than the top of the Chrysler building. Just one swatch will have you look like you're dripping in gold. This video from her Instagram speaks for itself, in fact:
5. Frank Coffee Body Scrub For Sloughing Off Dry Skin
Frank Body Coffee Scrub, $20, Amazon
Let's be frank (hyuck hyuck): no one can stop taking selfies of themselves wearing Frank Body's Coffee Scrub all over their face and body. Just check out lifestyle blogger Chelsie Briche's coffee soaked selfie! This all-natural scrub works to fight off dry skin and is gentle enough to use on sensitive skin.
6. The Sleek Highlighter Palette Solstice Offers Universally Flattering Radiance
Sleek Highlighter Palette Solstice, $20, Amazon
This highlighter palette is beloved by bloggers all over Instagram, including Megan Rose Lane. It offers four highlighters that look universally flattering on everyone and crazy pigmentation.
7. Dr. Brandt's Magnetight Age-Defier For Innovative Skin Care Lovers
Dr. Brandt MAGNETIGHT Age-Defier, $146, Amazon
This magnet face mask is so cool! It's not wonder beauty bloggers like Jeffree Starr are so obsessed with it. You use the magnet to pick up the product, leaving your skin smooth and rejuvenated.
8. The Delicious And Delightful Too Faced Chocolate Bar Palette
Too Faced Chocolate Bar Palette, $49, Sephora
Too Faced basically broke the Internet when it released its sweet-smelling Chocolate Bar Palette. Bloggers like Dana Packett love the mix of matte and shimmer shades in pinks, browns, and reds, leaving to an endless number of smokey eye combinations.
9. A Gorgeous Mermaid Makeup Brush Set
Mermaid Makeup Brush Set, $28, Amazon
While makeup brushes need to be functional, it's also a big bonus to have them be pretty, too. Not only are this brush set completely Instagram-worthy (Just check out blogger Ana Celine's photo), but they're great quality for the affordable price you pay.
10. The Lipstick Queen Frog Prince Lipstick Turns Your Perfect Shade Of Pink
Lipstick Queen Frog Prince Lipstick, $26, Amazon
This Lipstick Queen lipstick shade looks intimidating, but the color payoff is shockingly natural because the formula morphs itself in to a rosy shade that's perfect for your complexion. It's magic! If you don't believe me, take a look at it in action on the Beauty Professor's Instagram and you'll understand the obsession.
11. Elizavecca Milky Piggy Carbonated Bubble Clay Mask Delivers Results
Elizavecca Milky Piggy Carbonated Bubble Clay Mask, $12, Amazon
This clay mask bubbly texture on skin contact is the reason why it's trending on Instagram, and it does the job of clearing your blackheads and acne. Just check out beauty blogger Monyca Tamang's video to see what I mean.
12. Stila's All-In-One Color Correcting Palette Makes Even Skin Simple
stila Correct & Perfect All-In-One Color Correcting Palette , $45, Sephora
It's a beauty product, but it's already turning heads on Instagram. This stila color correcting palette will help you nail that crazy clown contouring that everyone is doing on YouTube. Each color on the palette helps correct your face from redness to discoloration and more. Krystalclearmakeup shows you how it's done.
13. The Renowned Anastasia Beverly Hills Dipbrow Pomade
Anastasia Beverly Hills DIPBROW Pomade, $18, Sephora
Anastasia was one of the first beauty brands to really use Instagram to their advantage, especially when it came to popularizing their brow products. DIPBROW has been a popular Instagram product and personally, I can't get enough of seeing bloggers like Dose of Beauty reveal their eyebrow routine in 30 seconds or less.
14. The GlamGlow Gravity Mud For A Cool Metallic Face Mask
GlamGlow Gravity Mud Mask, $43, Amazon
Sure, everyone knows how awesome the original GlamGlow mask is, but this new Gravity mud mask is getting Insta-famous, thanks to its shiny look and because how effortless it is to peel it right off. Beauty maven Manny Mua is a big fan, and I see this product getting even ever bigger towards the new year.
15. The Huda Beauty Lip Contour Pencil By Famed Blogger Huda Kattan
Huda Beauty Lip Contour Pencil, $31, Amazon
There are lip pencils and then there's the Huda Beauty Lip Contour Pencil. Created by beauty influencer Huda Kattan, this pencil helps achieve that popular, shapely pouty look. Just pair it with a liquid lipstick like Makeup By Denise did here, and you'll have the perfect pout — no injections necessary. And here's Huda, showing off a ton of 'em on her own Instagram:
Bustle may receive a portion of sales from products purchased from this article, which was created independently from Bustle's editorial and sales departments.
Images: Huda Beauty (1); Amazon (11); Sephora (4)