The Most Anticipated Nonfiction Books Of 2017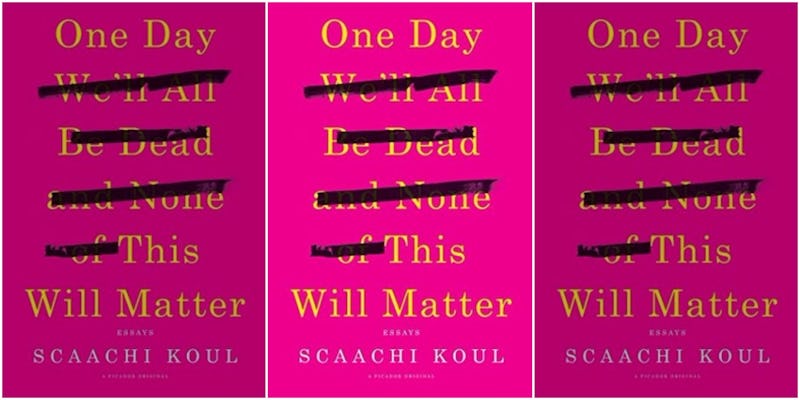 January 1, 2017 is just a few short weeks away, which means exactly one wonderful thing to bookworms and bibliophiles everywhere: the start of another year filled with brand new books. The most anticipated books of 2017 will begin landing on bookstore shelves any day now and I, for one, could not be more excited for the fantastic year of reading that lies ahead. From travel memoirs and graphic memoirs, to essay collections and published notebooks, to that one book we have all been dying for Roxane Gay to finish, the most anticipated nonfiction of 2017 will definitely not disappoint.
The books on this list offer a preview of some of 2017's best reads: books that explore racial divisions, feminism, illness, family, and war; books that take readers into small Mississippi towns, post offices in Romeo and Juliet's Italy, and the outer reaches of Mongolia; and, most importantly, books that challenge the status quo, shed light on our shared humanity, and tell the kinds of stories that make the world — and your own bookshelf — a better place to spend some time.
Here is a peek into some of the most anticipated nonfiction titles of 2017. Be sure to get all your pre-orders in now — you won't want to miss any of them.
If you read Michael Eric Dyson's New York Times op-ed piece "Death in Black and White," then you know what a powerful work of cultural analysis his book, Tears We Cannot Stop: A Sermon to White America is going to be. At a time when everyone needs to speak more openly, honestly, and critically about the racial divisions that have been allowed to grow in the United States, Dyson's book — available in January — could not be a more welcome read.
Out in February, Daphne Merkin's This Close to Happy: A Reckoning with Depression offers readers an account of the well-known essayist's lifelong battle with clinical depression — her childhood, her relationship with her mother, and how reading and writing became spaces of respite from her illness.
This memoir is going to be a Valentine's Day must-read, to be sure. In Juliet's Answer: One Man's Search for Love and the Elusive Cure for Heartbreak , writer and English teacher Glenn Dixon moves to Verona, Italy in the wake of his own heartbreak, and volunteers to respond to the thousands of letters that arrive there each year addressed to Juliet (who knew?). Along the way he explores the history of Shakespeare's star-crossed duo, and why their story has endured for centuries.
As most feminist activists understand, not all feminists agree on what makes a feminist — confusing, I know. But the three waves of feminist thinking do tend to clash with one another, in ways that don't often benefit the whole. Landing on bookstore shelves at the end of February, Jessa Crispin's Why I Am Not a Feminist explores how the movement for female liberation hasn't gone nearly far enough in dismantling the patriarchy and overthrowing the status quo.
Graphic novels and memoirs have become increasingly more mainstream recently, and I couldn't be more excited about that. And one of the most anticipated graphic memoirs of 2017 is debut author Thi Bui's The Best We Could Do, an illustrated memoir about her family's journey from South Vietnam in the 1970s, her experience of first-time motherhood, and how places really do shape one's identity.
Yup, you read that correctly. In 2017 readers are going to see new work by the one-and-only Joan Didion. Out in early March, South and West: From a Notebook features two extended excerpts from the notorious notebook-keeper's never-before-seen notebooks. The first takes readers on a road trip through the southern United States — Louisiana, Mississippi, and Alabama. The second takes readers through Didion's now-familiar California landscape, during the Patty Hearst trial of 1976.
Billed as a "memoir for readers of Cheryl Strayed" (so yeah, we already love it) Ariel Levy's The Rules Do Not Apply follows the writer as she takes the path less traveled in the wake of a series of deeply personal losses. Levy is known for her explorations and critiques of modern feminism — including her surprising conversations with the women who participate in the Girls Gone Wild franchise — as well as her writing on American drug use, gender roles, lesbian culture, and more.
If you love Mary Gaitskill as much as I do, you'll be thrilled to hear she has an essay collection coming out this April. Somebody with a Little Hammer is a collection of Gaitskill's funny, critical, and no-holds-barred essays from the last two decades, chronicling everything from the absurdities of political and popular culture to figures like the writer Norman Mailer and the porn star Linda Lovelace.
A memoir that looks not only at the evolution of a marriage, but at the evolution of an individual woman within a marriage, bestselling author Dani Shapiro's memoir Hourglass: Time, Memory, Marriage will have you thinking deeply about the lifelong relationships you have not only with others, but with yourself as well.
Out in April, Caroline Kitchener's Post Grad: Five Women and Their First Year Out of the Ivy League is a book I wish had been published when I graduated from college and was floundering my way through my first year in the "real world." The book features the stories of five women — what choices they may, the myriad ways they succeed and fail, and how they feel about it all — as they take their first steps into post-grad lives that, for the first time, offer them no clear plan of action or timeline for success.
Growing up the daughter of Indian immigrants in Canada, Scaachi Koul understood what it meant to be an outsider. Landing on bookstore shelves in May, her essay collection One Day We'll All Be Dead and None of This Will Matter blends personal anecdotes with explorations into gender dynamics, ethnic and cultural stereotypes, mortality, and the constant-politicization of women of color.
Fenton Johnson's books are always quiet storms of loss, love, and the astonishing endurance of the human spirit, so I'm thrilled to see he's got a new essay collection coming out mid-2017. Everywhere Home: A Life in Essays takes readers across the United States and around the world as Johnson explores politics and religion, geography and travel, art and athleticism, love and sexuality, the AIDS crisis, and so much more.
A David Sedaris book is always a welcome addition to any personal library — his hilarity, his self-deprecation, his compassion for (and amusement with) the human condition, and his clear joy at making his readers laugh out loud are all what make a David Sedaris book great. His newest title, out this summer, is Theft by Finding: Diaries (1977-2002) a collection of the authors favorite entries from the personal diaries he's kept his entire life.
I've been waiting for this book to come out for years, and now with a prospective publication date of June 13, we readers might not have to wait too much longer for the latest from Roxane Gay. The literary powerhouse responsible for the essay collection Bad Feminist (and some of my favorite tweets of all-time) will no doubt continue blowing readers away with her forthcoming memoir Hunger: A Memoir of (My) Body. Counting down the days over here.
Out in mid-June from the author who gave us the bestselling novel The Absolutely True Diary of a Part-Time Indian and short story collection The Lone Ranger and Tonto Fistfight in Heaven (and tons more) comes a memoir written in the wake of Sherman Alexie's mother's death at the age of 78. You Don't Have to Say You Love Me features 78 poems, 78 essays and a collection of family photographs that tell the story of a complex woman and the family around her.
Image: booksenchanted/Instagram