See Swatches Of Sephora's Cream Lip Stain Line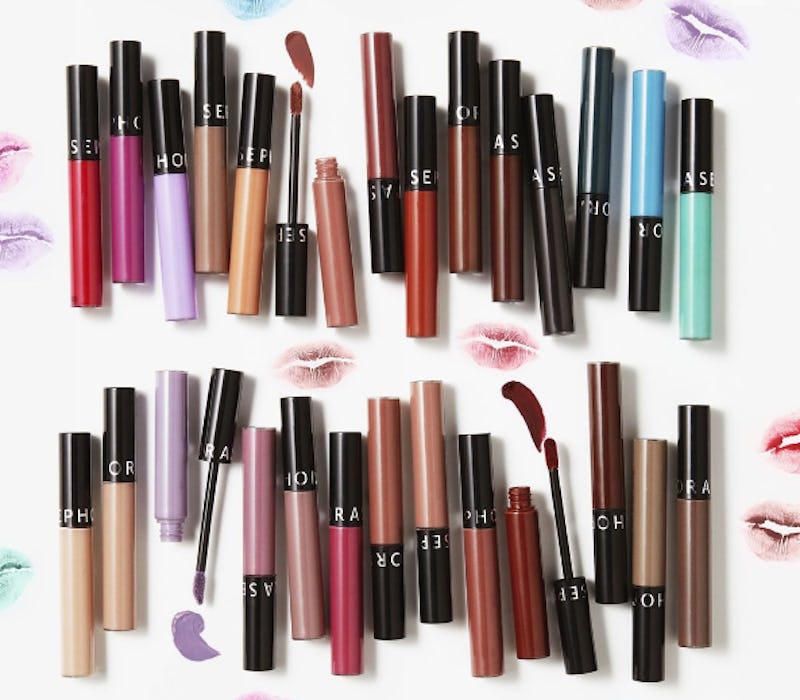 Odds are that you already know about Sephora Collection. It's an in-house brand that has everything from liquid lipsticks to blushes and more. Well, they're expanding in the best way possible. The Sephora Collection added 27 new shades to their Cream Lip Stain line, and it has every lip color you could possibly need. Don't believe me? I have the swatches to prove it.
In the beauty world, there's no such thing as too many lip shades. Thankfully, Sephora is here to save the day. On top of all their other gorgeous colors, they added 27 new Cream Lip Stains to their line as well. Trust me when I say it's got every shade you can imagine. While their existing lip shades were more on the conventional side, they've spiced things up a bit.
In addition to completely wearable nudes, they also added some super vibrant shades as well. I'm talking neon blues, purples, and even greens. Basically, it's got every single shade you could possibly imagine for any season.
Cream Lip Stain Vault, $375, S ephora
The best part is that you can shop them all right now. The entire line is available on the Sephora website right now. Although the collection is a permanent part of the collection, you'll probably want to stock up on your favorites.
Each one is $14 each, which isn't exactly affordable, but it could be worse. If you can't decide on which ones you want, you can opt for the vault as well. The Cream Lip Stain Vault has all 40 colors and costs $375. That's comes out to about $9.30 a shade.
Cream Lip Stain Vault, $375, Sephora
See what I mean! The colors are so incredibly diverse. It might be winter now, but it'll be time for these bright colors before you even know it. If you're not sold yet, here's swatches of every single shade, so you can choose accordingly.
This is the ultimate lip color collection, if I've ever seen one!
Images: SephoraCollection/Instagram (1), Sephora (1)