Why 'Girls Just Want To Have Fun's Still Relevant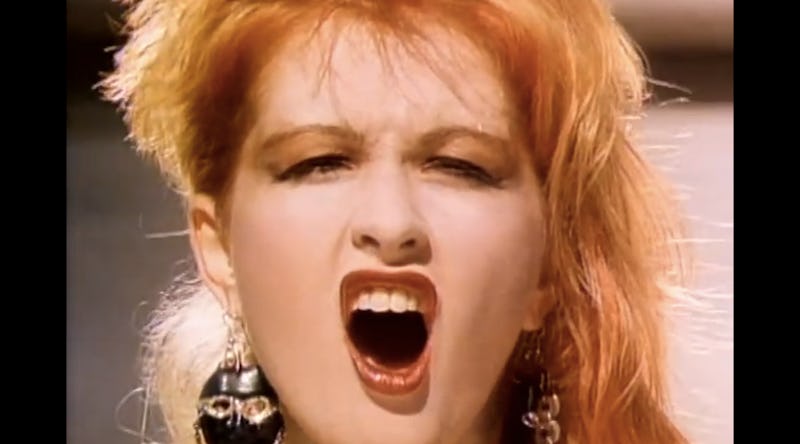 It's been 30 years since Cyndi Lauper made a name for herself with her hit single "Girls Just Want to Have Fun." But unlike many other hits from the 1980s that now seem sort of dated — ahem, "Careless Whisper," anyone? — Lauper's feminist anthem has proven its awesome staying power (don't lie, you know all the lyrics too). The album that featured the killer track, She's So Unusual , is being re-released in April. And, as it turns out, Lauper's tune couldn't be more relevant today.
If you pay closer attention to those lyrics, it's pretty clear what "Girls Just Want to Have Fun" is all about:
I come home in the morning light My mother says when you gonna live your life right Oh mother dear we're not the fortunate ones And girls they want to have fun[...]Some boys take a beautiful girl And hide her away from the rest of the world I want to be the one to walk in the sun Oh girls they want to have fun
"It doesn't mean that girls just want to fuck," Lauper told The Atlantic this month. "It just means that girls want to have the same damn experience that any man could have." And in 2014, when we still have to deal with slut-shaming and sexual repression, Lauper's words couldn't ring more true.
Lauper also stands out as one of the few in the industry to call for an inclusive feminism in her music. Even today, pop stars seem to have trouble sending a feminist message without shooting themselves in the foot when it comes to women of multiple races (see: Lily Allen's video for "Hard Out Here").
"The one thing I really wanted was to have multi-racial girls so that every little girl could actually see herself in it, and it would be kind of contagious that everyone was entitled — no matter what race or color or anything — you were entitled to this joyful experience," said Lauper.So go out and get your copy of the re-released She's So Unusual, or just check out Lauper's accompanying video below. This is your chance to fall in love with "Girls Just Want to Have Fun" all over again. Because, you know, we still just want to have fun.
Image: CyndiLauperVEVO/YouTube