The Best Sex Scenes From 2016 Streaming Shows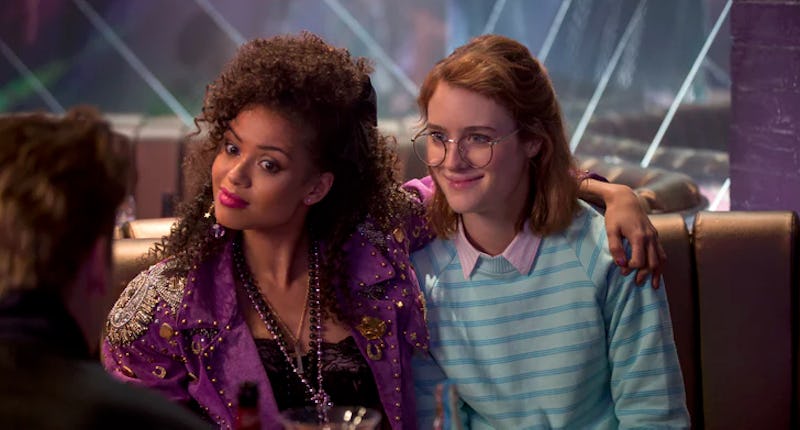 Just like there are many different answers to the question, "What makes sex good?" there are many answers to the question, "What makes a television sex scene good?" It's hard, but there are few ways to measure things. Is the scene inclusive? Is it groundbreaking? Does it show growth for the character? And, of course, is it hot? With these steamy and significant points in mind, I looked back at the year and compiled a list of the best sex scenes from streaming shows in 2016.
While you would think sexy scenes would top the list, some shows are being lauded for character development and the beauty of depicting realistic (even unsexy) sex. In 2016, female television characters weren't afraid to go after what they wanted. And, many shows didn't shy away from kink and diversity in the bedroom. With all of the new and interesting roles for women, minorities, and the LGBT community during this golden age of television, it's not just the silver screen or the small screen that has the sexiest scenes anymore — but your computer screen or streaming device do too. Without further ado, here are the best sex scenes from streaming series in 2016. [Some SPOILERS ahead]
Grace & Frankie, The Mature Sex Scene
Netflix's Grace & Frankie isn't afraid to show women in their '70s living full lives, which includes enjoying sex and sex toys. In the Season 2 finale, Grace and Frankie (who have already made their own lube) set off to create vibrators for seniors. But, the sex scene that deserves all of the praise and a second viewing is the one between Jane Fonda's character, Grace, and Sam Elliott's character, Phil. The groundbreaking scene doesn't cut away from the two characters in their 70s making love. The sex scene shows a mature couple where the man and woman are actually age appropriate (often unusual for Hollywood), and it's pretty hot.
Easy, The Threesome
The Netflix anthology-style show Easy explores sex, relationships, and technology in new and interesting ways. And, the Orlando Bloom, Malin Akerman, and Kate Micucci episode was particularly titillating. On most TV shows, characters don't follow through with the threeway, consent and boundaries aren't discussed, or the threesome becomes a twosome and someone feels left out (i.e. Sex and the City and Friends). But, Easy explores a threesome where three consenting adults trust each other, agree to boundaries, and all leave feeling satisfied.
Black Mirror, Yorkie & Kelly
I know Black Mirror could terrify me or throw me into an existential crisis, or both. But before the "San Junipero" episode, I didn't know it could make me feel warm fuzzy things. While the episode has its sci-fi twists and turns that make you think about technology and mortality, it also delivers the love story you didn't know you needed. While the star-crossed lesbians do have a pretty hot sex scene, their connection and the intelligent premise for the episode are what stick with you. It's also pretty awesome that an interracial same-sex couple can finally get this kind of story on TV.
Unbreakable Kimmy Schmidt, Kimmy Has Sex
While Netflix's Unbreakable Kimmy Schmidt hasn't really discussed what happened to Kimmy in the bunker, viewers all understand she is a survivor of abuse. Fans don't need to know the details, because, just like discussing abuse in real life, the details are personal and up to the survivor to share. While UKS is an absurd comedy, the show is groundbreaking in showing a survivor taking control of her life and move on from her past. There is no one thing that defines Kimmy, and that is powerful. So, when Kimmy and Dong finally have sex in the episode "Kimmy Goes To A Hotel," like the rest of the series, the scene it is offbeat, private, and poignant.
Fleabag, Anal Sex
Amazon's Fleabag kicks off with a hilariously narrated one-night-stand from the woman's perspective. Phoebe Waller-Bridge's character comically pretends that she, too, just returned from a night out, after receiving a booty text. She then hilariously broaches the topic of anal with a NBD attitude while narrating directly into the camera mid thrust. The scene ends with a hilarious capper about penis and butt size.
Luke Cage, Misty & Luke
If you thought Jessica and Luke had chemistry, think again. Luke's unbreakable body is back on Netflix for steamy sex scenes with Misty Knight, a badass female detective. And, it's hot, y'all. The season is also empowering when it comes to inclusion on TV, sex doesn't have to look a certain way to be hot. The actress who plays Misty, Simone Missick, told The Daily Beast, she didn't have to lose weight or do anything extreme to her body for the part — which is pretty awesome.
"It was really great to not have to be concerned with aging myself down for once … Simple things like them wanting my hair to be natural … Nobody asked me to lose weight for this role, nobody wrote that I needed to look 22 years old and get a lot of sleep every day in order to make that look real. It seems like a small detail, but as a woman, being told that you are good enough just the way you are, there's a freedom to that."
Streaming services in 2016 left us with some pretty great moments, and the sex scenes were some of the best. The bar for 2017 is pretty high now, but I'm sure shows will get even more bold and more real in the months to come.
Images: Patrick Wymore, Melissa Moseley, David Dettmann (2), Myles Aronowitz/Netflix; Netflix