You Could Win The Entire Sweet Peach Collection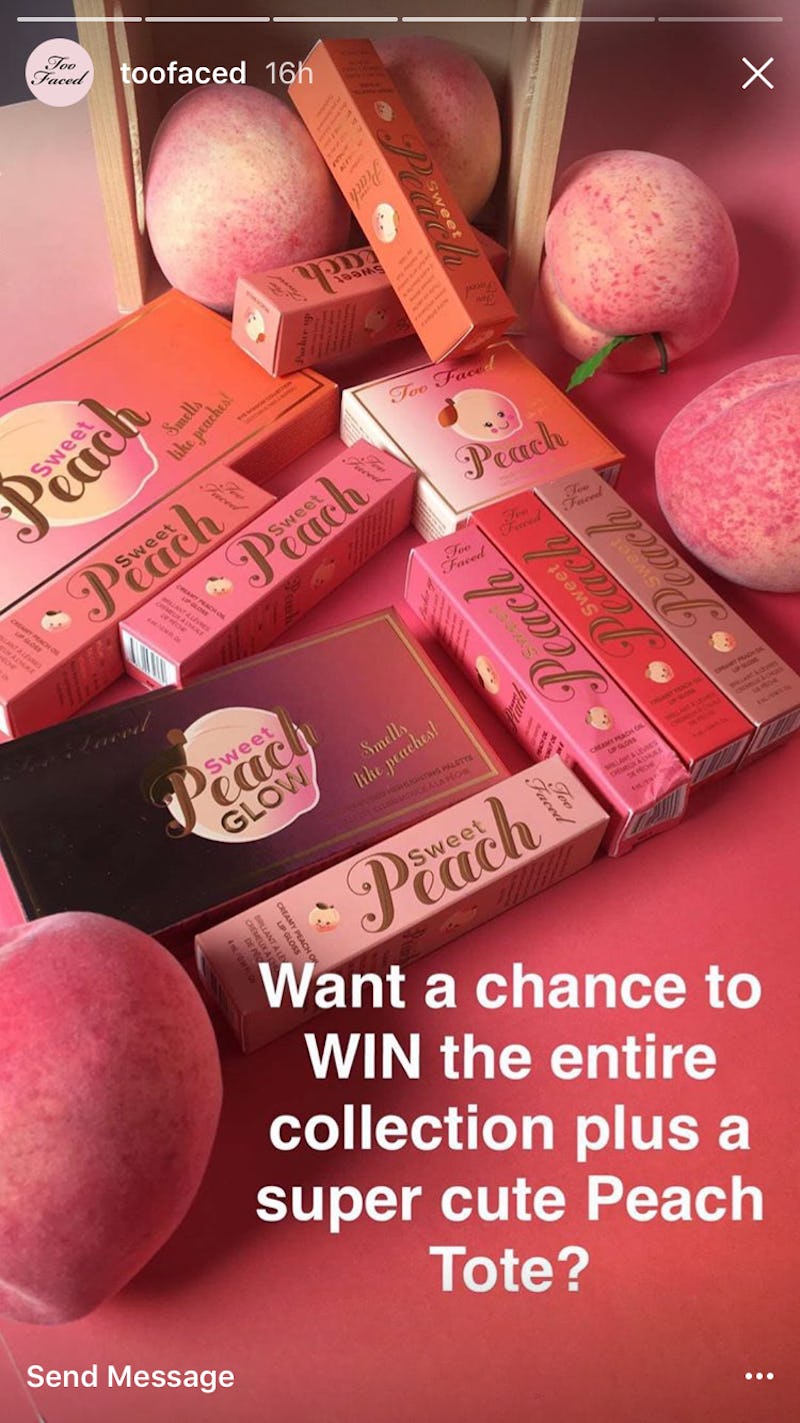 The countdown to the biggest peach beauty launch yet is on. There are just hours until the full range launches on the brand's website, and you better make sure you've got your alarms set and you're ready to go. These must-haves are likely to sell out very quickly. Find out how to enter to win Too Faced's Sweet Peach Collection because you can never have too much of this fruity goodness in your life.
According to the brand's Snapchat, you can enter to win the entire collection — I'm talking the Peach Glow Kit, the Sweet Peach Palette, Papa Don't Peach, all of the lippies and a free tote bag — when you upload a photo of yourself decked out in Sweet Peach emojis. Easy enough, right? You bet!
You can head over to the Too Faced website to upload the photo, and you can download the Sweet Peach emojis by heading over to the app store on your phone. You have until 11:50 p.m. PT on Dec. 16 to submit, and even if you plan on purchasing the line once it drops at 12 a.m. ET on Dec. 14, it couldn't hurt to go ahead and enter to get it for free, too. Whether you're hoping to share your winnings or just have back-ups of everything, having extra Too Faced items on-hand could never be a bad thing!
Shop the Sweet Peach Collection at TooFaced.com.
Would we like the chance to win? Umm, is that a real question?
One simple upload and you've got a whole lotta juicy beauty at your fingertips.
If these two steps is all it takes to enter, there's really no reason not to participate.
Join the group of glam folks who have already submitted their chance to own the full range of peach products.
Because you're going to want to have everything this collection has to offer.
This could be the answer to your peach prayers, especially if your budget won't allow a purchase this time around! So, be sure to post your photo before the Dec. 16 deadline. You never know, it could be your lucky day!
Images: TooFacedSnaps/Snapchat (4)