How To Get Through The Holidays Without Drinking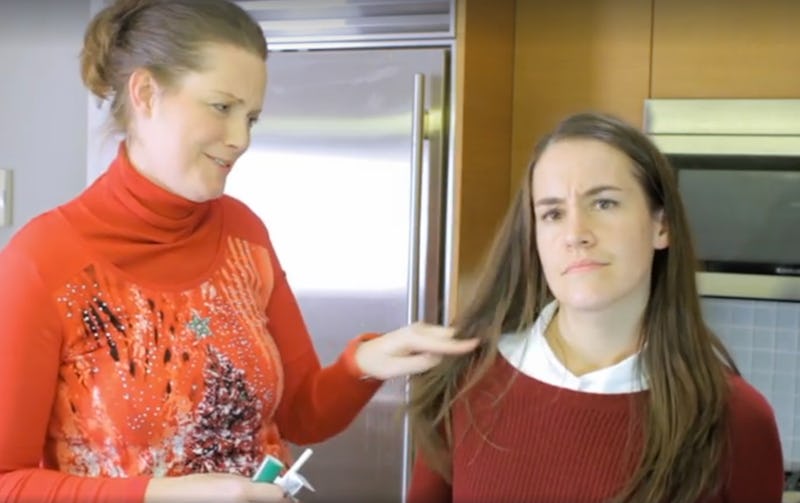 It may seem absolutely, totally, 100 percent impossible to get through the holiday season with your annoying family without booze. But don't worry: There's a company out there that understands what you're feeling. Curious Elixirs wanted to hone in on the sentiments of frustration we all so often feel during the holidays, and they did so with a hilarious video that demonstrates how to get through the holidays without drinking, thanks to their tasty non-alcoholic beverage.
To give you some context, Curious Elixirs handcrafts this particular booze-free cocktail in small batches in upstate New York, using no artificial ingredients to create the perfect non-alcoholic cocktail. It contains a combination of fruits, cold-pressed juices, roots, herbs, barks, botanicals, and a bit of carbonation to give it a refreshing finish. Plus, these cocktails are gluten/dairy/sugar-free, organic, fair-trade, non-GMO, and are as locally-made as possible. They can be enjoyed on their own, or mixed in a variety of fun non-alcoholic cocktail recipes.
What makes this particular company stand out, however, is their clever video advertisements. On Dec. 13, they released a video about braving the holidays, giving people some hilarious and surprisingly practical tips on how to survive the season without the help of an endless glass of wine.
Here are a few tips to take away from this comedic ad:
Make It Zen: Take Time For Yourself
First, they suggest making the situation zen, hilariously showing this woman doing her meditations while watching football on the couch with her family. Curious Elixirs is definitely on to something here. Doing yoga during the holidays, or practicing some other form of stress relief, is super important when trying to stay sane before getting ready for a holiday gathering.
Make It Weird: Have Some Fun Stories On Hand
The second tip is to make things weird. If your relatives are going to pull out all the weirdness cards, you might as well too. Have some ridiculous stories on hand to share — it will certainly help keep the conversation from going too astray.
Make It Musical: Break Out The Holiday Music
Thirdly, escape holiday craziness by singing. Who wouldn't want to sing some holiday tunes and have a dance party? The easiest "get out of jail" free card you will ever experience. Plus, if you aren't emotionally ready to deal with your parents during the holidays, it will easily distract them from their constant worrying and nagging.
Make It McConaughey: Have A Sense Of Humor
There's no doubt the parents, grandparents, aunts, and uncles are going to make all their concerns about your life known, so you may as well make light of the subject. Don't let them make you feel inferior — just simply make a joke of it and stand up for yourself.
Images: Curious Elixir/Facebook; Giphy (4)