Kylie Cosmetics' LE Bundles Are Too Good To Miss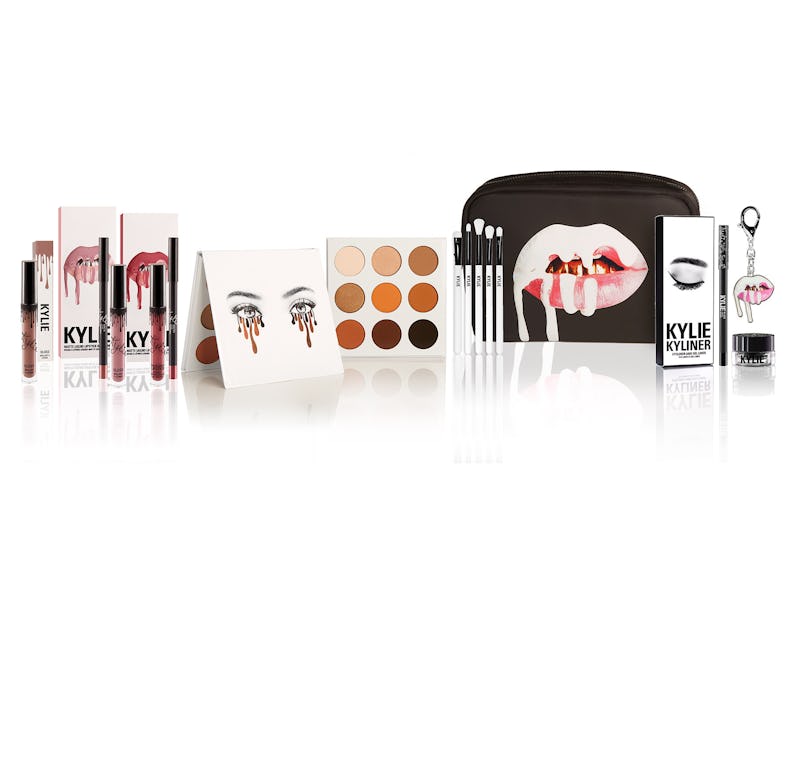 Kylie Jenner's been in the giving mood this season, and it's lucky for us that she has. Not only has she launched an entire Holiday Collection, but she also opened her first-ever pop-up store and started selling Kylie Jenner merch online. As if that wasn't enough to keep up with, Jenner also started a 12 Days Of Christmas promotion, where each day held a new surprise. Are the Kylie Cosmetics Limited Edition Bundles sold out? It may be Dec. 13, but there's still time to take advantage of these Christmas countdown steals.
In honor of her 12th day of special deals, Jenner launched two limited edition sets that contain holiday products and fan favorite items. The Fan Favorites Bundle retails for $150 (even though it's a $212 value) and contains a Koko K Lip Kit, The Bronze Kyshadow Palette and more. The Holiday Must-Haves Bundle is on sale for $125 (with a value of $231) and holds the Kylie Cosmetics Stocking, the Merry Lip Kit and so many more seasonal items.
You'll be happy to know that at the time of publication, both of the bundles were still in stock. According to Kylie Cosmetics' Instagram, these will only be up for grabs while supplies last, so be sure to make a purchase just in time for a holiday delivery!
Did she save the best for last with these bundled options or what?
Whether you're into the brand's classic items or their holiday line-up, there's something for you.
Waking up to this underneath your tree would make your Christmas morning!
Even if you racked up on products before, these bundles are still too good to pass up. Great for gifting, you know what I mean?
Fan Favorites Bundle, $150, Kylie Cosmetics
If you're into the idea of having some of the most popular products from Kylie Cosmetics, you're going to want to order this bundle immediately. These shades could never go out of style!
Holiday Must-Haves Bundle, $125, Kylie Cosmetics
For the perfect Christmas set-up, stocking and all, add this set to your cart.
The savings potential is real here, so be sure to get in on this deal while you can!
Images: Courtesy Kylie Cosmetics (2)