'This Is Us' Star Remembers Alan Thicke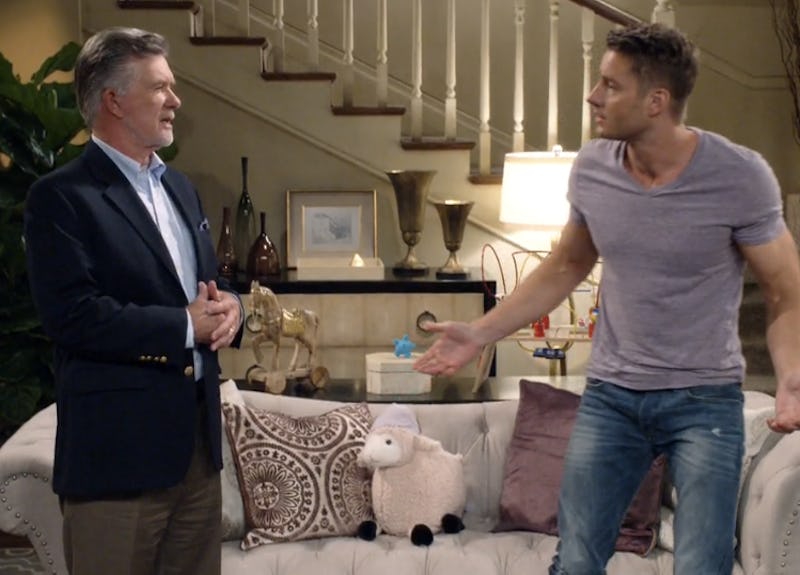 With the sudden and devastating passing of Alan Thicke, the beloved actor's co-stars — co-stars across all decades and throughout all shows — are taking to social media to mourn Thicke, who died Tuesday at age 69. One of Thicke's most recent roles was on This Is Us, in a scene in which he played himself and acted alongside Justin Hartley in a show-within-a-show, The Manny. For Hartley (and Hartley's character, Kevin) acting with The Growing Pains star was a dream come true. Hartley mourned Thicke on Instagram and Twitter Wednesday, writing two heartfelt tributes to the star and remembering just how meaningful it was for him to work with the iconic actor, whom he dubbed is "idol."
"I grew up watching and loving Alan Thicke on television and was lucky enough to get to work with him recently. We became friends," Hartley captioned an Instagram photo of the two of them. "What a great talent and a wonderful spirit. He will be missed by all of us. Rest in peace."
He shared the same photo on Twitter as well, captioning this one slightly differently: "When you meet one of your idols and they are even nicer and cooler than you hoped they would be. That was @Alan_Thicke. Rest in peace."
This Is Us fans will remember Thicke's cameo in the first episode, in which he plays a version of himself playing Hartley's Manny character's father. The scene was notable not just for Thicke's appearance, but also for Kevin's infamous meltdown about playing the Manny role. His line — "Where ya goin', Alan Thicke?!" — will forever live on.
This Is Us creator Dan Fogelman also expressed his sadness at Thicke's passing in a touching statement to Entertainment Weekly.
"I was so saddened to hear about the passing of Alan Thicke," he told the website. "It feels like just yesterday he joined us on the pilot of This Is Us — he was an absolute joy to work with and hang out with, both on and off camera. I know I speak for the entire This Is Us family as we send deepest condolences to his family, friends, and loved ones."
R.I.P. Alan Thicke.
Image: NBC