Where To See Harry Styles In The 'Dunkirk' Trailer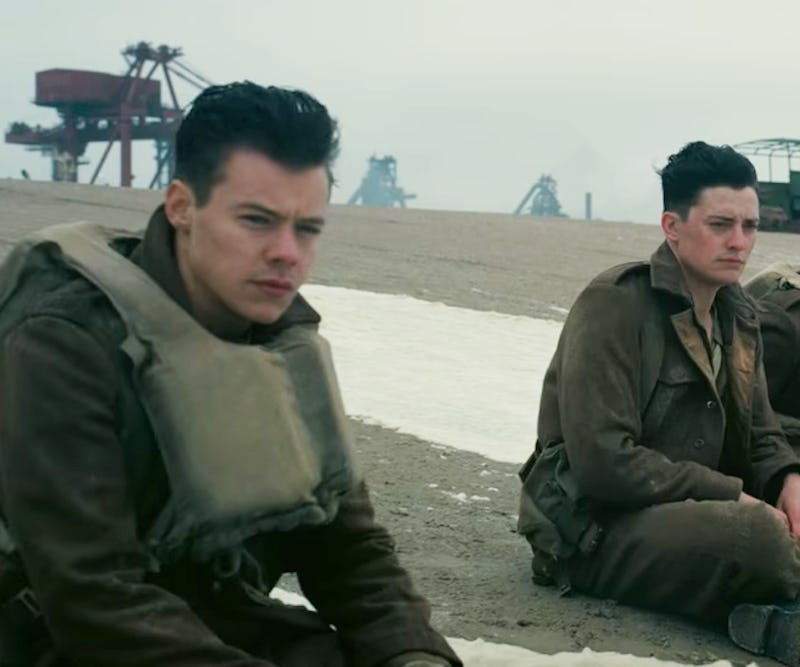 If you've been eagerly anticipating an inside look into Harry Styles' new movie, look no further. The trailer for Styles' film, Dunkirk , is out and it proves that the singer-turned-actor can do a lot with only a little time on screen. According to Screen Rant, the synopsis for the Dunkirk explains that it, "opens as hundreds of thousands of British and Allied troops are surrounded by enemy forces. Trapped on the beach with their backs to the sea they face an impossible situation as the enemy closes in." It's a monumental departure from Styles' lighthearted boy band upbringing, sure, but it makes his performance all the more impressive.
But let's get into the logistics of it all, shall we? You can't possibly know how good the star is if you can't see him act in them, now can you? Of course not. Besides, on a totally different note, the previously shaggy haired Styles is sporting a shorter 'do in the film. I'd reckon that, at first glance, the cropped cut renders him almost unrecognizable. I, for one, had to do a double take. So there's really no shame in needing a bit of help navigating the newness of it all. Let's begin.
Styles first appears in the trailer at 0:47, on a beach with two fellow soldiers, staring out stoically into the distance. It may not seem like much, but it's important to note that the millennial blends into this past world effortlessly.
If you want to get super technical about it, you can first view the trio of soldiers on the beach from the back at 0:43. It's only that Styles' beautiful face doesn't get camera time until four, long seconds later.
Styles' second appearance comes at the 1:39 mark. The lighting may be dim in the trench, but the look of unmistakeable concern on his face is more than apparent.
In a mere blip of a shot, the actor makes you feel his fear.
His third and final showing in the trailer is perhaps his most dramatic. At 1:53 we see Styles' in the midst of what appears to be his character drowning.
Though in a dire predicament, the trailer does not ultimately tell us his fate. So we can still have some hope that his character fairs better than what this last shot would have us believe. Styles may only be seen in this trailer a total of three times, but his mark on the film is undeniable. This sneak peak has only made me more intrigued to see what else he has up his sleeve.
Images: Warner Bros. Pictures/YouTube