Gaga's "Million Reasons" Video Is Raw & Emotional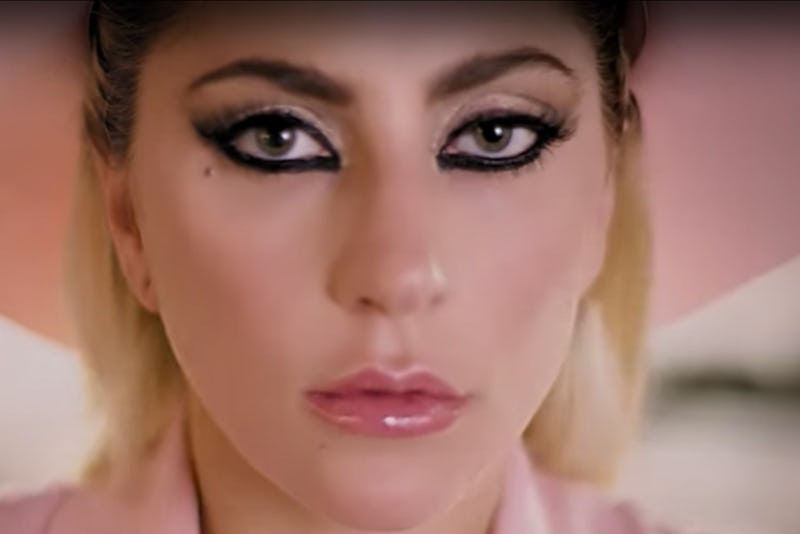 Just a girl and her guitar. That's exactly who Lady Gaga is in her new video for "Million Reasons." Picking up where Gaga's "Perfect Illusion" video left off, she's done desert raving, but she's not done for the night. She's transforming into this new version of herself, a more subtle Gaga. It's fitting being that her new album Joanne is rather subdued. Especially for an artist, whose last album ARTPOP was a massive undertaking that had her trying to redefine what pop music could be. With Joanne, named after her father's late sister, Gaga seems to be finding herself as an artist. She's getting her makeup done in black-and-white scenes, but it's almost as if she's stripping down to the artist she's always been inside.
This emotional video, which shows Gaga in tears being consoled by her friends, will make fans and non-fans look at her differently. She's no longer the outrageous pop star who shows up to award shows in a meat dress. She's now a woman who is finding herself through her music. Gaga's never been afraid to put herself out there, but this video is like nothing she's ever done before. This is a fragile, vulnerable Gaga who is willing to put it all on the line. Not unlike Christina Aguilera in her video for "Beautiful."
In 2002, Aguilera released her fourth album, Stripped, which had her moving away from "Genie In The Bottle" and letting her voice take center stage. Aguilera was at point in her career where she was trying to figure out where she fit in. She was no longer interested in being a pop princess and this song turned her into an artist who deserved to be taken seriously. With "Beautiful," Aguilera gave the world a song that got real about the insecurities all of us face. "I am beautiful, no matter what they say," Aguilera sings, before defiantly letting everyone know, "Words can't bring me down." It was an anthem for anyone who needed strength and that included Aguilera.
Sitting alone in an empty room, the "Beautiful" video begins with Aguilera saying, "Don't look at me." But, she forces us to with every close-up shot that has her pouring her heart out. The song may be about her looking for strength in her flaws, but the video shows us someone who has already found her power. This is a new Aguilera who has lived and learned, and she is here to help us do the same. She's here to let you know it gets better.
It's the same message that Gaga seems to be delivering in "Million Reasons," a video that is also filled with close-up shots of her singing her heart out. Like Aguilera, Gaga is giving you a sense of who she is by stripping back all that pomp and circumstance of her early years and giving fans something raw. Both of these videos are bittersweet celebrations that show sometimes pain is necessary to push yourself further. That uncertainty is a powerful motivator, which will help you take a chance.
Gaga only needs one reason to stay, but watching her redefine herself in this video makes it clear that forging a new path was what she had to do all along.
Image: LadyGagaVevo/YouTube