Genius Gifts For Someone Who Loves To Cook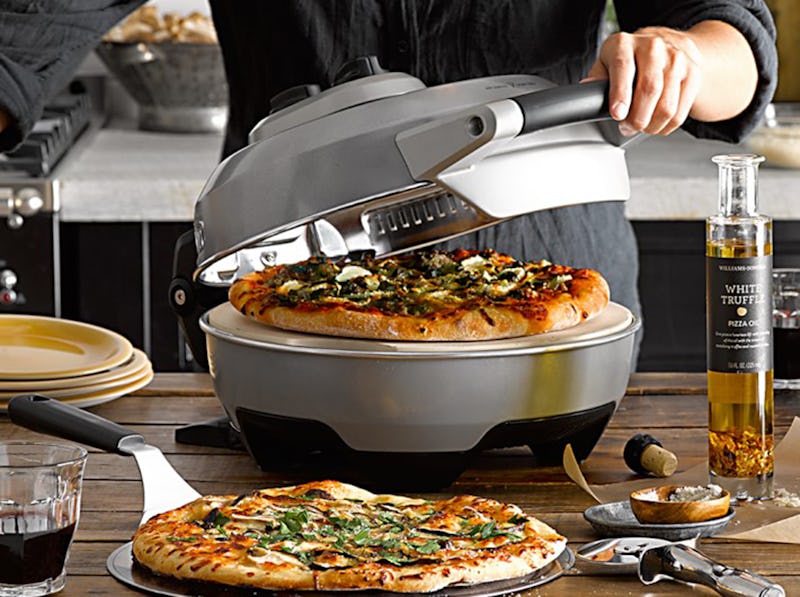 If you know someone who loves to cook and/or bake, then picking out a holiday gift about cooking shouldn't be too tough — right? You can walk into one of the many kitchen stores out there, and pick out some cool little gadget you never knew existed (but now absolutely need) and call it a day!
Except, uh, it's a lot harder than it seems. You don't want to buy them something they already have, which means you can't go for the basics, and instead have to pick out other items you hope they'll like. This means you suddenly start second guessing everything — it might look cool at first, but then you're like, "Uh, are they ever going to actually use this?"
I thought it might be hopeless — that is, until I started looking around online and realized there are literally hundreds of amazing kitchen gift items waiting to be purchased (sorry, bank account). I also realized this: you want to pick out a gift that's useful, but all something the cook most likely wouldn't buy themselves. I did lots of searching to find some great options that are fun, practical, and totally genius. I almost have to wonder how I've been getting by in my kitchen without them. So, here are some great gift ideas for someone who likes to cook — and hey, that someone can be you! Add 'em to your wish list.
OK, so the most obvious gift for any cook is a cookbook. The only problem? There are thousands of them out there, and most of them look amazing. While I am often hesitant of celebrities putting out cookbooks, I made an exception with Chrissy Teigen and pre-ordered this one — and it's awesome. Everything I've made has tasted amazing and the book is full of gorgeous, colorful photos for every recipe, great tips, and awesome ideas. There's something in here for everyone.
Delphina Stacked Measuring Cups, $38, Anthropologie
I know it sounds ridiculous, but trust me: you can never have enough measuring cups. Instead of grabbing your cook friend a set of plastic ones (which, honestly, work great), go for something prettier and more extravagant. These beautiful measuring cups are also stackable, which is perfect for saving space or doubling as kitchen decor.
White Marble Pastry Board, $60, Sur La Table
If you know someone who loves to bake, this marble pastry board makes an amazing gift. Marble boards are ideal for making cookies or pastries because you don't need to use as much flour, and the cool surface keeps dough from sticking. It's also really, really aesthetically pleasing. I have this one, and I love it — but I do have to warn you that it is heavy AF.
Luminarc 10-Piece Set Stackable Bowls, $30, Bed Bath & Beyond
A set of prep bowls isn't necessary, but they sure do make life easier. Any cook knows that, without prep bowls, you often end up using other bowls or dishes to put certain items, or making a big mess and taking up a lot of space. These look great and keep all of your ingredients neat. And I think this is a great price for a 10-piece set!
Bamboo iPad Stand, $17, Amazon
Nowadays, a lot of cooks are using recipes from their phones or tablets found on blogs rather than just cookbooks. Having your tablet propped up so it's easier to read is great. This stand even expands to hold a whole cookbook too, or so that you can flip your table to be horizontal.
Wood Board and Copper Cheese Knives, $45, Indigo
Cooks don't only need cooking accessories — they also need serving dishes. I love this wooden cheeseboard. It's nice to look at, but the coolest thing about it is the slide out addition that holds three little cheese knives. Everything is kept in one place and looks awesome.
Over The Sink Strainer Board, $28, Amazon
Chances are, the cook you know already owns a strainer or two — but another one won't hurt, especially when it's this innovative. It's meant to sit on top of a sink and has a cutting board extension so that chopping fruits and veggies and then washing them is more convenient than ever. Hey, anyone who wants to buy me something: it can be this!
Cuisinart Hand Blender, $27, Amazon
I don't want to be weird, but my immersion blender changed my life. This little gadget is a must-have for anyone who cooks a lot. You can stick it into soups or sauces to blend everything together quickly and easily. I make a lot of soup and use this all the time. It's so much easier to blend than pouring something like soup or a sauce into a blender. This makes a great gift!
Breville Crispy Crust Pizza Maker, $150, Williams-Sonoma
I think we can all agree that owning a big, legit pizza oven is, like, the dream. Unfortunately most of us can't afford one, and even if we could, we wouldn't have any room for it. The solution? This smaller pizza oven, which makes mini pies with a crispy crust quickly and easily. It has excellent reviews and I mean... it makes pizza. What other reasons do you need to buy it?
Whether someone is a new cook or has been doing it for a while, this book full of tips is a helpful resource to have in the kitchen. It also makes a really cute smaller gift option.
Lucerne Apron, $28, Anthropologie
I know aprons seem very grandma-ish, but trust me - they're so great. I wore one cooking for Thanksgiving, and now that I've realized you don't need to ruin your shirts in order to cook, my life is better. Anyway, this apron is beautiful, and I think anyone would appreciate it (even if they already had one).
Calphalon Elite Nonstick 3-Piece Fry Pan & Saute Pan Set, $100, Williams-Sonoma
It wasn't until I moved out of my house and started building my own kitchen that I realized pans are expensive AF. Like, crazy expensive. So, receiving some as a gift is something anyone would appreciate. This set includes a frying pan and a saute pan, along with one lid. For this brand, the price is good, and they'll definitely be put to good use.
Bitterman's Himalayan Salt Block, $35, Amazon
Know someone who grills a lot? If so, a salt block is a really unique gift idea. Salt blocks are excellent for cooking meat, fish, or chicken on the grill — they boost flavor and make everything better. They can also be used as a chilling slab for food as well.
Cuisinart Round Classic Waffle Maker, $28, Amazon
Who doesn't like waffles? If you do, I don't want to know you, sorry. There are lots of expensive waffle makers out there, but I got this one for my birthday and absolutely love it. It works super quickly, has five different heat settings, and produces waffles that are crispy on the outside but fluffy on the inside.
15. Glass Cannisters
Kate Spade New York Little Bit Of That Medium Glass Cannister, $29, Indigo
There's nothing wrong with keeping your ingredients, like sugar and flour and such, in the bags you purchased them in. But there's something nice about putting them in glass canisters for your countertops. You can use them for baking ingredients, snacks, cereals, cookies — basically whatever you want. These Kate Spade cannisters are so cute. This one says "A little bit of that," while another option says "a little bit of this." Get the set or just one.
16. Serving Plates
Mud Pie Bistro Tidbit Plates Set, $35, Indigo
If you have no idea what to get someone, you can't really go wrong with cute serving dishes. These little guys are ideal for small appetizers for a party.
Bialetti 5 Quart Pasta Pot, $33, Amazon
What makes this pot interesting enough to make it worthy of a holiday gift? The cover has a built in strainer, making it super easy to strain your pasta water. It's a tiny luxury, but it's a great one.
Cuisipro Herb Keeper, $21, Amazon
Anyone who cooks a lot knows that keeping fresh herbs around is kind of a pain. You can often only buy them in large quantities, even though you only need, like, one tablespoon. This little gadget keeps them fresher for longer because of the water at the bottom - and it also works for veggies like celery or asparagus.
Bistro 3 Piece Melamine Mixing Bowl Set, $23, Amazon
Mixing bowls are a great option because everyone needs them at some point. I love how these say "whip," "stir," and "mix." They're classic and practical.
Mud Pie Circa Pie Plate and Server, $45, Amazon
Know someone who loves baking? This pie dish is so on point — it says "pie fixes everything" — and the little slicer that comes with it is adorable.
Personalized Recipe Gift Set with Embosser, $70, Williams-Sonoma
No clue what this person could possibly want? A recipe box is a great idea. It's cute and sweet, and it's definitely helpful.
Gold Polka Dotted Pot Holder, $14, Anthropologie
If you're looking for something small, a pretty pot holder does the trick. You really can't have enough of them, and this one is so nice to look at.
Images: Courtesy of brands