13 Bra Brands Big Breasted Women Swear By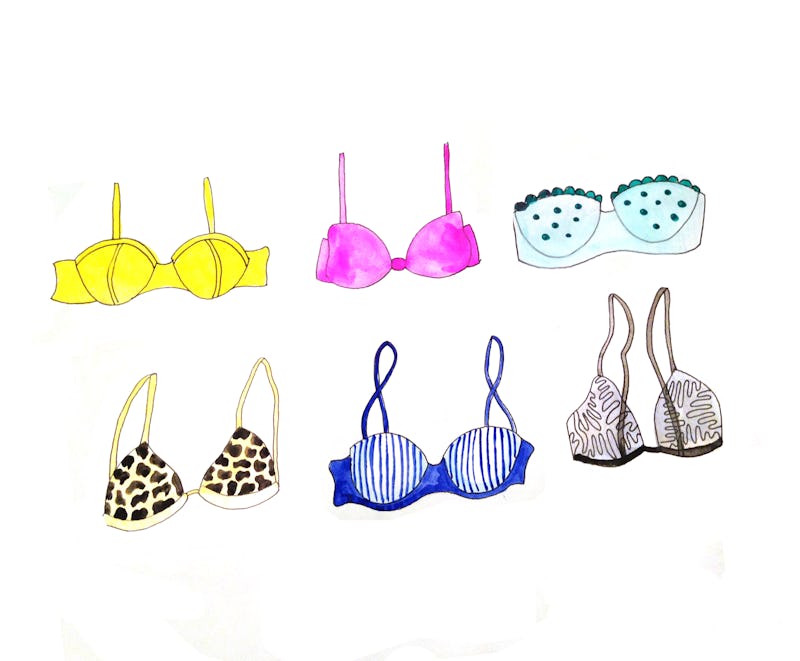 Shopping for bras can be a nightmare. Between the terrifying looking 50 Shades of Grey-inspired lingerie, the glaring dressing room lights and the older woman following you around with a measuring tape, the whole experience is unpleasant AF. It's made even more frustrating for women shopping for bras for big boobs, who have to deal with not being able to find things in their size, or arguably worse than that, only being able to find things that are dull, ugly, and grandma-looking. What gives, department stores?
"I think it's definitely harder to shop for bras when you're bigger chested," says model and actress Cassandra Starr, who wears a 36DDD. "It's not only that the styles aren't as nice, but it's just hard to find a bra that has all the qualities I'm looking for. Not only do I want it to be sexy and have great material, color and design, I want it to have a lot of support so that I can feel confident and have the extra support. A good bra for a bigger busted woman isn't something you can really chance."
Thankfully for those blessed with a D-cup and above, not all bra shopping experiences have to be as traumatizing as the one I just described. There are certain brands that cater specifically to women with big boobs, and others that do a really, really good job of offering cute styles in inclusive sizing. Starr's personal favorites are Wacoal and Lilyette, which she depends on for every-day bras. Hopefully some day, every brand will hop on the big boobed band wagon, but until then it's nice to know there are some brands offering something for everyone. So what are the best brands for women with big boobs?
As a lifelong member of the Itty Bitty Titty Committee, my own opinions on the matter are not exactly relevant or helpful, so I decided to take my journalistic skills to Facebook and see what my larger-chested Internet friends had to say:
My wall, inbox, and cell phone were flooded with messages from women who wanted to share (which was kind of a miracle, because no one ever responds to these Call to Action Posts I put up).
Here are their 13 favorite brands (with their names omitted per request) and the reasons why they love them.
Perfect Shape Bra, $54, Victorias Secret
"I like them because they're not f**king heinous, like most bras in large sizes. It can be hard to find ones in there that aren't mega padded and push up, but when i do they're gems."
"Victoria's Secret does me goooooood."
Wacoal Retro Chic 2-Section Cup Bra in Chantilly Lace, $60, Her Room
"TBT To when I prayed for them daily and now don't know where to put them, but I love Wacoal because their styles are supportive and pretty."
"Wacoal Bras are the best and pretty for large sizes.... The Rolls Royce of big busted bras! They go up to EEE and FF size! Amazing and comfortable and not grandma looking!"
"Wacoal Red Carpet convertible strapless = life changing."
Calvin Klein Everyday Convertible T-Shirt Bra, $21, Bare Necessities
"They're all very comfy, and there's a variety. Some are boring t-shirt bras and some are lacy, but they just actually fit."
4. Natori
Natori Ultimate Comfort Bra Style 721139, $62, Natori
"I love Natori because their styles are pretty but also supportive. Gross, I sound like my mother."
The Jessica, $98, Trusst Lingerie
"Anyone who has larger than average breasts, is frustrated with a life time of foiled underwires and shoulder crevices, should try Trusst."
Coobie Bra V-Neck Lace Trim, $20, Shop Coobie
"I have four and am obsessed. I workout in them, spin, Pilates, yoga, even sleep in them. They're amazing."
Strappy Lace Longline Bralette, $31, Torrid
"I've come to like Torrid, which is a plus size store. There, I'm a 42 DD in a certain cut. Although I don't wear plus size clothing they seem to satisfy my need currently. Big boobs are such a challenge. Buttons on shirts, always looks like they are in pain, screaming to pop. LMAO."
Panache Wireless Sport's Bra, $68, Panache
"Panache bras changed my life! Especially the sports bra"
Nike Victory Compression Bra, $23, JCPenney
"Nike in one size too small straps that sh!t down"
Modal T-shirt Bra, $22, Gap
"Wacoal is great, but Gap Body is a cheap dupe."
'Basic Invisible' Memory Foam T-Shirt Bra, $61, Nordstrom
"It depends on the bra — I don't trust one brand completely, but I have one from Chantelle that is my go-to. Its held up pretty well, and the thin memory foam type material is nice!"
Metallic Lace Front-Close Boost Metallic Bra, $53, Lane Bryant
"My life changed when I discovered Lane Bryant's bras!"
Freya: Fancies Plunge Balcony Bra, $38-$55, Bare Necessities
"I'm a 32FF and Freya is definitely my go-to for everyday bras. If I want to splurge on a sexy lacy bra, I usually buy Fantasie. I find both brands to be very flattering and comfortable."
"When I finally got fit and found out my real bra size, I tried on a few Freya bras and am now obsessed. They're really supportive and comfortable, but are also very cute. I like that they have more options than just t-shirt bras."
Images: Liz Minch; Courtesy of Brands