ColourPop x Hello Kitty's Restock Is Selling Fast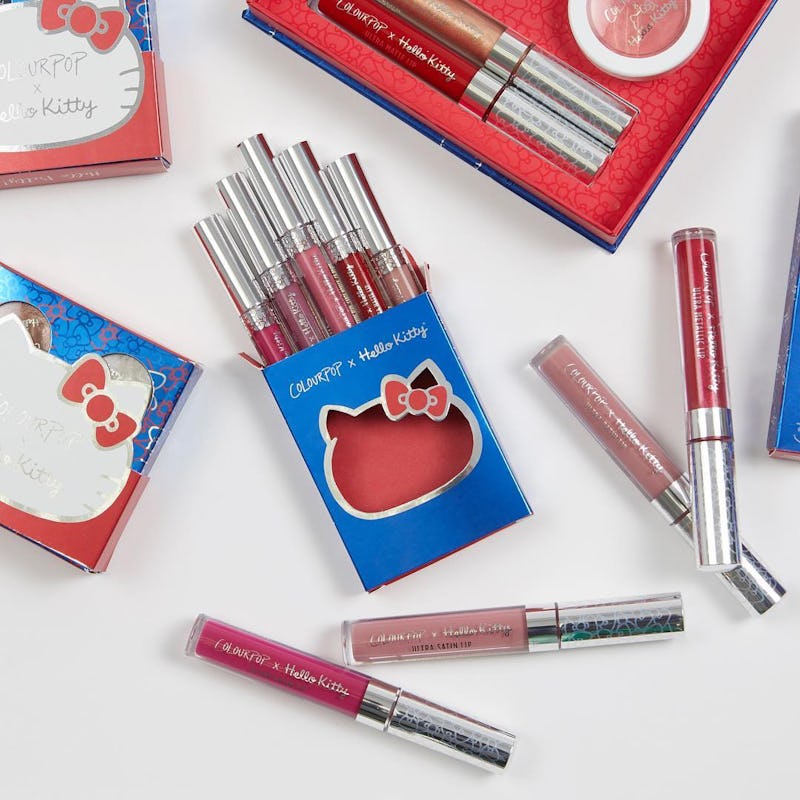 The restock and new items from the ColourPop x Hello Kitty line have been available for purchase for six hours already, so it's no surprise that a lot of things are already sold out. This is Hello Kitty and ColourPop we're talking about, after all, and these two brands have some seriously die-hard fans. Lucky for those fans who haven't had a chance to shop the collection yet, not everything is gone. There is still time to add some of the new items to your cart for the makeup lovers on your holiday gifting list list... or, let's be real, for yourself. So what's still available in the ColourPop x Hello Kitty Extension?
The extension, which was announced on Thursday via ColourPop's Instagram account, included all of the products from the original Hello Kitty Launch, as well as four exciting new offerings. There are two new colors of Ultra Matte Lipgloss, and "Ribbon," a matte red shade which came in one of the original sets, will now be available to purchase as an individual gloss. "Milk Bottle" is a matte rosy mauve, while "Mimmy" is a deep, matte burgundy purple. It's way hard to decide which one is the prettiest!
Luckily for the indecisive humans among us (myself included) there is a mini set that includes all three of these colors, as well as a satin finish soft mauve called "tiny chum" and a satin finish deep fuschia called "lock diary."
The new products are all still available (TG) for now, but some of the other items from Friday's restock are already gone. The Surprise Metallic Lip and Date Mate Lippie Stick were sold out as of 7 p.m. ET, and considering how much everyone loves all things ColourPop x Hello Kitty, I have a feeling the new (gorgeous) shades and their adorable mini kit won't last for much longer.
There are still 16 items available — including lippies, matte, satin and metallic glosses, eyeshadow, blush and a face kit — but I seriously doubt they're going to last over night.
Better get to clicking!
Images: @ColourPop/Instagram