Zach Braff Wants More 'Scrubs'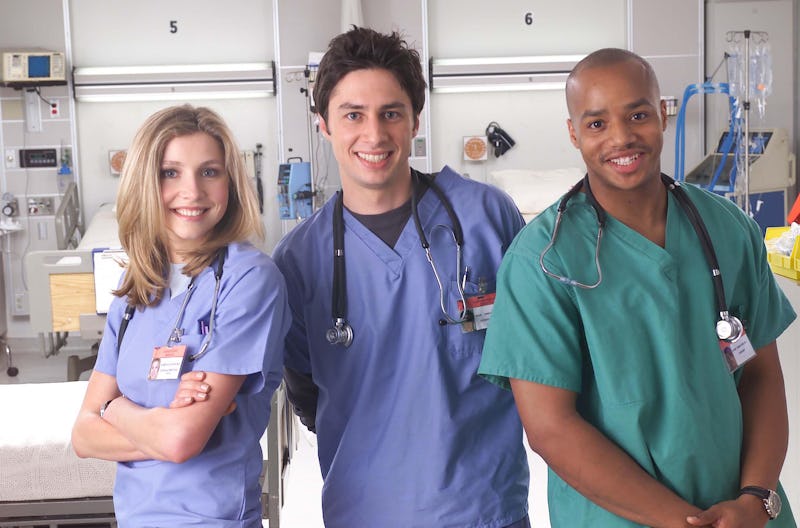 Paging the Sacred Heart Hospital team, J.D. is ready for a staff reunion. During a Twitter Q&A to promote his new movie Going in Style, Zach Braff said he would definitely be part of a Scrubs reunion if some benevolent streaming service wanted to resurrect the comedy. In fact, Braff even admitted to being a bit jealous of all the Gilmore Girls and Full House love. Where is the love for J.D., Turk, and Elliot? Sure, the hospital comedy did not end with any lingering questions or dangling romantic plot threads, but the Sacred Heart doctors, nurses, and one mysterious janitor gave the world all the laughter and surreal dream sequences it could handle for nine seasons. The show's special brand of comedic genius should earn it way more reboot demands.
Braff did say there are talks every now and then about getting everyone together for more episodes. It is not exactly an official announcement, but just knowing Braff and the rest of the gang love Scrubs enough that they still talk about reuniting should make any fan break out in a chorus of "Guy Love" in celebration. Scrubs was underappreciated when it was on the air, but it has a passionate fan base and a dedicated cast. Maybe one day that will lead to a reunion special, at the very least. Middle-aged J.D. and Turk being dad bros is a thing everyone needs in their life.
The only possible downside to a Scrubs reboot is the show had a perfect ending. OK, so the season where the cast was swapped out for new, young interns was not perfect, but it is impossible to complain about J.D. picturing his future with Elliot, or Dr. Cox finally revealing his admiration for J.D. (and getting a hug he totally did not want in thanks). Even the janitor wished J.D. a fond farewell.
There is no way to make J.D.'s farewell to Sacred Heart better. Still, seeing all the characters together again one more time would be so much fun — especially if J.D. and Turk's son and daughter really end up getting married to each other. Actually, that would make for an excellent reason to get everyone back together. If you are listening Netflix, the Scrubs reboot would basically write itself, with a little help from series creator Bill Lawrence, of course.
Just because a reboot is not necessary in the case of Scrubs doesn't mean the fans would not be just as into the idea as Braff is. Hopefully, J.D. and his friends will return to Sacred Heart one of these days and treat the world to one more outlandish, hilarious, and touching peek inside J.D.'s vivid imagination.
Image: ABC