The ColourPop X Hello Kitty Mini Set Is Must-Have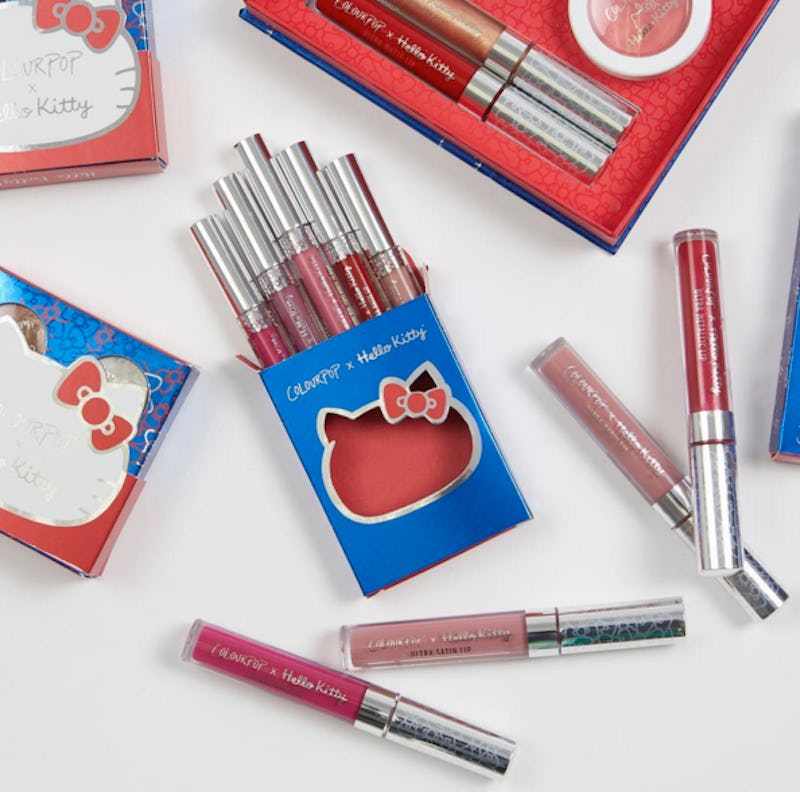 OK, so it's hard to pick a favorite piece from the ColourPop X Hello Kitty collab. But if I had to do it, I'd definitely say that the one and only mini set from the collection is what you should spend your money on first. Hear me out. What's in ColourPop X Hello Kitty's Puroland Mini Lippie Set? You get so much product with this purchase.
The brand recently extended their Hello Kitty line, and by doing so, they revealed they had even more fun beauty items they'd been keeping from us all along. They launched three single lipstick shades and one Mini Lippie Set, and the only question I have after seeing these goodies is, "where have you been all my life?"
I have to say, I've fallen the hardest for the minis, though. For one, they're super cute tinsy tiny lippies, and what's not to love about that? And two, the set contains five different shades. The kit comes with Milk Bottle, Mimmy, Ribbon, Tiny Chum and Lock Diary. Milk Bottle, Mimmy and Ribbon are the three latest singles while Tiny Chum and Lock Diary already existed in the ColourPop X Hello Kitty collection. It retails for only $18, and if you were to buy the three newest singles individually, that would cost $18. But now, for the same price, you also get two extra colors from this collection. Now are you getting why I'm obsessed with this product?
The full-sized lippies are great and all, but aren't the tiny versions just adorable?
You'll get the latest shades when you shop the set.
These colors will do amazing things for your beauty game.
But, you'll also snag Tiny Chum and Lock Diary in this set, which means you'll be adding a go-to nude and a powerhouse pink to your makeup collection. Not bad!
It'd be a shame to deny yourself a precious purchase.
Puroland Mini Lippie Set, $18, ColourPop Cosmetics
You really just can't say no to a product like this. Does ColourPop X Hello Kitty know how to deliver exactly what you need or what?
This set will be available while supplies last, so get to shopping before it sells out already, would you!?
Images: colourpopcosmetics/Instagram (1); Courtesy ColourPop Cosmetics (1)