10 Cocktail Recipes, Garnishes, and Accessories to Step Up Your Bartending Game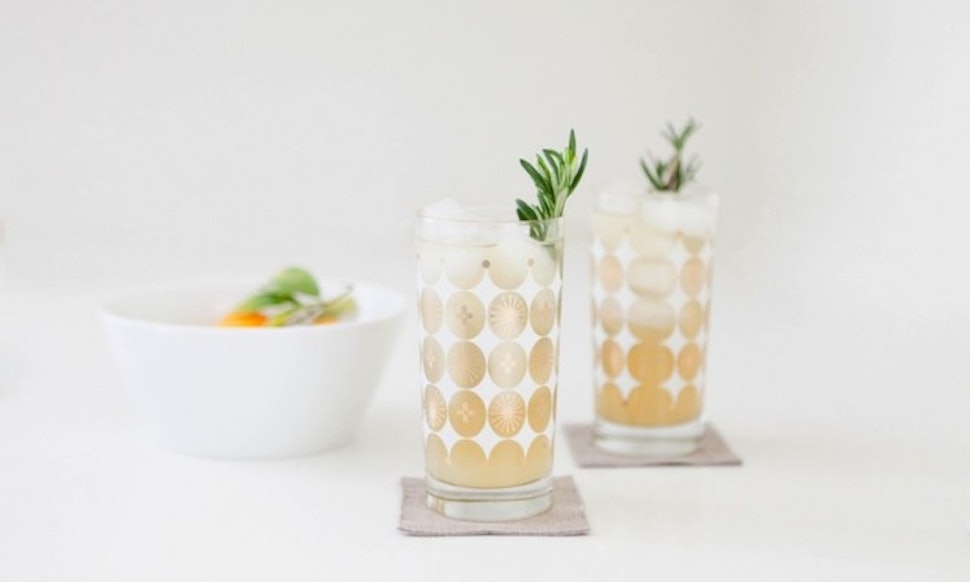 You know what feels awesome? Knowing you can mix a killer cocktail. But whether you've got one signature drink you've perfected or a whole slew of sippers in your repertoire, sometimes it's hard to keep yourself from falling into a cocktail rut. Gin and tonics again?!
We've come up with 10 easy ways to help you change up your cocktail game. From homemade bitters to beautiful glassware, we're sharing all the best ways to boost your bartending skills to the next level. Cheers to that!
Spike A Favorite
Ever find yourself sipping on a delicious non-alcoholic drink and wonder how it would taste with a touch of your favorite booze? Amazing, that's how. Make an adult version of your favorite booze-free beverage, like The Effortless Chic's spiked Arnold Palmer.
Image: The Effortless Chic
Try Homemade Bitters
Adventures in Cooking teaches you how to make your own ultra-enticing bitters, in flavors like Bloody Mary, coffee, and key lime pie. Yum!
Image: Adventures in Cooking
Make Your Own Mixers
Change Up Your glasses
Toss those boring tumblers — a non-traditional glass, like in Brooklyn Bride's roundup of variations on the Champagne flute, will showcase drinks differently and spark conversation.
Image: Brooklyn Bride
Make Your Own Garnishes
From Simply Scratch's pickled jalapeños to Adventures in Cooking's candied blood orange slices, homemade garnishes are an easy and delicious way to look like the cocktail master.
Image: Adventures in Cooking
Infuse your Alcohol
The Shiksa suggests infusing alcohol with orange peel, vanilla, or herbs, to give your drinks extra depth of flavor.
Image: The Shiksa
Make Some Simple Syrup
Make your own simple syrup, like Hummingbird High's rhubarb version, Love and Lemon's lavender, or the Shiksa's herb infusions, to add a delicate hint of flavor and subtle sweetness to any cocktail.
Image: Hummingbird High
Get Creative With Your Ice
Make your cocktails stand out by giving your ice cubes a different shape or dressing them up with frozen flowers, per The Cozy Kitchen.
Image: The Cozy Kitchen
Try a Bottle of Something New (or Old)
Look for a bottle of something with an interesting provenance or a long history, so that you'll have a wealth of cocktails to try and a rich history to tell your drinking buddies about. Consider the herbal Italian liquor Amaro Averna, or a bottle of tart Chilean Pisco.
Image: Amaro Averna
Serve Differently
Take note from the Shiksa and let your guests take an active role in the bartending process by setting up a self-serve bar. It's fun, interactive, and lets you mingle instead of being stuck at the mixing station on refill duty.
Image: The Shiksa