Where To Buy Winky Lux's Unicorn Tears Lip Gloss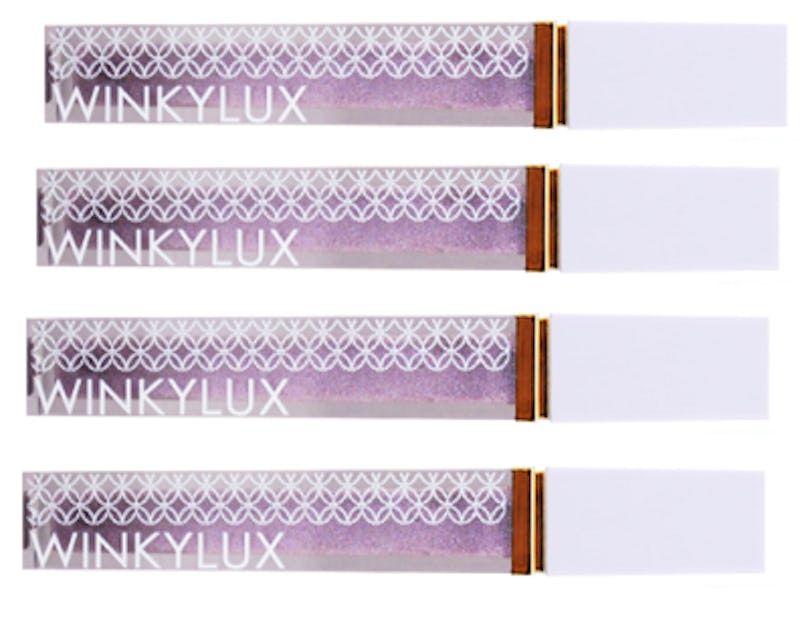 If you have the urge to channel your inner unicorn, then this new holographic lip gloss from Winky Lux is definitely for you. But where can you buy Winky Lux's Unicorn Tears lip gloss? Don't worry, it's not going to be that hard to find.
It's exciting to know that our favorite childhood looks are coming back into vogue nowadays, pulling inspiration from our favorite My Little Pony and Lisa Frank characters. It's like a second chance to jump back into our five year old obsessions, just this time instead of painting our faces with markers and stolen Mary Kay lipsticks, we can do it with chic makeup brands.
The Winky Lux's version is a sparkly lip gloss that has '90s frost lipstick vibes — in the tube, it's a cool purple and blue mix, flecked with gold sparkles that promise to capture the light once on your lips. When you swipe it on it goes clear, but has a subtle lilac tint. "The shimmery amethyst looks opaque in the tube, but it's actually crystal clear. When swiped onto a bare mouth, the gloss lends a gorgeous glittery lilac shift when it hits the light," Allure reported.
If this sounds like something right up your alley, then you don't have to look far to get it.
Unicorn Tears, $15, Winky Lux
The Winky Lux Unicorn Tears lip gloss is sold at Forever 21 and online, at winkylux.com.
That's right, you can now snag a tube as an impulse purchase as you wait in the winding, long lines at your fave fast-fashion store, adding some makeup sparkle to whatever outfit you picked up that day.
This is just one more amazing makeup brand that Forever 21 picked up, placing it side by side on the shelf with L.A. Girl, NYX, and e.l.f. among others. In fact, this isn't the first Winky Lux product that they have in stock — the unicorn inspired gloss joins the ranks among already available Winky Lux products like matte lipsticks, illuminator compacts, and gold liquid eyeliners. And just like the rest of those products, you can pick up the gloss today if you want to get your unicorn on. Who doesn't want a little extra sparkle in their lives?
Images: Winky Lux (1)