Weird But Awesome Beauty Products on YouTube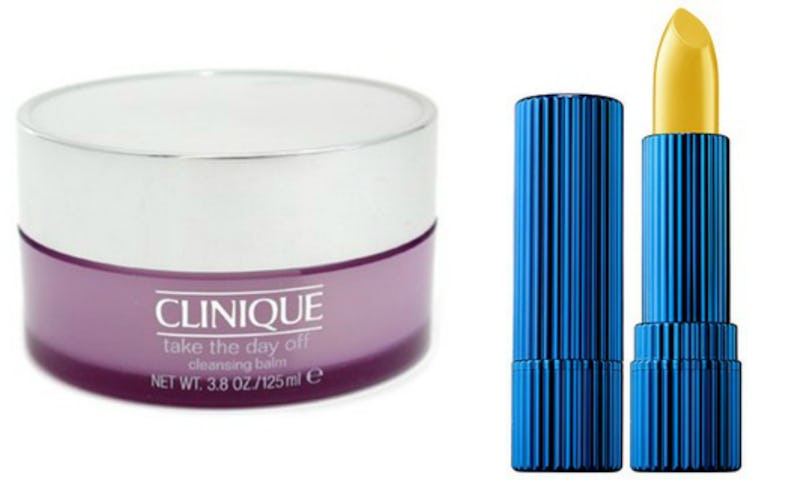 Makeup has been getting wild, but in a totally good way. From crazy colorful highlighters to face products that seem gimmicky yet are actually amazing, looking through the best beauty hauls by vloggers can help you find all your new favorite products. These are the picks hitting the market that make your beauty routine as much fun as that of any makeup- and hair-obsessed YouTuber, a.k.a. the people who get to try 'em all out first.
If you're ever in the mood for spending money on the best new beauty products, I highly recommend binge-watching beauty hauls on YouTube. If you're totally new to the scene, these are basically videos where bloggers present the newest and coolest products they picked up on a shopping trip. And while some are your basic lipsticks and eyeshadows, once in a while they'll buy something that's so crazy, you'll want to try it too. But with so many kooky things and so many beauty vloggers, the list is so overwhelming for anyone who's not too informed about the beauty market, which is why I've narrowed them the top innovative products that stand out from the pack.
Here's a list of the beauty products trending on YouTube. You'll find some cool makeup, life-changing skincare and unique hair products recommended by the top beauty bloggers. Get your wallets ready and beauty game face on!
1. A Yellow Lipstick That Transforms Your Entire Collection
The Estée Edit Lip Flip Shade Transformer, $22, Sephora
Once you buy this lipstick, you never have to buy another one again. Raved by Tati and Rachhloves, this lipstick appears bright yellow when swatching, but when you layer it with another lipstick, it transforms the original shade making it lighter or darker.
2. Eye Patches Literally Made From 24K Gold
Peter Thomas Roth 24K Gold Pure Luxury Lift & Firm Hydra-Gel Eye Patches, $75, Sephora
Gold isn't going anywhere and we're not talking about the color. I discovered these eye patches after watching a makeup haul by RositaApplebum. Buy applying for 10 minutes, the gold works to lift and firm the under-eye area to help retain moisture and overall, make that area look brighter.
3. A Rejuvenating Face Mask That's Magnetizing
Dr. Brandt Skincare MAGNETIGHT Age-Defier, $75, Sephora
From Makeup Geek to Jeffree Starr, tons of beauty vloggers have been testing out this cool face mask by Dr. Brandt and I have to say, it's impressive.You slather on this iron-infused mask and then use the magnet to pick up the residue minutes after your skin absorbs it. Innovative, huh?
4. A Primer That Sparkles With
Guerlain L'Or Pure Radiance Face Primer, $74, Sephora
Yes, another gold-infused product. As seen on RositaApplebum's beauty haul and everywhere in the YouTube beauty world, this primer has little flecks of gold that help moisturize and tighten the skin.
5. A Remover That Takes Off Even The Most Stubborn Makeup
Clinique Take The Day Off Cleansing Balm, $29, Sephora
You know how sometimes you wash your face and there's some makeup that's still clinging on, especially waterproof mascara and long-wear lipstick? This product changes everything. This cleansing balm was mentioned in BeautywithEmilyFox and Sona Sagaraya, and has the whole beauty world talking. Once applied, it dissolves right on your face and gets rid of every bit of makeup off your face.
6. A Dewy, Balmy Foundation Formula
The Estée Edit Skin Glowing Makeup Balm, $36, Sephora
Jaclyn Hill was head over heels when she presented this makeup balm in a recent beauty haul. Estée Lauder's sister brand came out this foundation with a balmy texture for hydrating your skin with a dewy glow that's so in right now.
7. A Powder-To-Paste Face Cleanser
TATCHA Polished Classic Rice Enzyme Powder, $41, Amazon
Beauty Vloggers are obsessed with TATCHA, especially this classic rice enzyme powder. As seen on NikkieTutorials, this facial cleanser comes in powder form, but then add water and it turns into a paste that exfoliates your face. "I feel like my skin cleared out a lot after using it," says Nikkie.
8. An Alternative To Pricey Translucent Powders
RCMA No-Color Powder, $29, Amazon
MakeupByAli introduced this no-color powder in a recent beauty haul, and now it's been seen everywhere. While most translucent powders are expensive, this no-color powder is a much more affordable option. Use it to set your foundation or to bake your skin.
9. A Highlighter That Looks Good On Everyone
Sleek Highlighter Palette Solstice, $20, Amazon
For some people, finding the right highlighter for their skin is struggle city. But, sophdoesnails, Jaclyn Hill and Jeffree Star have all talked about how amazing the Sleek Highlighter Palette is. With two creams and two powders, the combinations are endless, letting you play around with them to achieve a custom glow that works for your skin. "This is the best highlighter I've ever used," says sophsdoesnails.
10. An Ultra Moisturizing Hair Lotion Made From Olive Oil
Organic Root Stimulator Olive Oil Moisturizing Hair Lotion, $6, Amazon
If you haven't tried hair oils, you don't know what you're missing. Jasmine Brown calls this hair lotion one of her favorite beauty products for curly hair. Made from natural olive oil, Brown says that a little goes a long way to hydrate her ringlets.
11. A Hair Tool That Straightens, Curls And Waves
Sultra The Seductress Curl, Wave, & Straight Iron, $195, Amazon
Named one of her favorite hair products of 2015, Kendra Atkins loves this hair tool because of its versatility. Unlike other settings, this tool separates them based on hair type: fine, normal, and thick hair. Plus, it heats up super fast, and it's thin enough to curl and wave your hair.
12. Too Cool For School Egg Cream Mask Hydration
Too Cool For School Egg Cream Mask Hydration, $6, Sephora
"If you're looking for intense hydration, this will be your best friend," says Jaclyn Hill when she presented this product in a favorites video. Made from a mix of coconut and egg, yes egg, cream extracts, this mask is a quick treatment to hydrate dull, flaky skin.
Bustle may receive a portion of sales from products purchased from this article, which was created independently from Bustle's editorial and sales departments.
Images: Amazon (6); Sephora (6)