Jessica Chastain Looks So Different As A Brunette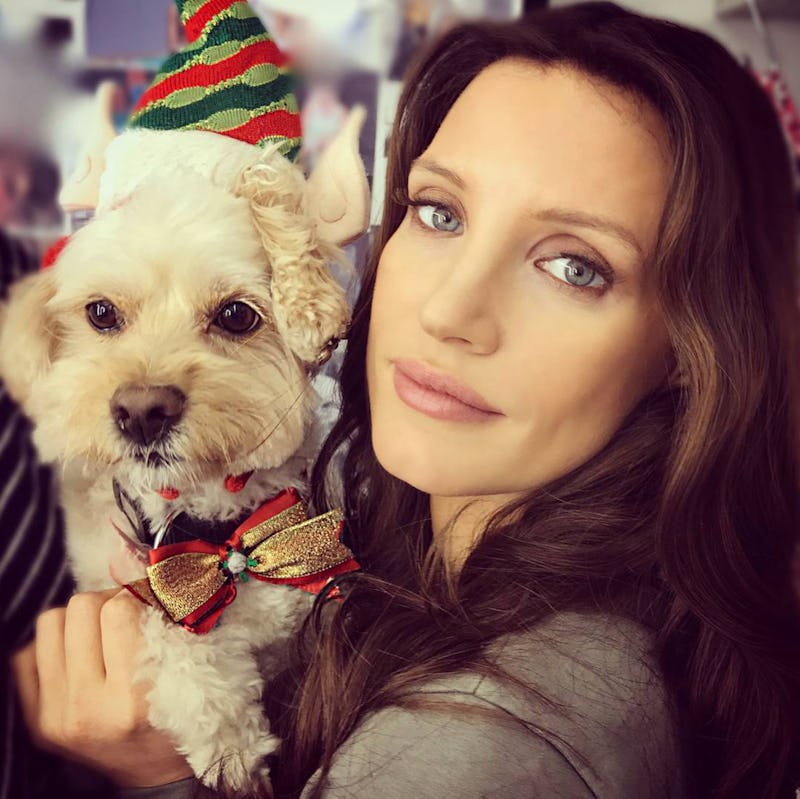 We may know and love her as a redhead, but it looks like Jessica Chastain has gone brunette — and it pretty much goes without saying that she looks absolutely fabulous. She was first spotted rocking the new shade at the end of November, but she officially debuted the look on her Instagram account a couple of days ago, first with a cute group photo from an on set holiday party, and most recently with a drop dead gorgeous selfie with her dog (who was also sporting a new look — in the form of a holiday elf hat, that is).
Is her new look for real, though? It certainly looks real, especially since the new shade suits her so well — but it's important to remember that she's currently filming a movie called Molly's Game , and that she's sported the brunette look on set. A quick double-check of the timeline of her redheaded selfies on Instagram, and her brunette filming sightings definitely makes it seem like there's a wig in play here, but it's tough to say for sure — and who knows, maybe Chastain will even be inspired to dye her hair for real after slaying the wig so hard.
It's not the first time Chastain has made the switch from redhead to brunette — she's worn the look in different movies (like 2013's horror flick Mama ) before. Heck, she was even a blonde in her Academy Award-nominated turn in The Help.
Honestly, the woman can rock pretty much any shade of the universe, no? At any rate, Twitter in particular seems to be very excited about her latest run as a brunette.
What do you think? Do you love Chastain's latest hair transformation as much as Twitter does?
Images: jessicachastain/Instagram; The Help/DreamWorks Pictures