Dying Your Hair With Nutella Is A Thing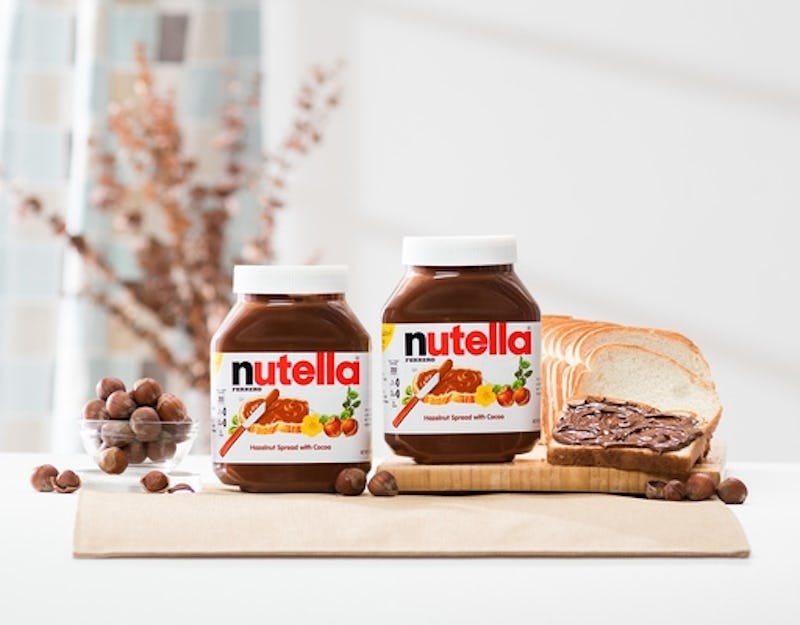 As anyone who studied abroad knows, Nutella is the food of the gods. You can eat it on literally anything (I refuse to admit all of the things I've drunkenly tried to put it on), and now we've found a whole new use for the miracle food: Nutella hair dye.
According to Yahoo Beauty, a salon in the United Arab Emirates called Abed & Samer has created the perfect brunette hair dye by mixing Nutella with condensed milk. It supposedly lasts anywhere from two to three weeks, but can stay on even longer if you're looking for a darker shade. Apparently, the basis of all of your favorite chocolate desserts can also double as your dream dye job. Go figure.
Leave it to beauty blogger Huda Kattan, who is always willing to try weird beauty treatments so we don't have to (like doing her makeup with a bra pad or using Vagisil as a primer), to find this crazy-but-cool treatment and show it off to the world. She shared one of Abed & Samer's Nutella dye job videos on her Instagram, and the results were prettttyyyy impressive. After a quick glaze and rinse, the blonde model had gorgeous caramel tinted locks. Plus, I can't even imagine how delicious her head must have smelled when the process was over.
For this model, the Nutella dye somehow made her hair shiny, too.
TBH, I'm not entirely sure if I think this is the coolest thing I've ever seen or the grossest, but it does give you a cheap (a jar costs $3.99), no commitment way to change your hair color for a few weeks over the holidays. As if any of us needed another excuse to buy more Nutella.
Images: Courtesy of Boxed.com; HudaBeauty/Abedallahitani/Instgram