'Aftermath' Isn't Your Only Sci-Fi Option On TV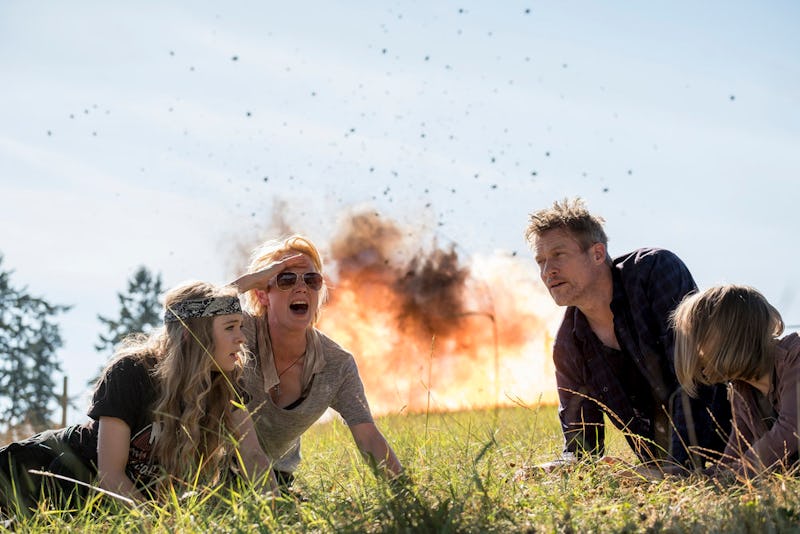 Ah, the season finale. This simple invention often brings stress and horror to the TV fan, worrying about whether or not their favorite but not very popular show will return for more episodes... and I can understand if Aftermath fans are worrying about this right now. Though its first season finale airs on Tuesday, Dec. 20, we still don't know if Aftermath will return for Season 2. SyFy has yet to announce whether the show has been renewed or cancelled and unfortunately, its ratings don't exact;y make Season 2 a sure thing. According to TVSeriesFinale, which collected the ratings for all of the Aftermath episodes, the series never climbed above 0.75 million total viewers and 0.19 in the coveted 18-49 demographic.
Unfortunately, Aftermath is suffering from a far bigger deficit: an enthusiasm gap. While the series surely has some passionate fans out there, it failed to really connect with audiences and inspire some kind of passion. Between that and the mediocre ratings, I wouldn't be surprised if SyFy chooses to let it go after one season. But that doesn't mean that sci-fi (the genre, not the network) is doomed. In addition to lots of popular sci-fi worlds coming to theaters (Rogue One and the trailer for the upcoming Blade Runner sequel were both excitedly embraced by audiences), there have been tons of sci-fi shows lately that you can watch while waiting for news about Aftermath.
Westworld
This HBO series really took off, with fans obsessively wondering about whether or not the show was going to pay off on its many hints and references to the original film and its complicated thoughts about humanity. And while there were mixed reviews about the ending, Westworld was undeniably one of the highlights of late 2016.
The OA
This brand new series from Netflix is already making waves with its twists and intense subject matter. Throw in its big surprise premiere and you have what could be the next big TV sci-fi obsession, especially with the mysterious cliffhanger that ends the season.
Sense8
It's expensive, it's weird, it's... Wachowski. Seriously, the work of these siblings and co-directors is always technologically advanced, humanistic, and not for everyone (The Matrix excepted, of course). But this Netflix series strikes a different note than a lot of science fiction. While many modern entries in this genre are depressed or pessimistic, Sense8 is at its best when it shows how the connection between the Sensates is a powerful, positive one.
The Expanse
Another new SyFy show, this one was already renewed for a second season that's on its way in 2017. The Expanse also manages to do impressive things with a basic cable TV budget, and it has a much quieter, more evocative tone than many of the network's other series.
Stranger Things
No show managed to spin itself from what could have been a quickly forgotten summer diversion into an Internet-fueled phenomenon. The Netflix series won over audiences with its characters, mysterious setting, and of course, the many references to classic science fiction films from the 1970s and '80s.
Whether or not Aftermath returns, there's plenty of great sci-fi on television.
Images: Eike Schroter/Aftermath ULC, Rafy/Syfy (2); John P. Johnson/HBO; JoJo Whilden, Curtis Baker/Netflix