'Patriots Day' Cast Says Film Isn't Too Soon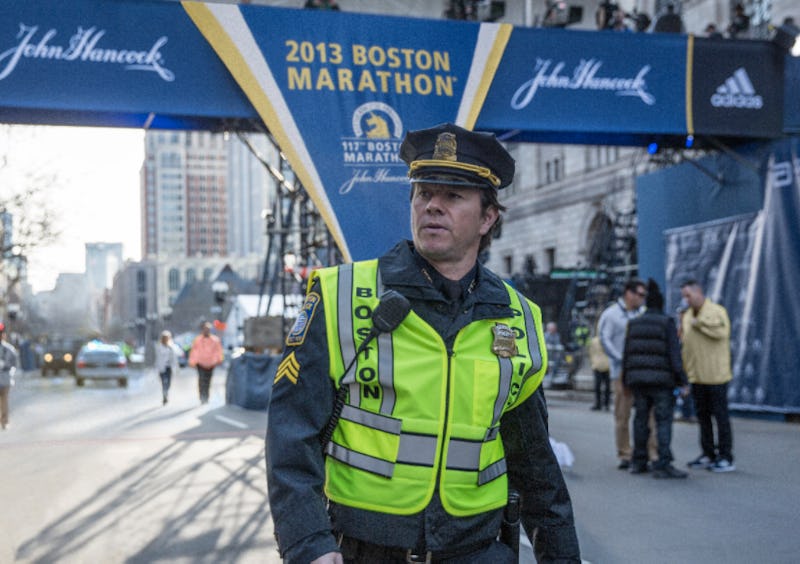 The upcoming bio-drama Patriots Day chronicles detailed events of the Boston Marathon bombings and terrorist manhunt which took place a little over two years ago in April 2013. For many of those involved, impacted, or from Boston, the wounds are still healing and the horrid events might feel like just yesterday. But for Boston native Mark Wahlberg, who serves as co-producer and star of the film, this love letter to his city couldn't have come soon enough. Stars J.K. Simmons and Michelle Monaghan share input on Wahlberg's motives amidst controversy over the film's release as well as their individual perspectives on why the story is more timely now than ever.
Based on the February 2015 book Boston Strong: A City's Triumph Over Tragedy, the film premieres in select theaters December 21st and nationwide January 13th, sparking discussion regarding its timing. Monaghan, who plays Carol, the wife of Wahlberg's fictional character Boston Police Sergeant Tommy Saunders, sheds light on Wahlberg and director Peter Berg's process. "That is definitely something that they took into consideration," the actor says thoughtfully, over the phone. "I think they were incredibly sensitive to the idea that it might be too soon." If anything, it seems Wahlberg wants this story to be told sooner rather than later.
According to Monaghan, Wahlberg saw this opportunity as his "duty" in telling the story his way: accurately and with heart. "I believe Mark said that if anyone was going to make it, he wanted to be the one responsible and the one accountable... He's very proud of where he's from and it really hit close to home for him," she says. "[He] decided to take control of it and make it the way he felt like it needed to be made."
I sit down with Simmons, who plays real-life Watertown Police Sergeant Jeffrey Pugliese. He reflects on the question and shares input in line with Monaghan's. "I just heard an interesting response that Mark had, which was, 'I don't know if it's soon enough for us to do this,'" the actor recounts. Wahlberg has a deep, personal devotion to his city, but it's more than that.
"This stuff is obviously still happening and it's happening far too much," Simmons adds. "Not that making a movie about this is gonna change the world, but hopefully there's an awareness and a sense of togetherness, unity, community." Monaghan agrees, understanding Wahlberg and Berg's sense of urgency in allowing this story to be told right now.
"Pete made it clear that these sort of events are not just unique to Boston anymore, they're happening all over world. His intention was not to exploit the trauma," Monaghan explains. "It really talks about communities and cities and citizens and how they prevail, how they process things like this and come together." The actor explains that heroic acts of selflessness and love in such tragic times are universal and that's what people should see.
"They're not just coming together in Boston, they're coming together in France and in Brussels and all over the world. I think that's important. That's what [Pete] really wanted the film to be about," says Monaghan. The actor says the director did his diligence in communicating his intentions. "He really kept his word, to really pay tribute to these communities," she says. And as both actors point out, these horrifying events take place all over the world every day. But if they have one thing in common, it's that unity overcomes all.
A powerful line of Wahlberg's in the movie is: "Good verses evil, love verses hate, the one weapon you have to fight back with is love." This notion is a clear underlying message throughout. The acts of selflessness by first responders, paramedics, officers, government agents, and victims are so grand, they're almost unimaginable. This is what gives both Simmons and Monaghan hope in their real lives.
When I ask Simmons if he ever feels scared living in the United States given the horrible acts of terrorism in recent years, he confidently says no and proceeds to tell his story of witnessing September 11, 2001. With a two-month-old daughter and two-year-old son at the time, Simmons recalls being close enough to see the smoke. He explains that as afraid as he was in that moment, he still won't allow it to threaten his quality of life.
Same goes for Monaghan, who experienced the September 11th attacks living a mile from where they occurred. "Do I live in fear as a result? No. I can't. I can't possibly live in fear, I don't want to bestow that upon my children," says the actor. If anything, her experience and this film makes her more grateful for life. "It makes you take stock in your own life and the gifts that you have all around us. It's important," she says.
After watching the film, I find myself calling my parents to tell them how much I love them. Clearly, Wahlberg, Berg, and everyone in the process of creating this film can celebrate successfully carrying out what they intended to.
Images: CBS Films/Lionsgate (6)