This Weird Trick Helps You Find Your Perfect Blush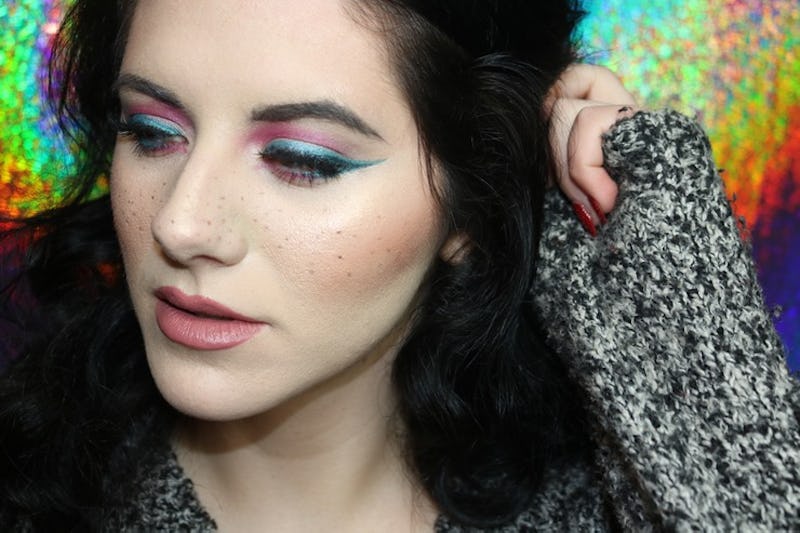 In my opinion, blush is the most personal part of makeup. Find the perfect color, and you'll look wonderfully flushed. Choose the wrong shade, and something won't feel quite right. If you're not sure which hue to pick, keep this weird blush trick in your back pocket and never choose the wrong blush again.
As a makeup artist, I get asked about blush more than any other makeup product. In the past, I'd delve into lengthy discussions on skin surface tone and undertone – concepts that generally cause confusion in the average makeup-wearer's brain. Luckily, I learned there's a much simpler explanation to choosing your perfect shade.
The secret, it seems, lies in your lips — literally. I was lucky enough to learn this trick first hand from the exceedingly talented Yvonne MacInnis, the Global Educating Artist for Marc Jacobs Beauty. MacInnis held up two different colors of Marc Jacobs Air Blush, one on each side of the model's face. She asked which blush we should use on her and why. We all chimed in with a response, tying our selection back to the years of color theory that had been hammered into our brains. MacInnis made the choice much simpler.
MacInnis told the model to pull down her bottom lip to reveal the color inside.
"Take a peek at the inside of your bottom lip. This color, which is different on everyone, is a great guideline to what color 'exists' organically in each individual skin tone organically," MacInnis said.
In other words, the color inside your bottom lip depicts your perfect, natural, goes-with-everything blush color.
It's pretty mind-blowing, and it truly does work. "The colors you might see could be warm pink, peach, dusty rose, cool pink, plum, burgundy or brown," MacInnis explained.
Of course you can still wear other blush shades if you're looking to make a more dramatic impact. But this simple trick will save you whenever you need to invest in a new, everyday blush.
Choosing the right color can be difficult. Try this tip out and never experience blush confusion again.
Images: Author's Own