This Brand Donates Money To Women's Rights Orgs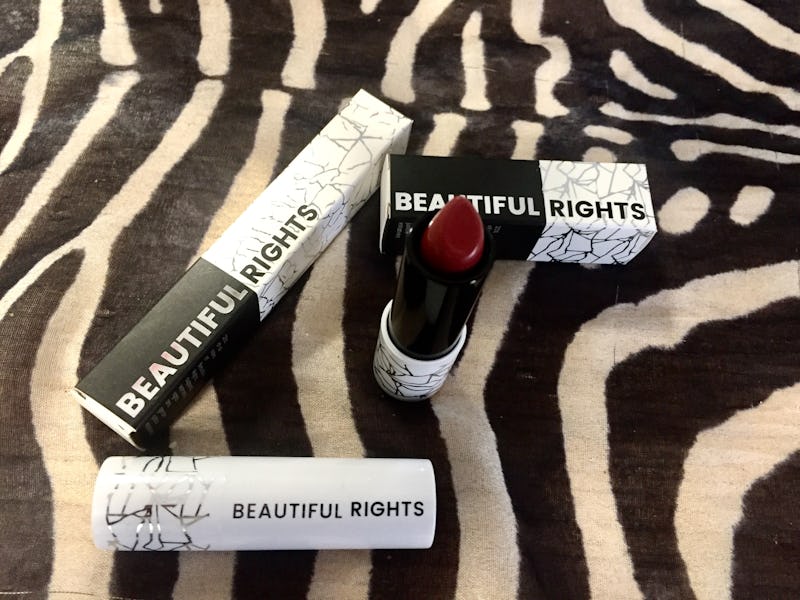 For me, ringing in the New Year was like the sound of the bell in a boxing ring where I knew that when the countdown ended, I would be fighting in any way I could to keep the 2016 election from having a ripple effect on my reproductive rights. Thanks to Beautiful Rights, a new brand of lipstick, you don't have to fight for women's rights alone and you don't have to fight without wearing gorgeous lipstick.
Many companies are using their platform to protest of our current President and VP. There are so many programs, organizations, and laws that need protecting, it's hard to prioritize only one. Kristen Leonard, founder of Beautiful Rights, agrees and that's why Beautiful Rights' donations are different: women are paid 20 percent less than men in workforce and for that reason, Leonard's brand donates 20 percent of sales to organizations that support women's rights and gender justice.
Obviously, combining makeup with activism couldn't have come at a better time — the new administration isn't exactly female-friendly. Before Trump and his team officially took power, they were already plotting to remove federal funding of one of the largest supporters of Women's Health and Women's Rights, Planned Parenthood. However, as Leonard mentioned in our brief phone call, there are plenty other organizations that need our support as well.
Not only do those groups need funding now more than ever, but adding multiple non-profits allows buyers to choose the organization they feel most connected to.
Lipstick wearers/activists have the opportunity to choose from Pantsuit Pink and Politically Pout lipstick, Gloss Ceiling lip gloss, or purchase the whole lot for $64. After choosing an outfit for your lips, you'll be prompted at check-out to choose a pro-women organization for Beautiful Rights to donate on behalf of your purchase: ACLU, Emily's List, Planned Parenthood, Lambda Legal, Legal Momentum, and Mom's Rising.
I'm currently rocking "Pantsuit Pink" with a donation to Mom's Rising — this is the part I love about Beautiful Rights. I'm not a mom, have no intention of being a mom (pending future legislation's of course) but I came from a mom and I know many: Supporting moms is supporting women and frankly, if I hadn't come across the organization during the checkout process, I would have never had the chance to donate to Mom's Rising.
Let's talk quality of the products, though. The lipsticks provide maximum coverage (no retracing needed for a bold lip). The color stayed on for six hours (or until Pantsuit Pink met a burrito)! What really sealed the deal for me was that it smelled like coconuts and botanicals, something that literally made me squeal with delight when I opened the tube.
Beautiful Rights isn't the only brand putting good intentions behind their products. Beauty brands like Real Her give 20 percent to AAUW, a female, empowering non-profit empowering women through advocacy — you should definitely start perusing their lipstick shades as well. This is the time to empower each other, our fellow woman, and support the organizations that have supported us for so many years. Frankly, more beauty brands should be putting their money where our mouth is.