'Time After Time' Is Your New Fantasy Obsession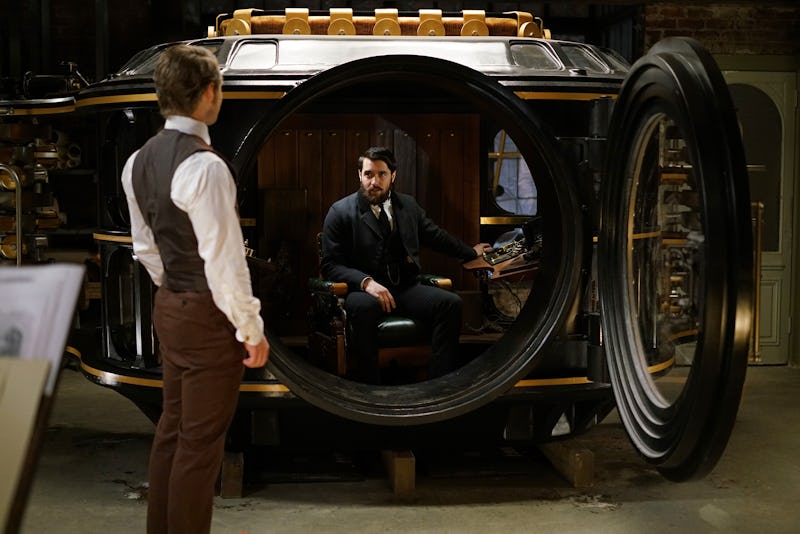 It's been three long, sometimes cold months since I last saw my beloved herd of fairytale folks from Once Upon a Time before their midseason hiatus. And if you're anything like me, you've been scouring the small screen in the hopes of finding anything else that can deliver the thrills and magic that only Once Upon A Time can.
Luckily, we OUAT fanatics will be rewarded for our patience with a back-to-back fantasy on Sunday nights, thanks to Time After Time, which is premiering right after the return of Once. The new series follows science fiction writer H.G. Wells (played by Freddie Stroma, formerly of Unreal) as he pursues one of history's most infamous serial killers, Jack the Ripper (Josh Bowman, formerly of Revenge), from the 19th century to modern day Manhattan, with the help of a hijacked time machine.
Time After Time will definitely deliver the sort of gasp-worthy moments Once Upon a Time fans already know and love. Both shows have no shortage of twisty drama, cheer worthy love connections, salacious crime, and fun mustaches. Plus, the Time After Time cast is stellar and pretty easy on the eyes. (How you doin', Jack the Ripper?) So before you begin to plan your themed viewing party of the midseason premiere of Once (my party includes me dressing up as The Evil Queen while everyone else shows up in PJs), peep the list below for some more reasons why you should stay put for Time After Time . Catch the premiere on Sunday, March 5 on ABC at 9/8c.
1. The Classic Tale of Good vs. Evil
It's a story we never get sick of — good vs. bad; Heaven vs. Hell; dark vs. light — and we see it everywhere in Once Upon a Time (i.e. all the heroes battling evil lurking in every which way). With the good guy H.G. Wells facing off against the sinister Dr. John Stevenson (a.k.a, Jack the Ripper), Time After Time is a classic story of good vs. evil. Or so we think.
2. Familiar Stories Coming To Life
Just as Once Upon a Time does with your beloved fairy tale characters like Belle, Snow White, and Rumplestiltskin, Time After Time revisits the stories of well-known historical characters, integrates them, and flips them on their heads.
And sure, the lines of good and evil may seem clear-cut with H.G. Wells as the good guy and The Ripper as the bad. But who knows what surprises await us this season. We might be in for a switcheroo, like the Once reimagining of Dr. Jekyll and Mr. Hyde.
3. The Adrenaline-Pumping Chases
Who doesn't love a good old fashioned chase? Like Once, Time after Time will deliver those heart racing moments when the protagonist comes all too close to the Big Bad Wolf in an effort to save the day. If you've watched the Evil Queen wreak havoc on Storybrooke, you'll definitely be watching Jack evade H.G. and his pals with bated breath.
4. Fish-Out-Of-Water Comedy
Part of the charm of Once Upon a Time is seeing notable fairytale characters interact with every day folks. Who didn't love watching Henry's first encounter with Violet and wooing her with his iPod over at Camelot? We're sure to see plenty of knee-slapping moments like this with 19th Century characters like Wells and Dr. John Stevenson being plopped into the millennium. I mean, imagine Dr. Stevenson ordering a glass of port and a cigar at an NYC sports bar. Priceless.
5. A Love Story Worth Rooting For
There's no denying those instantaneous sparks between Emma Swan and Captain Hook. Even if she was the consummate good guy and he was bad to the bone, their first scene together, I was shipping Captain Swan. While Time After Time is not your textbook fairly tale, it will most definitely deliver a gush-worthy love story. We're already working on the couple name for H.G. Wells and museum curator Jane Walker.
Catch the two-hour premiere of Time After Time Sunday, March 5 on ABC at 9/8c.