Josh Bowman Makes Bad Look Good In Time After Time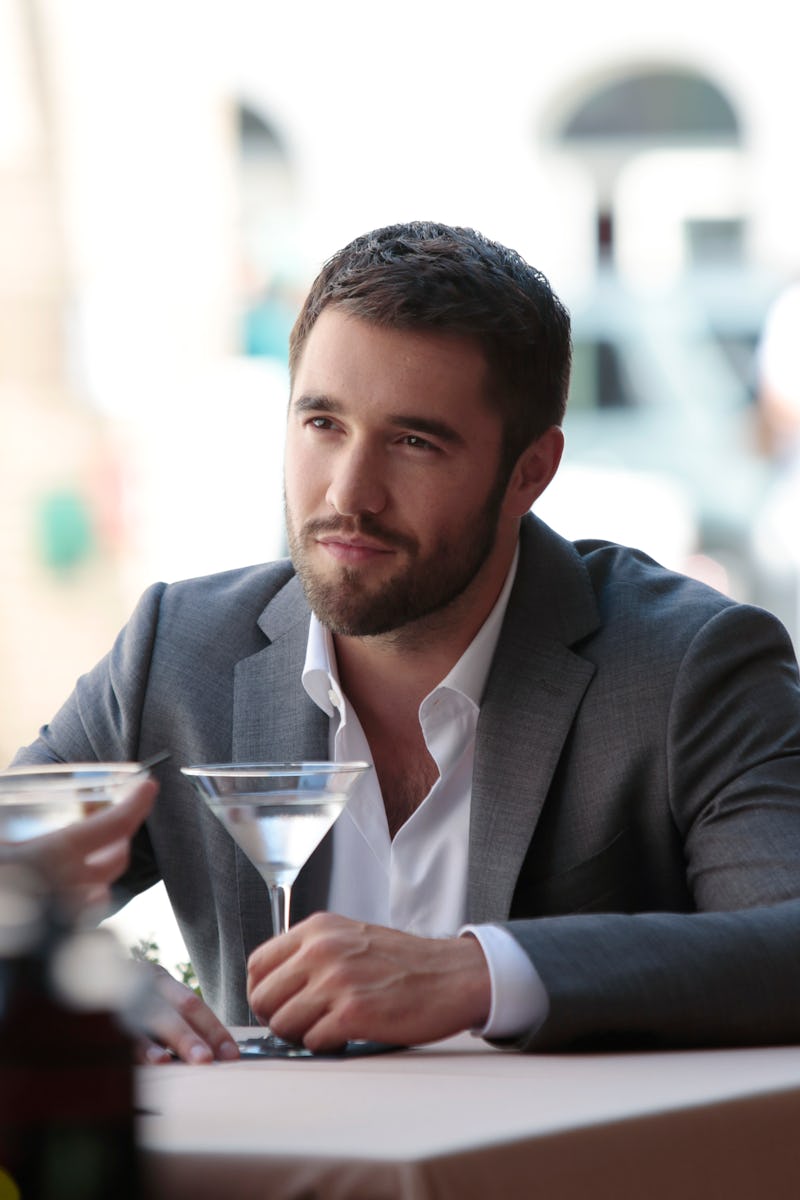 Would it make me a walking cliche to admit that I love a bad boy? Family and friends will be sending me messages via text, call, pigeon carrier, and edible arrangement spelling out "run the other way!" But alas! I throw caution to the wind and fall right into the arms of his black leather jacket. This is why I'm supremely excited for Josh Bowman's turn as the ultimate bad boy in Time After Time.
And while social scientists and psychologists are hard at work investigating the cultural fascination with "the Bad Boy," I've recently started doing my own research into this hot topic. On the new ABC drama Time After Time , Bowman (ABC's Revenge) plays the ultimate historical bad boy — as in, the actual real life bad guy Jack the Ripper. The show follows The Ripper after he transports himself into the present using the time machine of his good friend HG Wells (Freddie Stroma of Unreal). Wells pursues The Ripper into the future to stop him from killing again. But as a handsome rake on the loose in present-day New York — it's not tough at all for unsuspecting young victims to be lured into his clutches.
And even if Josh Bowman is portraying a notorious murderer, please don't judge me for thinking that he looks damn good doing it. Catch the 2-hour premiere of Time After Time at 9/8 C. Sunday, March 5th on ABC.
1. His English Accent Gives Me All I Need
Not to sound like a typical ~American~ but an English accent is a sure-fire way to catch my attention. Speaking of the accents currently doing it for me, Bowman's own Brogue makes me a little weak in the knees. With an accent like that, he can read the dictionary to me and I'd be swooning.
2. He Ooozes Confidence
Most bad boys get copious amounts of attention because they're dripping with confidence — even if they're not the best people. Bowman's own portrayal of The Ripper perfectly epitomizes that paradox. Like, he's terrible, and he knows it. But I love it.
3. His Facial Hair Is Heavenly Yet Devilish
Just as a matter of personal preference, I like a guy with a little grass on his facial playing field. And my new favorite villain can be seen sporting some no-shave-November whiskers as he makes his entrance to modern Manhattan that I heartily enjoy. And even when he shaves it in favor of some rugged yet polished scruff, it's still something I'd sell love to nuzzle.
4. He Has A Mesmerizing Lust For Life
Bowman portrays the Ripper with an undeniable charisma that would compel anyone to let their guard down and try to live on the edge for a moment in time. He is carpe-ing that damn diem, there are few things sexier than that.
5. He's The Friend That Pushes Boundaries
Every one of us knows a pair of unlikely buddies that remind us of Jack the Ripper and H.G. Wells. They're an pair of handsome fellas whose world views and motivations couldn't be more different, but they kinda complete each other. And sure, Bowman's Ripper may have some violent tendencies, but in more innocent moments, he pushes H.G. Wells to live a little.
6. He's Got A Smile That Could Kill
There are smiles that are just straight-up creepy — ones that shout "I can't be trusted, so run the other way." Then there are stellar smiles — smiles that make you melt into a puddle on the ground — that belong to deceptively but undeniably sinister people. The latter is Josh Bowman's character in Time After Time, and we are all at risk of falling deep in lust.
This article is sponsored by Time After Time. Catch the 2 hour premiere of Time After Time Sunday, March 5 at 9 on ABC.
Images: ABC