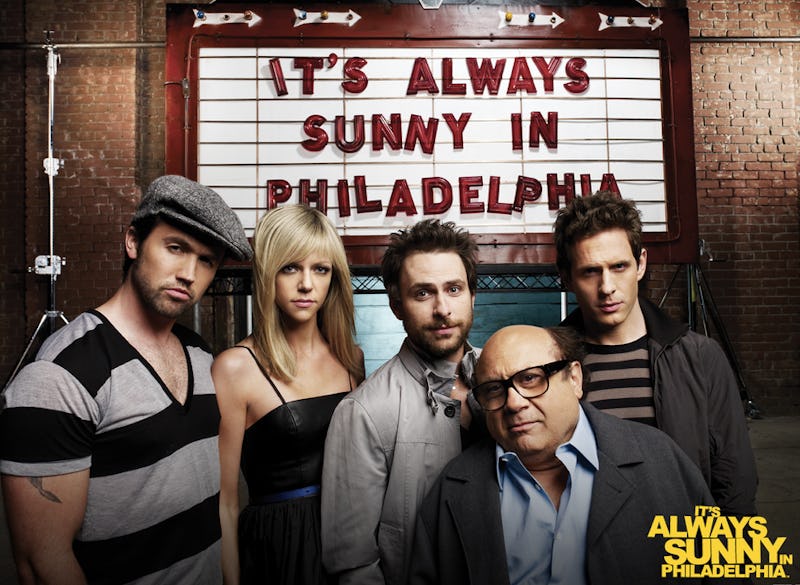 Everyone grab your kitten mittens, head to Paddy's Pub and get ready to celebrate, It's Always Sunny in Philadelphia has been renewed for two more seasons through 2017! Milk steaks and wine in a can for everyone! Series creators and stars Rob McElhenney, Charlie Day and Glenn Howerton just inked a major, record-breaking deal with FX and FXX. Not only will the three pen 10 episode orders for Seasons 11 and 12, they will also be signed on to write and develop a handful of new series for the networks. It is indeed a very Sunny day for these guys.
Earlier this year It's Always Sunny in Philadelphia migrated from FX to FXX, in order to establish the new network's all-comedy focus. The transition was almost seamless and the show stands tall as FXX's flagship series.
Along with a two-year renewal, the gang are also working on a new project that will star Tracy Morgan. The first season already has 10 episodes ordered and is unrelated to the defunct FX pilot for a series called Death pact which also featured Morgan. The network has so much faith in Day, Howerton, and McElhenney that they've ordered blind comedy pilots and scripts Harder (by Scott Marder and Glenn Howerton), We're Good, Thanks (By Mary Elizabeth Ellis aka "The Waitress" and Day's wife IRL, Artemis Pebdani and Charlie Day), and Blow Up Dolls (by and starring Sarah Solemani).
Network execs have nothing but brotherly love for the gang that created the foul-mouthed cable juggernaut. According to FX's Nick grad, "Rob McElhenney, Charlie Day and Glenn Howerton are three of the most talented comedy writers and producers in our business, not to mention very gifted actors...This deal is a testament to their skill, intelligence and work ethic, which combined to earn them one of the best overall deals in TV. Not bad for three guys who shot a pilot ten years ago for $200 and a few pizzas."
Not bad at all. In fact, this news is so amazing, we think Charlie Kelly would have more than a few feelings about the whole thing:
It's Always Sunny in Philadelphia is now the longest-running live-action comedy series in cable history.
It's Always Sunny in Philadelphia now ties My Three Sons for the second- longest running live-action comedy in television history.
The gang signed on for a two-year renewal, which doesn't mean another renewal can't happen in the future.
The gang and Tracy Morgan is a thing that is actually going to happen for real.
It's Always Sunny in Philadelphia is the FIRST cable comedy to be syndicated by another network (FX to Comedy Central)
The show is the highest-rated comedy series among Adults 18-49, Adults 18-34 and Men 18-34.
The gang is now going to be in charge of four new comedy series. FOUR.
Which is great news, because if the gang wasn't re-hired...
Somehow It's Always Sunny in Philadelphia has not won a single Emmy and has never been nominated for a Golden Globe. They are the Leonardo DiCaprio's of cable.
Images: It's Always Sunny in Philadelphia/FX