Trump's Pledge To Repeal The ACA Got A Thumbs Down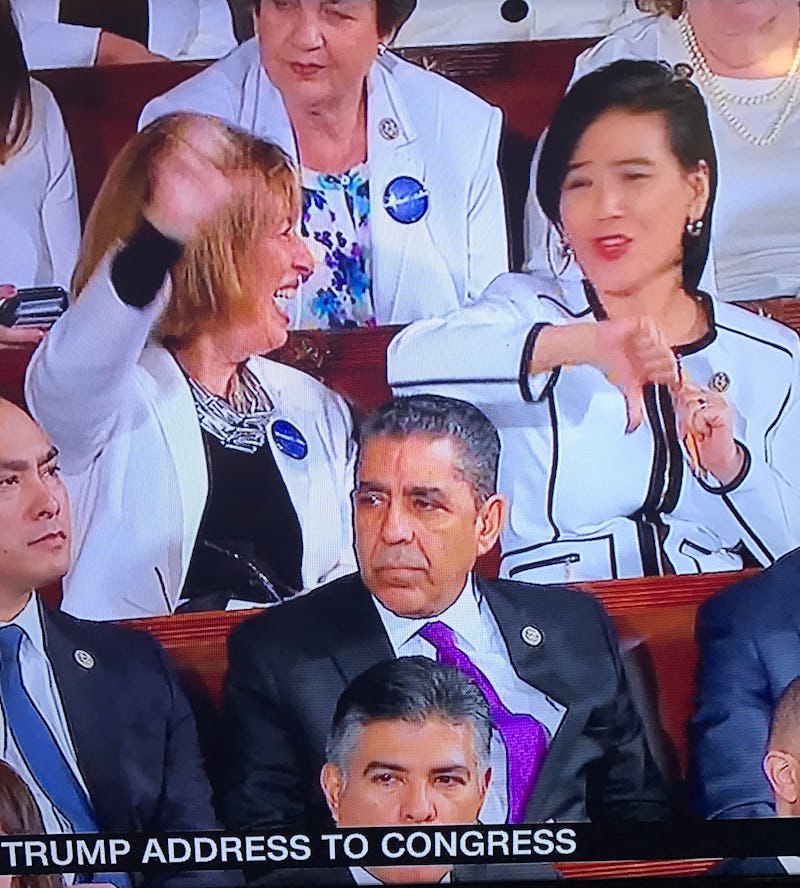 At President Donald Trump's first address to the joint session of Congress, Democrats made their opinion of Trump's plan for the Affordable Care Act crystal clear. Let me paraphrase: BOOOOOOoooo. Democrats gave Trump's promise to repeal Obamacare a big thumbs down during his speech. Yes, a literal one.
It was only a matter of time before Trump brought up Obamacare in the State of the Union-style speech. The healthcare program has been on Trump's chopping block since his campaign, and now that he's in office Republicans have been tasked with coming up with a viable alternative once it is rolled back. And he seems to be ready to make good on the promise to his voters. The day after the inauguration, Trump issued an executive order that took the first steps toward gutting it.
So everyone was expecting Trump to bring it up during his address on Tuesday. And barely halfway through his speech, he dropped the Obamacare bomb: "Tonight, I am also calling on this Congress to repeal and replace Obamacare with reforms that expand choice, increase access, lower costs, and at the same time, provide better healthcare."
The chamber was immediately filled with cheers and what I thought sounded a lot like boos. And then I knew without a doubt that they were when I saw this:
Yup, those are two lawmakers giving the leader of the free world a giant NOPE. Reps. Judy Chu and Jackie Speier, both from California, offered their vigorous disapproval to Trump's declaration that he would repeal and replace the ACA. Trump, however, soldiered forward with his speech, continuing: "Mandating every American to buy government-approved health insurance was never the right solution for our country. The way to make health insurance available to everyone is to lower the cost of health insurance, and that is what we are going to do."
Chu and Speier are logical dissenters against this particular issue. Chu is a co-sponsor of a bill that would expand Medicare to "provide for comprehensive health insurance coverage for all United States residents." Speier, meanwhile, has pushed back against the president's plan to get rid of Obamacare and instead has called for a chance to pass bipartisan legislation to replace it.
And if you thought the sartorial flood of white was a coincidence around Chu and Speier was a coincidence, it's not. Members of the House Democratic Women's Working Group pledged to wear "suffragette white" to the address, a nod to the color of choice from women fighting for the right to vote in the 1900s.
"We wear white to unite against any attempts by the Trump administration to roll back the incredible progress women have made in the last century, and we will continue to support the advancement of all women," Florida Democratic Rep. Lois Frankel, the chair of the group, said in a statement.
So as Trump walked around giving his signature thumbs up to lawmakers before and after the speech, there were at least two women in the audience who were doing just the opposite.