How is 'DWTS' Going to Make The Switch Work?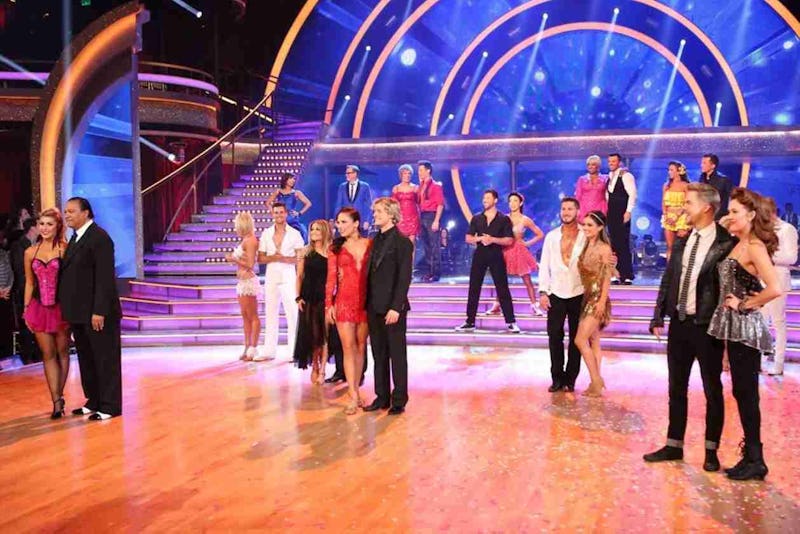 It's coming and we all know it: the dreaded Dancing With the Stars "switch-up." This week, DWTS is committing to the Big Twist they announced in the very first episode. On Monday night, Tom Bergeron in all of his sass and wisdom (fingers crossed, standing on a table) will reveal which pro the stars will be partnering up with for next week. It's a big switcheroo, and nobody is happy about it; not the pros; not the stars; not the fans.
Actually, this fan isn't too twisted up about it. I don't think it's a a necessary twist — surely the twist of having C-list celebrities master the art of dance in a matter of weeks (in fringe and sparkles) has always been enough — but I am interested to see what happens. One of the very best parts of this show is watching the stars bond with their pros, and with such negative reactions to this twist, it's clear that those bonds happen fast. The audience also bonds with the pairs quickly, choosing their favorites and rooting for them the rest of the season; and while I have my favorites that I don't want to see torn apart, I can rest easy that they'll be back together in a week. So what's everyone so worked up about.
Well, I guess it's the fact that, if poorly re-paired, our favorite stars — and by proxy, their pros — might have a bad week and be sent home. We've been told that it's the fan's choice who gets paired with who, but I don't exactly trust the "#DWTS STARNAME PRONAME" method. Unless they've got a team of 700 interns working on this — ahem, the Troupe — I think there are going to be a whole lot of hanging chad tweets. In other words, the show will just pair whoever the hell they want and hopefully not royally screw it up. (Plus, I just keep tweeting "DWTS Tom Carrie Ann.") Let's take a look at who should be paired vs. who probably will be paired:
Danica McKellar
Current Pro: Val
Who they'll choose: Maks. If I know anything about Dancing With the Stars, it's that they will not be able to resist pitting the Chmerkovskiy brothers against each other. I would personally prefer that result in a shirtless dance for just Maks and Val, but whatever, we'll do it their way.
Who they should choose: Derek. Danica is a true natural talent, and I would love to see her work with some Emmy-winning Derek Hough choreography; it might be just the push she needs to go back to Val and win this thing.
Meryl Davis
Current Pro: Maks
Who they'll choose: Val. Like I said, brother battle — cannot be resisted.
Who they should choose: Mark. Meryl surprised everyone by not just being one of the many by-the-books Olympians we've seen come through DWTS (super talented, very pleasant, dead in the eyes), and actually having natural chemistry with her partner, Maks. I would be interested to see if she could keep that up with the president of the Very-Pleasant-Dead-in-the-Eyes Club, Mark.
James Maslow
Current Pro: Peta Murgatroyd
Who they'll choose: Witney. If you think they can resist a fake love triangle between Pete/James/Witney, then we have been watching a very different show.
Who they should choose: Witney. I'm into it! But for different reasons; James is only 23, and even though his claim to fame is being part of a boy band, he reads so much older on the show. Perhaps with little Witney, he could not only let loose in his dancing, but with his whole persona.
Amy Purdy
Current Pro: Derek
Who they'll choose: Mark. They think we want to see saintly Amy with the Frontrunner Nice Guy. They are wrong.
Who they should choose: Tony. We want to see her with the Sweet Guy! Tony is just the nicest, and I want to see Amy dancing with someone who is as great as her, who will challenge her, and on a superficial level, who's tall.
Cody Simpson
Current Pro: Witney
Who they'll choose: Sharna is sexy but unassuming. They don't want to anger the tweens. No one wants to anger the tweens.
Who they should choose: Cheryl. Cheryl's sheer professionalism could whip Cody into shape, and let's see what this giant kid some do with someone over 5'2
Candace Cameron Bure
Current Pro: Mark
Who they'll choose: Tony. If possible, Tony's image is as wholesome as Mark's. I wouldn't want to cross Mrs. Cameron Bure, would you?
Who they should choose: Val. I just want to know if Val will hold true to his promise to throw it, and I think he's be more inclined if his new partner was Danica's "rival." Evil, I know.
Nene Leaks
Current Pro: Tony
Who they'll choose: Derek. I do believe this was mentioned briefly in the last episode as a joke; DWTS loves a good joke, especially at the expense of its tiniest Golden Boy.
Who they should choose: Maks. Atlanta's Bad Girl with DWTS' Bad Boy…yes, please. (And as a tall girl myself, I'm rooting for a little height differential as possible).
Drew Carey
Current Pro: Cheryl Burke
Who they'll choose: Sharna. I'll give them that it would be entertaining pair in the practice room.
Who they should choose: Peta. Peta always gets the sexy, naturally talented dancers, and I really think she could do well coaching and choreographing for a less sure-thing. Why not try it out with fan-favorite, Drew.
Image: ABC