8 Books for the Spring Holy Holidays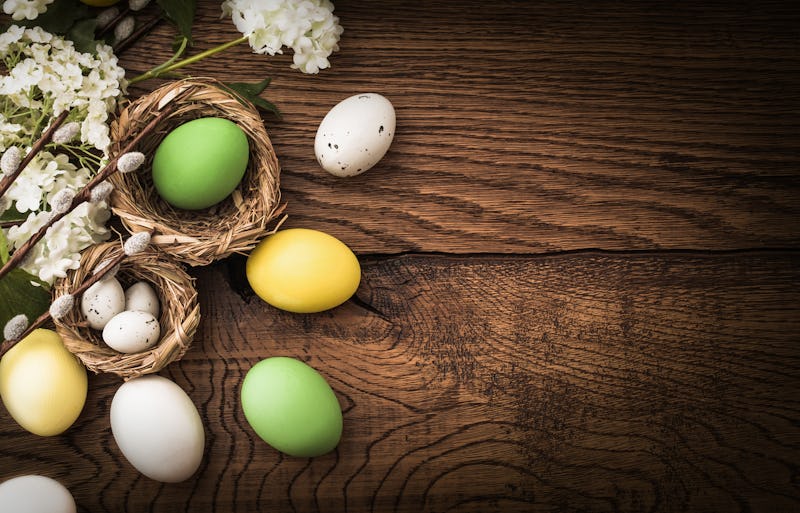 Happy Easter, and Chag Sameach! This year, Easter and Passover are within a week of each other. All this holiday hoopla got you in a religious (but not, like, religious) mood? Plenty of great books are directly related to the Bible — but luckily, they're not full of verse. Put these on your reading list this season:
The Red Tent by Anita Diamant
Diamant's novel is a book club perennial and a feminist classic (the tent in the title refers to the segregation of menstruating women). Tent's story is told from the point of view of Dinah, a minor Biblical character (the daughter of Jacob) and succeeds in giving oft-ignored Biblical woman a voice.
Zealot: The Life and Times of Jesus of Nazareth by Reza Aslan
Aslan's biography of Jesus upset many conservative critics in 2013; an appearance on Fox went viral after the interviewer would not stop badgering him about why he, a Muslim, would write about Jesus. A work of history and not spirituality, Aslan didn't apologize for his writing, and the book soon topped the New York Times bestseller list.
Lamb: The Gospel According to Biff, Christ's Childhood Pal by Christopher Moore
Curious to learn more about the life of Christ? Lucky for us, his BFF Biff wrote a tell-all, and it's juicy. Moore's hilarious take on Jesus's childhood will crack you up, but Biff is the real scene stealer here (he's got a mega crush on The Virgin Mary).
All Other Nights by Dara Horn
An assassination attempt on Abe Lincoln, familial homicide and a marriage between spies — all unfolding on Passover! Horn's hit novel takes place during the Civil War and is focused on Jacob Rappaport, a Jewish Union soldier. Suspenseful and interesting, Horn's work is especially affecting in its collision of American slavery and the holiday that celebrates Jews' freedom from slavery.
Ben-Hur: A Tale of the Christ by Lew Wallace
Ben-Hur is a Jewish man in the first century who goes from merchant to slave to soldier. His story overlaps with Jesus's lifetime: the two have a chance encounter at the beginning of the book, and after a later meeting, Ben-Hur becomes a follower. Sure, It was wildly successful as a 1959 film, but the original novel was just as popular (and blessed by the Pope).
Never Nosh a Matzo Ball by Sharon Kahn
Ruby, a rabbi's widow, is helping her temple fundraise by selling low-fat matzo balls (standard Passover fare), which are kept at the local gym. When a gym member is murdered — and found with a matzo ball in his pocket — it's up to Ruby to figure out whodunit. Ball is one in a series of Kahn's hilariously-titled murder mystery novels following Ruby (other titles include Fax Me a Bagel and Hold The Cream Cheese, Kill The Lox).
Song of Solomon by Toni Morrison
One of Morrison's best novels (and supposedly President Obama's favorite!), Solomon is so full of biblical allusions and names that you may need a Bible by your side for some help. It's worth it, though — Morrison's coming of age tale about Milkman, a Southern African-American, is engrossing, and his female relatives are some of the best written in decades.
Easter by Michael Arditti
A look at an English parish in the week leading up to Easter, Arditti's novel is a portrait of modern religion and believers in present-day England, featuring cameos by the Queen, AIDS patients, and Holocaust survivors.
Image: Fotolia