Going to A Wedding? Think before You Dress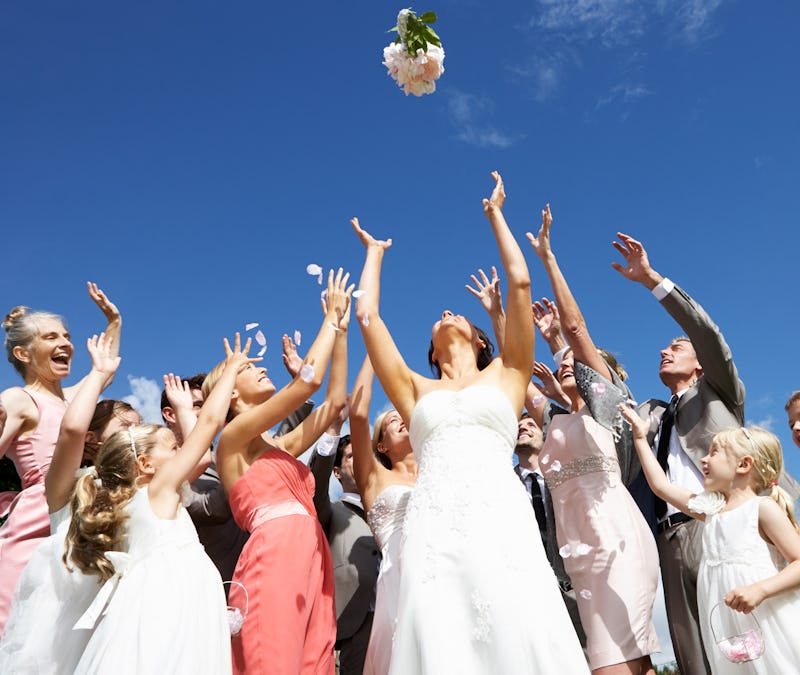 If you have a lot of friends or loved ones in the 25-34 age bracket, chances are you're attending a bunch of weddings this season. What does this all mean to a wedding-guest-to-be? For one, welcome to the chapter of adulthood where weddings and children start creeping onto your Facebook status feed. Second, now may be a good time to start thinking about how to conduct yourself as a guest at the ceremony — starting with your threads.
When the bride and groom don't offer direct dress code rules like "Hawaiian attire," picking appropriate wedding attire can be quite stressful. You obviously want to look your best, but then all these questions start running through your mind: Is the dress too short? Am I going to upstage the bride? Will dangling jewelry disrupt the ceremony? We tapped experts who have attended and worked on more weddings than we can count to share their etiquette tips on dressing for the special day.
Don't: neglect the couple's dress code, if stated
Image: monchakirou/Fotolia
"Out of respect to the couple, you should adhere to the dress code," says Julie Sabatino, New York-based bridal stylist under The Stylish Bride. The very first thing you should do before planning out your wedding attire is study the invite, down to the fine print. Semi-formal? Take out a nice dress with a pair of heels. Formal? Go for a more luxurious cut and fabric like silk with a pair of sandal stilettos. Black tie? Bust out a gown. Wedding on the beach? Wear a light sun dress. You get the idea.
Do: feel free to substitute a dress for a chic alternative
Stefanie Cove, an event consultant who has planned weddings for celebrities like Anne Hathaway and Reese Witherspoon, observes that today's weddings are a little more lenient when it comes to rules of attire. "Basically, wedding guests can be a bit more daring with their fashion choices." In other words, unless the invite stresses a strict dress code like "bow tie only," go ahead and do you! Anxious to debut that chic blazer with matching trousers hanging in your closet? Go ahead and take the le smoking ensemble out for a spin. If you do feel like breaking out of typical dress tradition, a good rule of thumb to follow is to keep the look well-tailored, polished, and pulled together. "Right now, my favorite look is the jumpsuit," says Cove. "They are so chic to dress up with a pair of fabulous heels and a dazzling set of earrings." The sweetheart neckline and tie-front detail on this Rules of Etiquette Strapless jumpsuit dresses up a typically casual style to fit a formal affair.
For a similar style: Donna Morgan Long Sleeve Wrap Jumpsuit, $199.99, Amazon
Do: bust out your statement accessories
Weddings are a great excuse to bust out jewelry and shoes that may have been a little too glitzy and fabulous — with a capital "F" — for casual wear. "A wedding guest can never go wrong with statement pieces as accessories," says Cove. For a non-fuss execution of adding accessories to an outfit, pair it with an attire that consists of complementary simple patterns or solid colors. "You don't want your accessories to hide the outfit," alerts Cove. "They should make it pop." For a fun twist of texture, color, and a bit of shimmer, this Joomi Lim Hard Candy crystal and pearl necklace layers beautifully over a simple dress.
Also consider: Panacea Crystal Drop Earrings, $48, Amazon
Do: pack a dressy pair of sandals
Image: Nieman Marcus
If you plan on really getting your dance on at the wedding reception, making it past the fifth song will be a challenge in stilettos. Consider wearing a pair of dressy, comfortable sandals instead, or have them tucked in your bag for an easy switch for the after-party. "That way you won't kill your feet or have to walk barefoot," says Cove. You certainly won't have to worry about a snapped heel while improvising Michael Jackson's "Thriller" moves. We love the Ivy Kirzhner Basil studded ornament sandals for its dressy embellishments.
Try Jessica Simpson Snake Print Dress Sandal, $79, Amazon
Don't: Carry a bag that's too baggy or casual
A bulky bag gets in the way of conversing with friends and relatives of the bride and groom. Unless you're the wedding photographer, you don't need to stuff any more than make-up to retouch and some cash and cards in your bag. A bag too casual, like a cotton tote bag, just doesn't seem appropriate for the occasion and may offset the formality of the rest of your outfit. According to Cove, most purses are fair game as long as whatever you choose pairs well with the outfit. A personal favorite she suggests is the clutch, especially because it takes up very little room and offers immediate access to anything you need to carry.
Try Rebecca Minkoff Leo Envelope Clutch, $95, Amazon
Do: bring a pashima to layer up
Looking for a chic way to layer up without dealing with the bulkiness of a jacket? Cove recommends carrying around a freshly pressed pashmina, even if the forecast calls for warmer nights. "You shouldn't rely on, for example, a men's suit jacket to keep you warm," says Cove. "You want to stay chic and stylish." For a feathery soft wrap that you can layer up as the temperature cools, Nordstrom offers cashmere wrap in a great assortment of colors.
Also consider: White + Warren Cashmere Wrap, $298, Amazon
Don't: even think about wearing white
Even if somehow you were tipped that the bride is going to show up to the alter wearing red, blue, or pink, you should have your outfit choice stay as far away from this color as possible. "White is off limits to wedding guests," stresses Cove. "The brides always notice, even if they won't admit it." White is the default color for a bridal gown, worn by one of the two most important people in the room. Sabatino has also noticed blush pink rapidly becoming a recurring color pick for bridal gowns. Imagine a scenario where the DJ drops Billy Idol's "White Wedding" as you gleefully dance about in white during the wedding reception, attracting awkward attention from spectators. Now imagine avoiding that scenario. Easy, right? These color palettes are strictly reserved for the bride.
Image: micromonkey/Fotolia