This is Going To Be So, So Good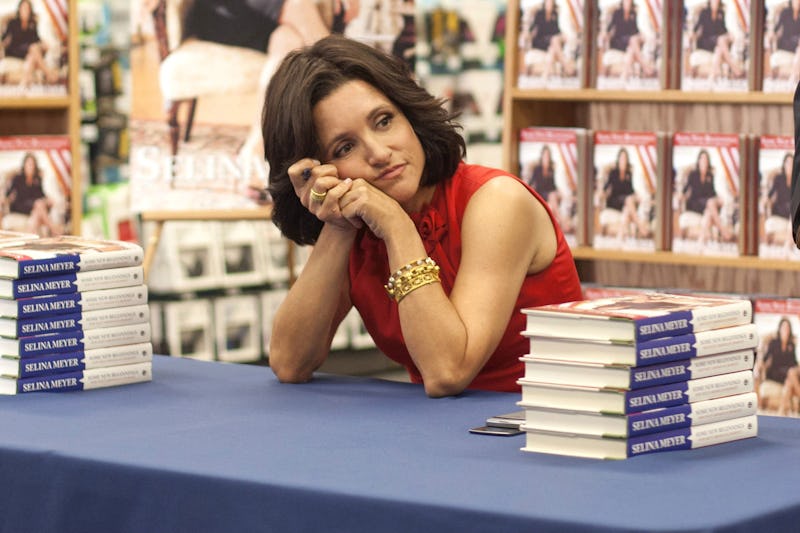 There's a certain level of joy that comes along with every Veep season premiere. In Season 1, it was the return of comedic genius Julia Louis-Dreyfus. In Season 2, it was the return of comedic genius Julia Louis-Dreyfus' incomparable Vice President Selina Meyer. Now that Veep has reached Season 3, we can look forward to more of our favorite comedienne, our favorite fake VP, and one hell of a campaign shit show.
In a landscape of top notch political series — think House of Cards, Scandal (until recently), and the ever looming legacy of The West Wing — Veep has always been the breath of fresh air. (Of course, that fresh air also comes with a side of quips like "Suck-up isn't going to fix a fuck-up.") Where House of Cards attempts to show the slime beneath Washington D.C.'s mean political streets and Scandal lifts the lid on the intrigue and sexual exploits, Veep's station in the world of D.C.-themed television realm has been to add a sense of biting levity. Its truth is in the brash vocabulary and awful behavior, but where House of Cards might go far enough to make us sick with worry, Veep makes us wheeze with laughter.
In Season 3, Selina takes full advantage of Season 2's earth-shattering announcement that the President will not seek a second term in office. We open on Mike's wedding, where all of Selina's staffers are in attendance (and total agony thanks to Mike's wife making everyone drop their cell phones in a giant, water-less fish bowl). This leaves Selina in the hands of a temp while she tours middle America with her new book (poised to give her a bigger star and thus potential to win the nomination), which she didn't even write. The result is Selina at her basest: Completely lost, slightly bored, and incredibly impatient.
News breaks that a senator has resigned — a sure sign he's considering running for President — and it turns the team into a school of frazzled goldfish, scampering around when the news breaks. And while that's going on, a new opportunity is dropped into Selina's lap: the top campaign manager in the country is attending a fellow politician's funeral. She skips on over, wings it and somehow delivers a canned, yet crowd-pleasing eulogy, and solidifies that she's exactly who we thought she was, especially when she's secretly running for President.
By episode's end, it's clear that much of the season will focus on Selina's bid and whether or not she wins the nomination, or even the election itself, it will all be worth it to see faux-America considering the woman who knows the futility of using French pastries as sex toys as their future commander in chief. And we certainly can't wait.
Image: HBO; imgur (2)