Where To Shop Once You're Too Old For These Stores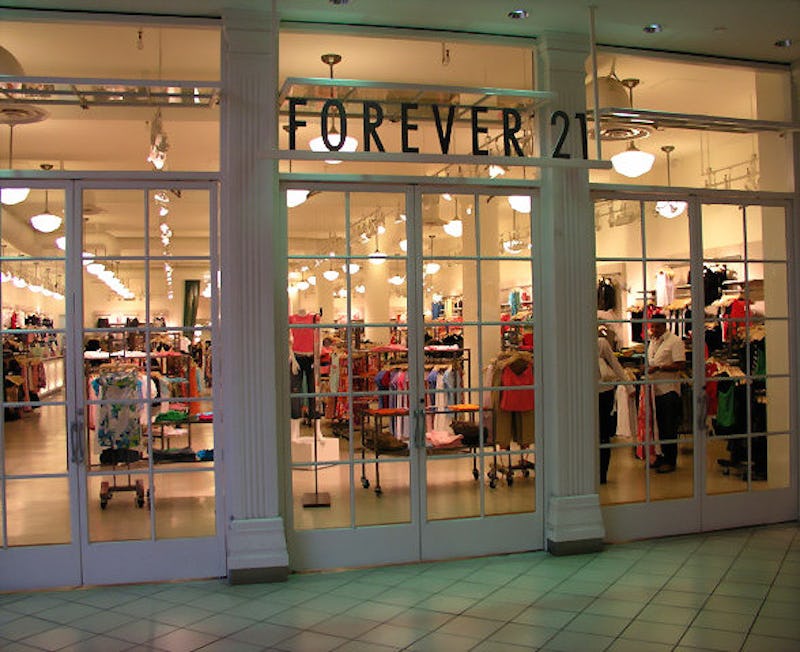 Wait. I thought I was going to be 21 forever. Wasn't that the megastore's tacit promise? Alas, I recently turned 22, which, so far, has meant just about nothing. Except, oh, seemingly overnight, it has become impossible to find stores to shop in.
Throughout high school and college, I have mostly gone to Forever 21 and Urban Outfitters for all my sartorial needs. But, suddenly, walking through these stores makes me feel geriatric. I find myself picking up printed pants and going, "Who would wear these? So loud!" Or shaking my head at crop tops while thinking, "Maybe under a sweater! You'd catch a cold!"
These stores — with their graphic tees, studded collars, and high-low hems — can't provide the mature, refined, "Please hire me. I'm a responsible adult, I swear!" look that I'm trying to achieve. Still, I don't feel quite ready to venture into Ann Taylor Loft. What's a 22-year-old girl gotta do around here to find stylish, classy clothing? It's all so stressful. I'd cry about it, but I'm 22 now, so I don't cry about petty things anymore. (That is a lie. I cried as recently as last week after a viewing of Harriet the Spy, but, come on. I'm not made of metal over here.)
Lucky for me, I have found some stores that are ideal for this purgatory state of an age. These stores aren't overly trendy, but they also won't make you feel three times your age. Plus, they'll fit into your "Help! I just graduated" or "Help! I'm about to graduate" budget. Please read while listening to Taylor Swift's 22.
ASOS: Yes, you can find plenty of insane stuff on ASOS (Can I interest you in a pair of $64 overalls?), but their "Work" tag is stocked with plenty of great pieces.
American Eagle: Oh, you think you're too good to shop at American Eagle? I guess you also don't enjoy well-priced dresses that are ideal for both going out and going to work. That must be so fun for you.
Nordstrom Rack: Nordstrom rack is like the department store that you love, but everything is so much cheaper. It's what dreams are made of. You'll definitely have to do a bit of hunting, but it's well worth it. I love this transitional French Connection dress for 55% off.
Try French Connection 3/4 Length Striped Dress, $49.97, Nordstrom Rack
Need Supply: First things first, Need Supply is currently having an insane sale where they're basically giving away things right now. Admittedly, Need Supply can get pretty pricy, but they do have some truly amazing deals, like this flirty polka dot dress.
Try Farrow Striped Harbor Dress, $118, Need Supply
Dorothy Perkins: Meet your new best friend. Her name is Dorothy Perkins and she's here to fill your closet with trendy pieces that aren't too trendy, and won't drain your bank account. This striped sweater for $35 (I've seen ones at Topshop for three times the price) is going to be my go-to piece come fall.
Try Ivory and Red Striped Sweater, $29, Dorothy Perkins
Zara: I'm just waiting for the day that Zara realizes they can charge about nine times as much as they currently do. They rank best in bang-for-your-buck. It's perfect for work-ready (or interview-ready) clothes, bags, and shoes.
Madewell: I know, I know. I just said these stores will fit in your budget, and then I go and throw Madewell at the top of the list. Madewell's mantra is something like, "Here are some great, stylish, age-appropriate pieces for you. That will be all your money, please." But did you know that Madewell (and their sister store J.Crew) gives 15 percent off to teachers and students? This is valid on sale items, but not on madewell.com orders.