The Reign of Kiernan Shipka: 7 Reasons to Be Obsessed With Her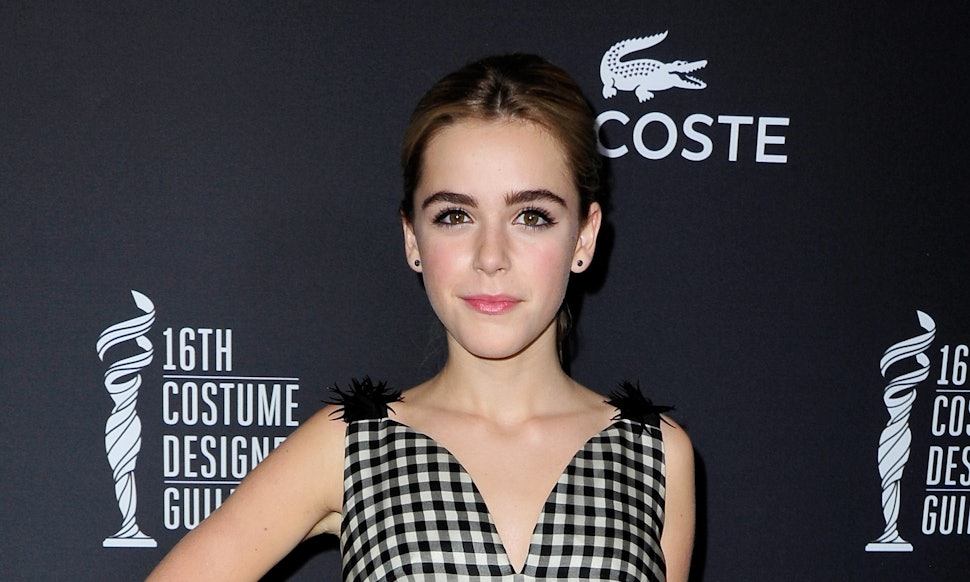 Jerod Harris/Getty Images Entertainment/Getty Images
Let it be known, world — I am totally smitten with Kiernan Shipka. I know she's only 14 years old, but I hope to be as cool and chic as she is one day (fact: I am 27). We've all had the great pleasure of watching the adorable actress grow up into a gorgeous young woman before our eyes on Mad Men. And although sassy Sally Draper was the reason why I've become such a big fan of hers, Shipka has proven to be just as fabulous and awesome in real life. Here are 7 reasons why I'm obsessed with Kiernan Shipka and why you should be, too.
SHE'S GOT MAD STEEZ
She may be a beautiful teenager in her prime, but she won't resort to the typical trends her fellow youngsters are wearing. From her red carpet looks to her Instagram selfies, it's totally obvious that this girl has a flawless and unique sense of style.
Image: KiernanShipka/Instagram
SHE'S GOT THE BEST BROWS SINCE CARA DELEVIGNE
Look at those things! The shape, the tint, the fullness — they're total perfection. When I was 14, I was still figuring out how to use tweezers correctly.
Image: KiernanShipka/Instagram
SHE'S A FOODIE
No photos of green juices and flavored waters here. Kiernan Shipka's Instagram account show she's all about french toast brunches, sushi lunches and having multiple desserts a day.
Image: KiernanShipka/Instagram
SHE'S GOT AWESOME FRIENDS
Here's a photo of her getting brunch with her besties, one of whom is fellow teen tycoon Tavi Gevinson. We wonder what they talk about during their lunches — nail art and world domination, maybe?
Image: KiernanShipka/Instagram
SHE KNOWS HOW TO WORK THE CAMERA
SHE ENJOYS BEING A TEEN
It's nearly impossible for Shipka not to grow too fast. She's surrounded by older actors all the time and is a super successful young actress herself. But that doesn't mean she can't have a little bit of fun doing regular teenage activities, like riding a scooter and wearing awesome Adidas kicks.
Image: KiernanShipka/Instagram
SHE'S SMART AND ARTICULATE
The 14-year-old actress has been described as "poised," "intelligent," and "articulate" in almost ever interview she's given (see here, here and here). For example, here's how she compared herself to her character Sally Draper in ELLE : "We couldn't be more different. That's why she's so compelling to play. As a viewer, I'd probably want Sally to get better, but as the actor who portrays her, I definitely want more drama. I have no idea where she's headed. In fact, every time I've tried to guess, I've gotten it wrong. But whatever it is, I hope it's juicy. Because that's always so much more fun." Swoon, Shipka. Swoon.