Dress Like a Cherry Blossom With These 10 Adorable Picks for Spring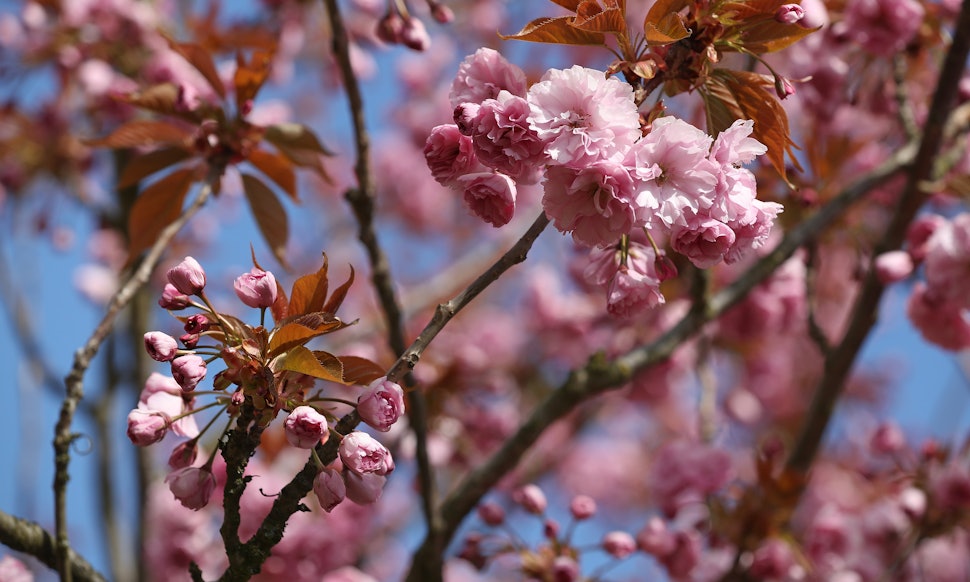 Sean Gallup/Getty Images News/Getty Images
Cherry blossoms may take over your Instagram feed and your Tumblr dashboard come spring, but the lovely flowers make for excellent fashion inspiration, as well. After all, nothing celebrates the coming of warm-weather quite like a floral in the perfect shade of pink. Now that the Polar Vortex is finally behind us, look to the pink and white color palate of the cherry blossom to update your wardrobe. Get the look with these cherry blossom-inspired pieces that will add some much-needed brightness to your warm-weather wardrobe.
Mesh Blouse
A mesh blouse covered in cherry blossoms made of ribbon makes for a fresh, textured take on floral.
Cherry Blossom Blouse, $88, Anthropologie
Blossom Print Headwrap
Inject your outfit with some floral detail by tying this cherry blossom print bow in your hair. Sometimes flowers are best in small doses.
Bow Headwrap, $3, Forever 21
Pink Romper
This drawstring romper in petal pink recalls the palest of cherry blossom flowers and the relaxed fit is perfect for staving off the heat. Add a bandeau underneath and you'll be getting paid to attend Coachella in no time.
Kimchi Blue Dobby Stripe Drawstring Romper, $59, Urban Outfitters
Pink Watch
This is not your grandfather's timepiece! What's more fun than a cherry pink watch? Nothing, that's what!
Cherry Blossom Watch, $188, Anthropologie
Floral Ballet Flats
Ballet flats, while classic, can get super boring. Lace ballet flats, on the other hand, are always fun.
Ballet Flats, $18, H&M
Mini Floral Print Skirt
We love the slouchy shape and the mini floral print on this skirt and the bright blue shade packs a serious punch. Your plain tank tops will never be boring again.
See by Chloe Mini Sack Skirt, $327, ASOS
Cherry Blossom Sweater
Spring can still be chilly once the sun goes down. This extremely literal cherry blossom tree sweater is so cute that you'll be wishing for the heat to hold out for just a little longer so you can keep wearing it.
Marcus Lupfer Sequined Marino Wool Sweater, $475, Net-A-Porter
White Satchel
Let's not neglect another color from the cherry blossom palate — white! This tiny satchel won't weight you down.
Satchel with Contrast Edge, $52, ASOS
Opal Stone Necklaec
This opal necklace has a perfect blend of pale pink and white worthy of the prettiest cherry blossom flower. Plus, it will go with every sundress in your closet.
Delicate Opal Stone Necklace, $18, Urban Outfitters
Pink Shift Dress
Leave it to Zara to deliver a perfectly modern shift dress in pink and white. Pair with metallic sandals for a truly stylish pop!
Printed Shift Dress, $80, Zara