Michelle Williams Is Perfection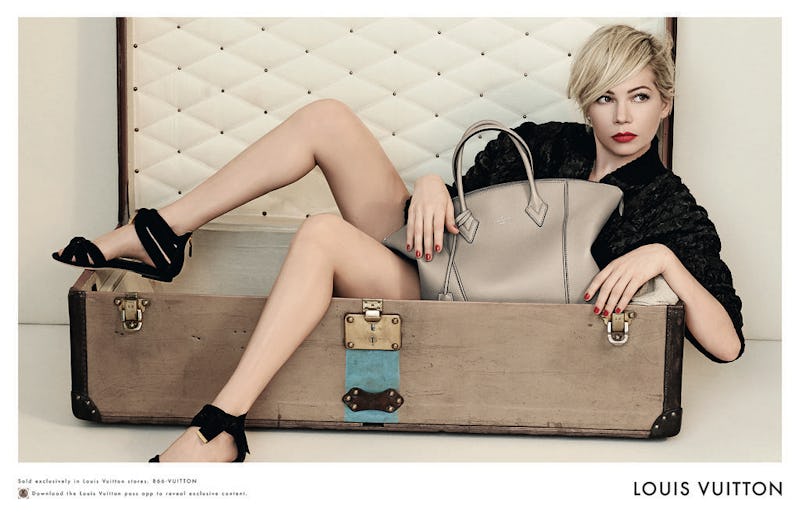 We know the point of these new Louis Vuitton ads are to sell handbags, but we can't keep our eyes off Michelle Williams. After starring in their autumn/winter 2013 campaign, Louis Vuitton has invited the stunning 33-year-old actress back to model their spring/summer collection. In the ads, which were photographed by Peter Lindbergh, Williams showcases jewelry and handbags, including the newest addition: the Lockit.
The Lockit, which Williams models in the photo above, was originally made in 1958, but it wasn't until 2006 that it was rediscovered in the brand's archives. The reason behind the name? A unique closure system, which features a padlock on the side.
The whole concept of the campaign aimed to "capture different facets of femininity." Williams, dressed in black, white and denim basics, was photographed in a series of playful positions: laying in a LV trunk, sitting atop a chic, white bike and pressing herself against a wall with her purse slung over her shoulder.
According to The Wall Street Journal, LVHM is having a fantastic year. In a note to their investors, UBS analysts said,"We are very pleased that Louis Vuitton had an excellent start to the year." While they won't say whether Michelle Williams' star endorsement is the reason behind the company's success, we're guessing it had something to do with it, as a result of this recent campaign.
The new ads will debut in the May 2014 issues of magazines.
Images: Peter Lindbergh/Louis Vuitton