10 Writers Who Doubled as Visual Artists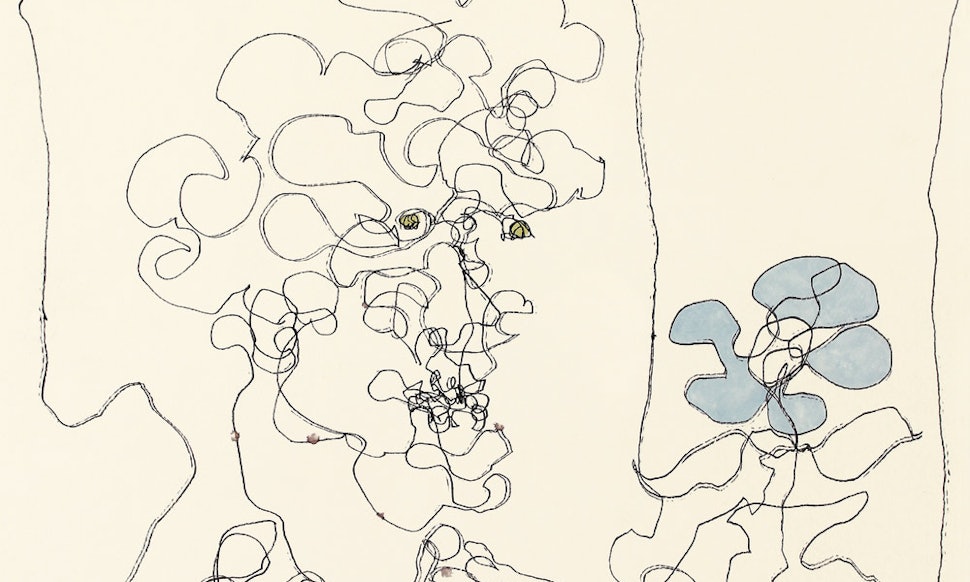 Kurt Vonnegut Jr., the absurd humorist known equally for his amusing novels as for the hilarious doodles that accompany them, once referred to his visual artwork as a temporary escape from the "tedious, and constipating" nature of writing. (Tell us how you really feel, KV.)
In a new book titled Kurt Vonnegut Drawings (Monacelli Press) out in May, his daughter Nanette Vonnegut, a visual artist herself, has curated 145 of Vonnegut's drawings from self-portraits and abstract faces to nudes and still-lifes. Vonnegut wasn't the only author, though, who was doubly blessed with talents at the typewriter and the canvas. Turns out there are quite a few.
Sylvia Plath (1932-1963)
Scanning the myriad artwork she produced as an art student at Massachusetts' Smith College, you can't necessarily say Sylvia Plath's has a consistent style. Her artwork, in both color and content, are, however, undeniably brighter than the prose and themes that permeated her writing. Savvy with an array of media, including oil, collage, and pen and ink, Plath produced an impressive portfolio before she was 20, but then opted to focus her creativity on her writing.
Lewis Carroll (1832-1898)
Lewis Carroll (Charles Lutwidge Dodgson) wracked up quite the impressive resume. Author, mathematician, inventor, and photographer, Carroll was also a skilled illustrator, composing whimsical drawings to accompany the fantastical worlds of his novels. Though his published books display the illustrations of John Tenniel, Carroll illustrated Alice in Wonderland and Through the Looking-Glass himself in their manuscript form.
Rudyard Kipling (1865-1936)
Rudyard Kipling's visual weapon of choice was pen and ink. The acclaimed Victorian poet and raconteur, best-known for The Jungle Book, enjoyed illustrating his adventurous tales, displaying the same craftsmanship with which he wrote. His artistic talents ran in the family: his father was a sculptor and pottery designer. Published in 1902, Just So Stories features his skilled illustrations alongside his short stories.
e.e. cummings (1894-1962)
e.e. cummings considered himself as much a painter as a poet, and he wasn't afraid to go as experimental with the brush as with the word. Skilled with a variety of media, he created a slew of psychedelic, dreamlike landscapes, portraits, and still-lifes, many as evocative as his poems. He also contributed caricatures for the avant-garde literary magazine The Dial, which were incredibly popular in the 1920's. A collection of his artwork, CIOPW, was published in 1931.
Henry Miller (1891-1980)
You could say the self-taught Henry Miller
had penchant for watercolors — in his lifetime he produced upwards of 2,000 of 'em. His creations, quite dreamlike and sensual, often exploding with color, were displayed in exhibitions in the US, Europe, and Japan. Maybe the bohemian Parisian lifestyle and passionate sexual encounters he shared with Anaïs Nin provided some inspiration. But that's just a guess.
William S. Burroughs (1914-1997)
William S. Burroughs, champion of the Beat generation, was a fan of his right to bear arms, especially when it came to expressing his creativity. He took up a liking for shotguns and spray paint in the later years of his career, a hobby that churned out some pretty eye-catching splatter art. These he accomplished by aiming a shotgun at a line-up of spray paint cans. When shot, the contents would explode against a blank canvas.
Patti Smith (b. 1946)
Ugh, is there anything Patti can't do? Aside from being a talented writer and rock goddess, Smith, the Godmother of New York City punk, is also a visual artist. Her creative outpourings not only found a home in lyrics, poetry, and guitars, but also photographs, paper, and manuscripts, a visual manifestation of her poetic rock.
Victor Hugo (1802-1855)
Victor Hugo created artwork as hauntingly beautiful as his beloved literary masterpieces. He was known to draw incessantly and his experimentation with light and shade gave dramatic affect to his art. Here he hides his initials "V.H." within an ink-washed octopus.
H.G. Wells (1866-1946)
Like Vonnegut, H. G. Wells and Mark Twain were master doodlers, filling journals, letters, and manuscripts with entertaining sketches. Wells, the Godfather of science fiction, kept a diary filled with lively, poignant cartoons, another testament to his limitless imagination. Here Wells provides illustration in a letter to his mother.
Mark Twain (1835-1910)
Twain — or Samuel Langhorne Clemens if you're feeling it — whose doodles were a bit more amateur, enjoyed sending letters in the form of rebus puzzles to his wife and children.