Watch the Ridic New Trailer for the '24' Reboot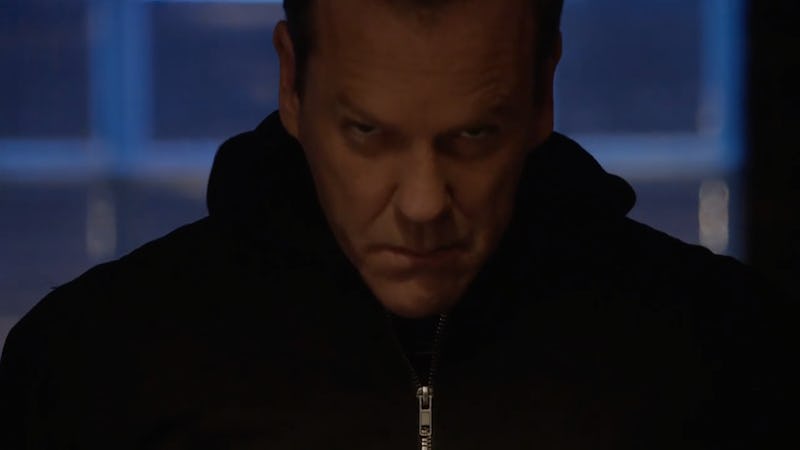 A new trailer for FOX's 24: Live Another Day hit the Internet today, and they're still trying to convince us that 47-year-old Kiefer Sutherland is the world's most dangerous (and most invincible) badass. In what world? By this point, Sutherland's Jack Bauer has been stabbed, shot, blown-up, electrocuted, and tortured — it is a wonder he is still able to stand up on his own two feet, let alone save the world from certain destruction yet again. 24: Live Another Day, which is being billed as a "12-episode special event," takes place four years after the events of season eight. Bauer, who is now considered a terrorist at home, is hiding out in London. He's attempting to foil a terrorist plot to, you guessed it, kill the President of the United States. It's all rather been there, done that, don't you think?
In between intense scenes of kicking and punching, the trailer flashes hilarious proclamations across the screen like, "They think they know Bauer, but they don't know JACK!" Ooh, good one! Needless to say, 24: Live Another Day doesn't appear to inject the series with a much-needed dose of realism, but it still looks like it could be fun. After all, it does have a pretty fantastic cast: Benjamin Bratt, William Devane, Tate Donovan, Kim Raver, Yvonne Strahovski, and Mary Lynn freakin' Rajskub! Chloe O'Brian was always my favorite character on the original television show — she was like this constantly cranky baby whose face was stuck in a perpetual scowl. Only now, it looks like we'll get to see goth, action hero Chloe. This could be the most compelling reason to tune in yet!
Check out the new trailer for 24: Live Another Day below. The reboot premieres on FOX on May 5. Will you be watching?
Image: FOX