Coachella 2014 Celebrity Style Is Looking Hot. Are You Surprised or Something?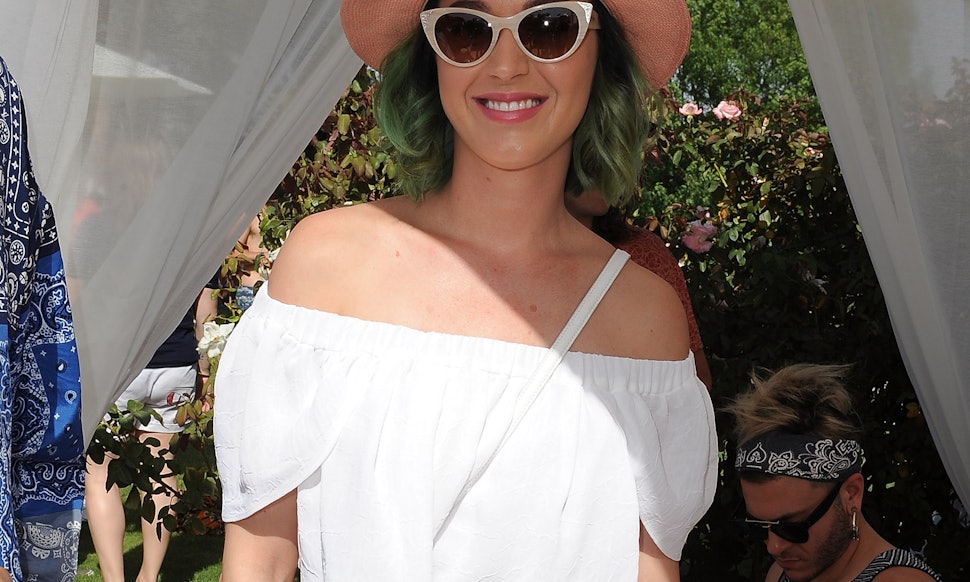 Angela Weiss/Getty Images Entertainment/Getty Images
In case you needed any more evidence that spring is well underway, you got it this last weekend when cult music festival Coachella kicked off the first of its two-weekend run. And as always, celebs flocked from near and far to the star-packed event, showing off their spring-ready, boho-chic style at parties, events, and concerts all weekend long. From Katy Perry and Lea Michele to Lindsay Lohan and Beyonce, check out all the best celebrity looks from the first weekend of the 2014 festival.
Katy Perry
The pop star had quite a few outfit changes over the weekend, but this off-the-shoulder crop top and printed skirt ensemble was easily her best look of the weekend — especially when paired with her green bob, retro shades, and pretty pink hat.
Beyoncé and Solange Knowles
As if a surprise appearance from Queen Bey wasn't enough, the superstar also showed up on stage with sister Solange Knowles wearing a fabulous tropical-print Topshop mini dress and tiny hat. As for Solange, her bright-orange romper wasn't a bad choice either.
Lea Michele
Hitting Lacoste's Coachella party in a sweet, pink-and-white striped mini dress with a sexy, open-back detail, the Glee star seems to have earned that sponsorship from the sporty brand.
Sienna Miller and Poppy Delevingne
The Brit beauties made quite the pair at Superdry's Coachella brunch, with Miller rocking a two-piece, white ensemble — featuring a lace crop top and patterned, high-waist shorts — and Delevingne pairing her bikini bottom with a fringed leather jacket and floral hair accessory.
Paris Hilton
With her tropical-print maxi dress, chic shades, floral headband, and casual cardi, the heiress looked just as ready for a day at the beach as she did for a night full of music and partying.
Emma Roberts
Roberts chose a look that's far more casual than her typical red-carpet style, shedding her chic dresses for cut-off denim, a simple white tank, and canvas kicks.
Emmy Rossum
Channeling her inner hippie, the Shameless star hit Samsung's festival party in a sheer, printed maxi; embellished denim jacket; and a floral-adorned crown.
Lindsay Lohan
Lohan showed off her inner rocker in a black-and-white combo featuring a simple T-shirt maxi dress, leather vest, cross-body bag, and bull-pendant necklace.
Camilla Belle
Belle looked casual-chic and perfectly accessorized with her Aztec-printed dress, embellished sandals, fringed-straw tote, and mirrored sunglasses.
Rosie Huntington-Whiteley
Leave it to the supermodel to look absolutely flawless at the musical festival in her off-the-shoulder frock, flowing locks, delicately draped necklaces, and embellished sandals.
Image: Rosie Huntington-Whiteley/Instagram