13 Great Eyelet Lace Buys Inspired By Kate's Now-Famous Zimmerman Dress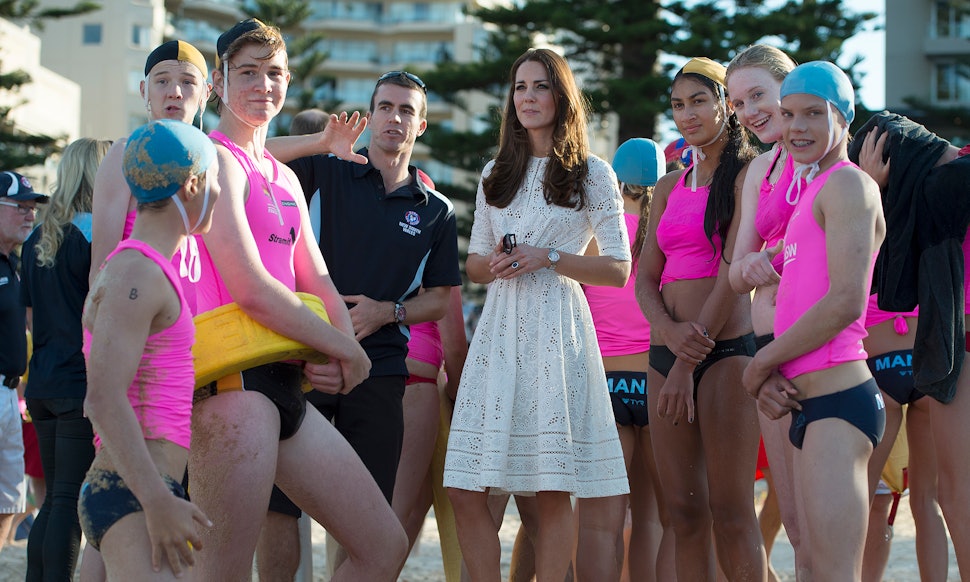 Pool/Getty Images Entertainment/Getty Images
Kate Middleton is a bonafide fashion icon, and fashion bloggers and sites everywhere are always following what the Duchess is wearing. Recently, people have been dying over Kate's wardrobe on her trip to Australia. The Internet's most recent obsession? Middleton's white eyelet lace Zimmerman dress, worn for a day of Easter holiday festivities and even a playful visit to the beach. Obviously. With the Zimmerman number coming in at just over $500, the eyelet lace frock probably isn't for everyone — even though it's pretty hard for anyone to dislike it. Here are 13 (slightly more affordable) eyelet pieces inspired by the Duchess' gorgeous frock.
Zimmerman Lookalike
Uh, Kate's Zimmerman dress, is that you?
Sweet Daydreams Dress, $135, Modcloth
Skater Skirt
Switch things up and opt for an eyelet skirt in a color other than white to add some texture to your outfit.
Enchanting Eyelet Skater Skirt, $20, Forever 21
Drawstring Dress
This dress is loose enough that you'll feel like you're in pajamas and chic enough that you'll feel fabulous wearing it. Perfect combination.
Rebecca Taylor Drawstring Eyelet Dress, $395, Nordstrom
Cotton Dress
Pair with Converse for an easy "I'm casual and cool and have to go shop for organic groceries" look.
Stretch Eyelet Dress, $158, J. Crew
Scalloped-Hem Shorts
Eyelet, scalloped-hem shorts are playful alternative to the high-waisted denim shorts epidemic.
Scalloped Hem Eyelet Shorts, $30, Loft
Strapless Dress
This eyelet, strapless dress is perfect for any spring or summer activity: a casual wedding, going to brunch, or just sitting around and feeling really, really pretty.
Eyelet You A Lot Dress, $200, Modcloth
Collared Tee
The T-shirt you never knew you needed, but so obviously do.
Collared Eyelet Tee, $118, J. Crew
Moto Jacket
Because if there is a white motorcycle jacket inspired by a Kate Middleton look, you better believe I am going to buy it.
Eyelet Textured Moto Jacket, $70, Free People
Front-Tie Shirt
Eyelet and front-tie shirts just seem to go together perfectly, right? The combination just screams summer and iced tea and weird tan lines.
Eyelet Front-Tie Shirt, $18, Forever 21
Relaxed Skirt
Alright, who's ready to throw on this skirt, go to the beach and drink a piña colada? Everyone? That's what I thought. (Even the name of the skirt sounds beachy.)
Bayfront Eyelet Skirt, $78, Madewell
Shift Dress
Sometimes during the spring and summer, a dress described as "shapeless" is exactly what you need. Who wants to wear something tight and clingy when it's 95 degrees outside? No, thank you.
Eyelet Shapeless V Neck, $168, Free People
High-Neck Dress
If anyone has proved that covering up can be sexy, it's Kate Middleton (hey, she's a Duchess, there are rules about that, right?). This dress is sweet and sexy all at the same time.
Dolce Vita Earth Angel Dress, $138, Nasty Gal
Romper
And for the super-playful, wild, '90s-loving Kate Middleton in all of us, there are these overalls.
After Party Vintage Meadows Romper, $78, Nasty Gal