You Need to Meet Pete's New Lady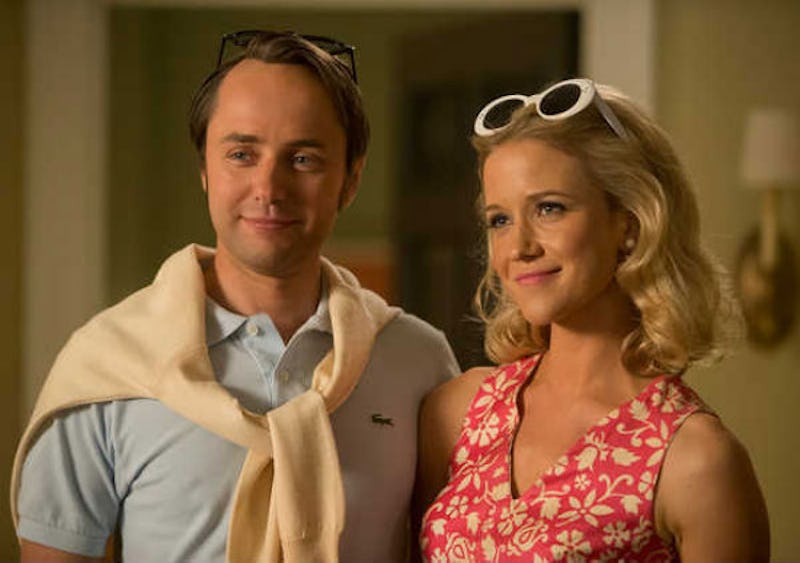 Sure, Peggy's busy being a jerk, Bert Cooper's showing his racist stripes, and Joan might be well on her way to running SC&P, but while all that was going on, Man Men introduced us to Pete Campbell's sassy girlfriend Bonnie. You may recognize the young lady playing her (if you didn't confuse her with her pop culture doppelgänger Anna Camp) as character actress Jessy Schram from memorable roles like Cinderella on Once Upon a Time, Logan's girlfriend Hannah from Veronica Mars, or Karen Nadler on Falling Skies.
Of course, we caught a glimpse of Bonnie, the real estate agent who's stolen Pete Campbell's sun-kissed heart, last week when Don met her in the SC&P California outpost. She popped in as the ray of human sunlight beckoning Don to pick up his own piece of California in the form of a beach house. However, this week, she's in Pete's office in the wee hours of the morning, acting as the manifestation of the life he thought he deserved. (Okay, they were getting busy. But hey, Ted totally didn't seem to mind accidentally catching them.)
Later, Pete visits his new lady at work — a classic postage stamp Southern California that she's trying to sell as quickly as possible — and tries to get a little more action. But rather than bending to his ad man ways, Bonnie insists on getting back to work. "I'm not a bored housewife," she says with maximum sass. She's a working woman and she can't drop everything when Pete's feeling frisky.
She might just be the best thing that ever happened to SC&P's favorite pesky pipsqueak.
Image: AMC