11 Minimalist, Organic Skin Care Products for Earth Day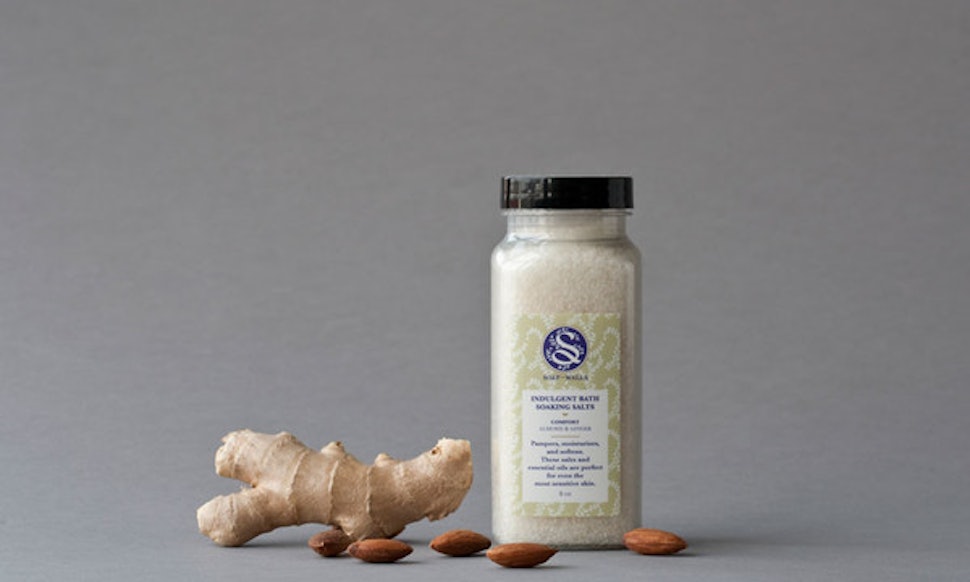 Happy day, Earthlings. It's Earth Day, and if you're not using that as an excuse to rid your bathroom cabinet of all things toxic and chemical-y as we speak, well — you probably have a 9-5.
But if you get home tonight and find yourself hankering for a greener routine, go read the archives of No More Dirty Looks or Crunchy Betty to get inspired, and then begin the process of transforming into a minimalist freak. When it comes to healthy skincare, one of the easiest ways to make sure you're not slathering yourself with weird chemicals is to stick with short, sweet, and infinitely understandable ingredient lists. Think of it as the beauty equivalent to shopping the periphery of the grocery store; stay away from that scary processed stuff in the middle and stick to ingredients you know, like oils, clays, salts, and floral waters. Green beauty may still be fairly niche, but it's not just a popular delusion; according to beauty stat site Poshly, 34% of women find organic products to be just as effective as non-organic products, and 22% say organic finds are more effective. And in case you're tired of crunching numbers, we've done the counting for you — all of the following products work their green magic with six ingredients or fewer.
Skin Cream
This four-ingredient cream is made without wax and literally melts into skin upon contact, making it the one of the most relaxing products ever.
Meow Meow Tweet Cocoa Skin Cream, $18, meowmeowtweet
Pore-Clearing Scrub
Pores not living up to their full potential these days? Meet the adzuki bean, a natural astringent and a great exfoliator when ground. All three ingredients in this scrub are designed to clear up your pore issues.
Adzuki Bean Blackhead Scrub. $13.50, Cold Spring Apothecary
Rose Water
It can be surprisingly hard to find a rose water that's not secretly made with a million strange additives (making it not rose water, so much, as a weird rose tea). Not this baby: 100 percent Moroccan rose water, and nothing else.
Reusable Cotton Rounds
You use cotton balls to remove makeup, apply toner, and clean up the glitter that falls on your cheeks when prepping for a big night out. But not only is cotton farming really bad for the environment, all that cotton ball-buying can stress out your wallet, too. Enter these adorable reusable rounds, which come with their very own pouch for tossing them into the washing machine.
Eco Cotton Rounds, $22, S.W. Basics
A Simple Mask
This mask is only made with French green clay, hibiscus, and organic lavender powder, but that's all it needs to purify and smooth out your complexion. Note: everything at S.W. Basics is made with five ingredients or fewer, so you may want to add their online store to your required green beauty reading list.
Hibiscus Mask, $22, D ermstore
Facial Toner
This six-ingredient toner contains resveratrol — you know, the thing that makes red wine our secret best friend — which hydrates and promotes new cell growth, as well as giving your face all the antioxidants its little heart desires.
Balancing Facial Toning Mist, $38, Soap Walla Kitchen
Nighttime Serum
Here's the be-all end-all in minimalist, organic, nighttime skin treatments. This serum has only three ingredients, but they're rare and extraordinarily nourishing: prickly pear oil, argan oil, and rose oil combine to make this one of the best anti-aging night serums out there.
No.1 Aknari Nighttime Dream Youth Serum, $95, Mun Skin
Soaking Salts
Got a clawfoot bathtub? Me neither, but that doesn't mean I won't scrub out my tiny apartment bathroom and take a soak every now and then. This detoxifying soak is comprised of three basic ingredients — salt, baking soda, and essential oil — but far more salts (epsom, Celtic, Utah Red, Himalayan, Kosher) and essential oils (Cedarwood, Grapefruit, Neroli, Cypress) than a normal person can ever hope to own. Soak and then dry off without rinsing — these are ingredients you want to linger on your skin.
The Perfect Sponge
All sponges and washcloths are not created equal, and good skincare means taking note of how you apply products, not just what you apply. If you're ready to upgrade your ratty washcloth, try the cult favorite Konjac sponge, which protects the most sensitive skin and promises to "exfoliate dead cells while leaving behind a soft film that will nourish and protect your skin with additional collagen." All that and we haven't even applied moisturizer yet.
Hair Oil
Light, easily-absorbed camellia oil is beyond amazing for hair and scalp, and this minimalist product pairs it with essential oils of sweet orange and lavender to promote scalp health as well as maximum shine.
Body Scrub
For the seriously anti-morning people among us, this body scrub literally smells like a fresh cup of coffee and will probably save your life in the shower. It's made up of six ingredients — ground coffee, sugar, coconut oil, jojoba oil, sesame oil, and coffee essential oil — all of which you could almost put in a real cup of joe.