When Is 'Sherlock' Season 4 Going to Air?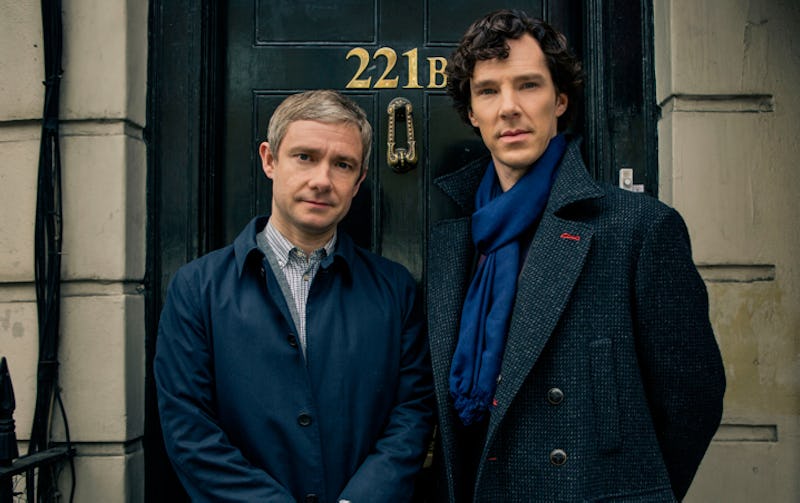 Going into the hiatus between Sherlock's third and fourth season it's safe to say that only the most optimistic of fans assumed the cast and crew would be back filming by the time 2014 came to a close. The show, after all, is somewhat notorious for its torturously long waits — why else do you think we freak out so much when it's actually airing? But now that dream is officially dead: Martin Freeman's said Sherlock 's Season 4 isn't filming this summer like they'd been hoping it would.
Yes, apparently they almost accomplished a filming date within the same year as the airing of last season's episodes. Alas, it was not meant to be. Sherlock operates under unique circumstances compared to a lot of other shows: They work around the schedules of their big players (Benedict Cumberbatch, Martin Freeman, Steven Moffat, Mark Gatiss, etc.), allowing for their cast and crew to do their other big projects and fitting in Sherlock when they can. That's a big part of what took Sherlock's third season so long: Freeman was trapped in New Zealand with Peter Jackson filming the Hobbit movies, and Benedict Cumberbatch was starring in everything known to man, most specifically Star Trek Into Darkness.
"It's very hard to get together," Freeman told Digital Spy of Sherlock scheduling. "But it's one of those things where you have to at some point just go, 'We're going to do it now' — otherwise we could be having this conversation in three years." He eloquently added "There comes a point where you've got to piss or get off the pot" so we'd know they mean business.
The fourth season was apparently going to be filmed this coming summer after his theatrical run in Richard III. But we're gonna have to let that dream go now and just keep waiting.
Images: BBC, Tumblr