7 Style Essentials for Your Weekend Getaway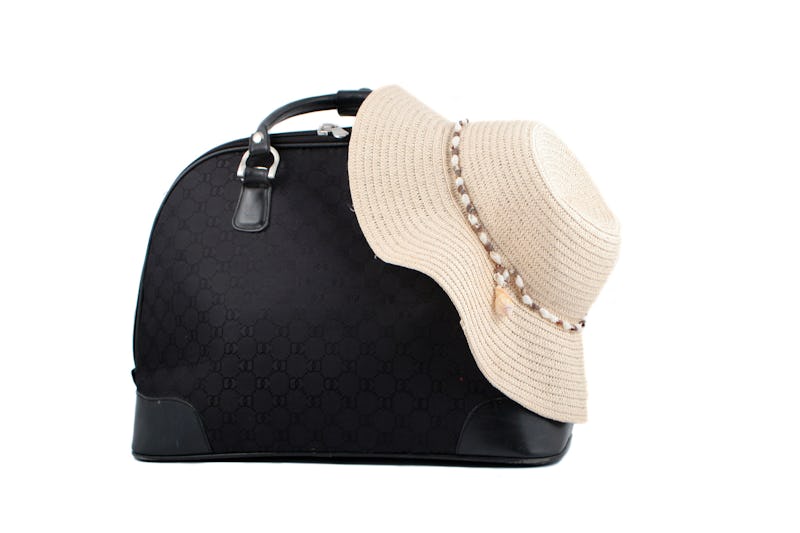 Have you ever traveled with a friend who shows up at the airport with only a carry-on and her appetite for adventure? And you're weighed down by a rolling bag plus an overstuffed weekend bag and a purse, even though you're only going to be out of town for two days?
Attention, overpackers: Traveling is not about what you bring on the trip but the memories you carry away from it for the rest of your life.
With that thought gelling in your mind, let's talk about how to travel light, effortlessly, and best of all, with style. Here are the only seven items your weekend bag absolutely must contain (you know, besides underwear).
One Pair of Versatile Shoes
Image: Converse
You want a pair of shoes you can dress both up and down, and if you're traveling, your feet will be your primary mode of transportation. So let's get comfortable and chic! You won't survive a day or even an hour sightseeing in heels, so definitely cross them off your list. Classic sneakers like Converse low tops, on the other hand, work well in day-to-night transitions and can easily be dressed down or up. Erica Young, designer of luxury legwear line Erica M and an ardent international traveler, swears by her Saint Laurent Perforated Two-Tone Derby Oxfords. "They are so comfortable and you can dress them up or down and throw them in a bag," she says. If they won't work for your budget, snatch the Doc Marten's Aggy Blucher oxfords are an affordable alternative.
A Hat
There's a weird relationship between hats and traveling that just seems right. A hat is always handy when you want to add a little shade over your face or walk around incognito — maybe that's why mystery traveler Carmen Sandiego is never without hers. This accessory is also great for concealing a bad hair day. Go for a hat that can maintain its shape regardless of what it goes through. "I bought a felt black wide brim hat at the Hat Shop in West Village," says Young. "You can fold it and put it in your bag, and it maintains its shape."
A Large Tote
Image: Need Supply Co.
Large, sturdy, and nothing fancy. Totes are perfect for traveling because they fold up and pack easily into a larger bag but have lots of room for anything you might need on a day of hiking or touring. Go for a style with large, sturdy straps you can throw over your shoulder and either a thick canvas or leather exterior. This Original flea bag in midnight black has chic leather trim and a canvas interior, so a drink spill would be a cinch to clean.
A dress (or Two)
You know how much time you can save when you don't have to worry about your outfit? A simple, lightweight style that's not too dressy can adapt to any occasion. You can also get away with being an outfit repeater if you opt for solid colors or simple patterns like micro floral and stripes. Young travels with two Reformation dresses, one long and one short, since the materials aren't "too dressy." Channel Audrey Hepburn in Roman Holiday with lightweight cotton and a subtle collar like the clothing line's Scout dress.
Sunglasses
Image: Net-A-Porter
Essential for saving your eyes from the sun, sunglasses also lend quick on-the-fly chic. Go for frames that are big enough to protect your eyes with 100 percent UVA/UVB protection to filter out those harsh rays. These Illesteva Leonard round frames are a fun approach for all-over eye protection.
A Bathing Suit
Image: Ruslan Kudrin/Fotolia
Have you ever had a "shoud've, could've, would've" experience where your travels present an opportunity to splash around in some water — but you forgot your swimsuit? Your favorite bathing suit takes up little to no space in your suitcase, and it will save you from sitting on the shore as you watch the rest of your crew enjoy a swim. Trust us: you'll regret leaving home without it.
A Light Jacket
Even if you're going on a weekend escape to an island, temperatures will drop as the sun sets. Having to cross your bare arms against an unexpected breeze is not a pleasant experience. A lightweight windbreaker, army jacket, or stylish denim number like this Levi's Trucker Jacket are among many great options to stuff into your bag.
Image: GVictoria/Fotolia