People Aren't Pleased With 'Faking It'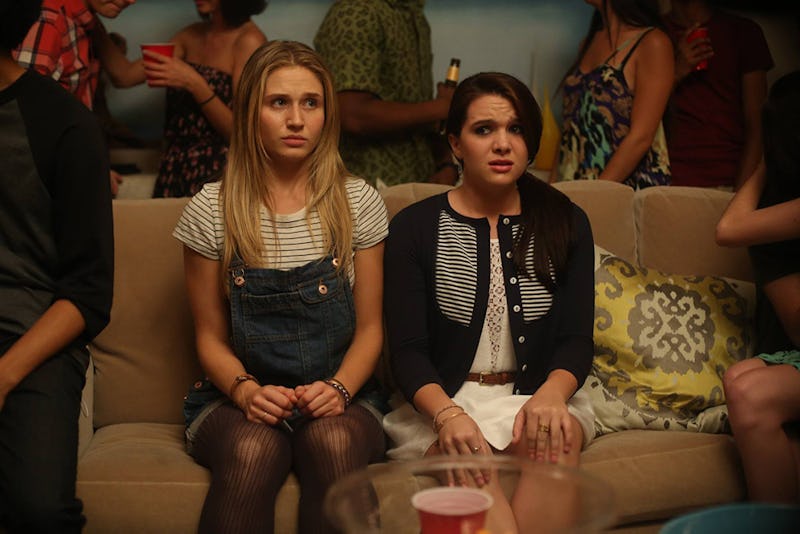 MTV's much-buzzed-about new series Faking It premiered Tuesday and, while a lot of people seem to approve, many have taken to Twitter to express their displeasure with the show.
Before we get into the nitty gritty, we'll give you some background. Amy (Rita Volk) and Karma (Katie Stevens) are BFFs of the "opposites attract" variety. Despite being raised by hippies, all Karma wants is to be popular, to go to parties, and have a hot boyfriend. No-muss, no-fuss Amy, on the other hand, is perfectly content to spend her Friday nights in her PJs watching House Hunters with her best friend. After a series of misunderstandings, the pair is labeled as a lesbian couple and entered into the race for Homecoming Queen(s).
So what's the problem? Even we at Bustle thought perhaps the show might not be as bad as we initially thought, but the main issue at hand was always going to be Faking It's depiction of LGBT teens. We knew right from the start that Amy and Karma would be lauded for their lesbianism, something many viewers have blasted as being unrealistic; others called out MTV for being disrespectful. Let's take a look at some of the viewer reactions.
The whole idea of the show "faking it" really bothers me. In what universe does being gay make you popular? Most lgbt kids usually get hate— skins (@_alliemcnickk) April 23, 2014
I guess I'm the only person who has a problem with the show Faking It because in reality no one is praised for being gay, they get hate.— Clark | 61 (@jennylis__) April 23, 2014
Meanwhile, some are just annoyed with MTV in general.
I already dislike this Faking It show. Actually I just hate the way mtv represents gay characters.— Kyle Regan (@ChimericalChild) April 23, 2014
It's hard to imagine these tweeters didn't bitterly laugh when actual confetti and cheers started raining down on Amy and Karma as they kissed at the school assembly. At an actual, real live school, the best-case scenario would be the girls' peers not really caring about their impromptu make-out session — cheering isn't generally on the menu for any school-bound PDA moment.
We also have Shane, the most popular guy at school, who also happens to be gay and ends up setting the whole fiasco in motion when he assumes Amy is too. It's a wonderful idea that might even be a reality somewhere, but unfortunately for many LGBT kids, it's not so easy to find acceptance at that age.
Our society has come a long way in terms of tolerance, but our teens are still a largely unaccepting group who can be especially cruel. We've said it before and we'll say it again: a person's sexual orientation should not be sensationalized for a madcap sitcom plot. It's irresponsible and insensitive of MTV to play with the coming out process the way they have with Faking It.
Image: MTV/Facebook/Faking It